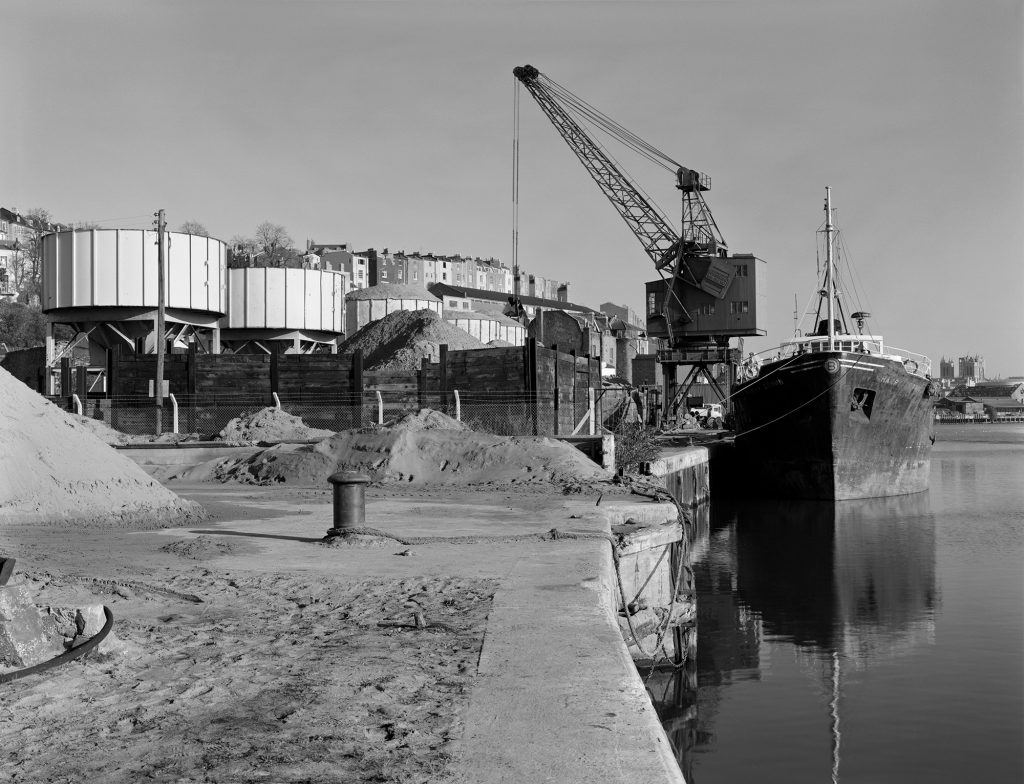 Bristol Photo Festival
Bristol Photo Festival is a new biennial festival with a year-round programme of commissions, collaborations, and exhibitions by both local and international artists.
The first edition encompasses a summer showcase of photography exhibitions across the city followed by a full autumn programme of festival exhibitions and events including a book fair, film programme, talks series and symposiums.
For the first time the city's major visual arts institutions, alongside independent and unconventional spaces, have come together to create a programme to demonstrate the power and diversity of photography. The festival will launch in the spring with exhibitions including work by Laia Abril, James Barnor, Chloe Dewe Mathews, Jessa Fairbrother, Adama Jalloh, Lua Ribeira, Jem Southam, and Sarah Waiswa amongst others. This will be followed by major exhibitions in the autumn by Stephen Gill, Lebohang Kganye and Thilde Jensen alongside series of outdoor shows. The exhibitions are accompanied by an events series, workshops and collaborations both on and off-line to bring the festival outside the conventional gallery space. 
'When we established Bristol Photo Festival in mid 2019 and began to put together this programme with our festival funders, venue partners and curators we could never have imagined that we would be launching it during such period in global history. Our theme 'A Sense of Place ' has taken on an even greater resonance and relevance after 12 months of life restricted within a global pandemic. Working and evolving with the circumstances and the unknown, the team, the artists and partners continued to progress this programme, daunted at times but never broken. So it is with even greater pride that myself, Alejandro Acín and the rest of the festival team and partners announce the inaugural programme of this first edition of Bristol Photo Festival' Tracy Marshall-Grant – Festival Director
header photo: Unloading the Harry Brown, Hotwells sand wharves, 1978 © Jem Southam
Exhibitions | Opening spring 2021
Island Life: photographs from the Martin Parr Foundation | Bristol Museum and Art Gallery
Island Life draws upon photographs from the Martin Parr Foundation collection to show the changing fabric of our cities, society and collective identities. Focusing on post-war from the UK and Ireland, the exhibition will bring together images by over 60 photographers including Khali Ackford, Pogus Caesar, Elaine Constantine, Sian Davey, Chris Killip, David Hurn, Ken Grant, Markéta Luskačová, Graham Smith and Tom Wood. Collectively the images form a compelling study of national behaviour.
Thames Log | Chloe Dewe Mathews | Martin Parr Foundation
Chloe Dewe Mathews spent five years photographing up and down the River Thames, from its puddling source to great estuary mouth. The resulting series of work, Thames Log, examines the ever-changing nature of our relationship to water, from ancient pagan festivities through to the rituals of modern life.
The Floating Harbour | Jem Southam
This series of photographs of Bristol Harbour in the late 1970s by Jem Southam provide a unique and definitive portrait of the harbour at a time of rapid change. One of Southam's first major projects, the photographs were published in 'Floating Harbour' (1983) and majority of the works will be exhibited here for the first time.
James Barnor: Ghanaian photographer | Bristol Museum and Art Gallery
James Barnor was Ghana's first international press photographer working from his studio Ever Young at the time of independence (1957) and selling his pictures to the Daily Graphic and Drum magazines. He came to Britain in 1959, photographing London and returning to Accra where he established X23, the city's first colour photography studio. Ghanaian Photographer showcases Barnor's Black modernism, a fusion of pan-African futurism and 1970s style.
Museum Interventions | Bristol Museum and Art Gallery
Artists Heather Agyepong, Jessa Fairbrother, and Lua Ribeira have been invited to take part in collaborate with Bristol Museum and Art Gallery. The artists' own work will be displayed alongside and juxtaposed with the Museum's collections and archives.
IN PROGRESS: Laia Abril – Hoda Afshar – Widline Cadet – Adama Jalloh – Alba Zari | Royal Photographic Society
IN PROGRESS is a new show commissioned by the RPS consisting of five solo exhibitions of both new work and work-in-progress, by some of the most innovative photographers and photo-based artists working today. The exhibition explores a wide range of issues – including personal history, cultural identity, nationality, community, migration, displacement, memory, responsibility, morality, belief and the creative process – and highlights the diverse possibilities that photography offers in the pursuit of both artistic and social progress.
Lips Touched with Blood | Sarah Waiswa | Bristol Museum and Art Gallery
Sarah Waiswa, a documentary and portrait photographer based in Kenya, will be collaborating with the British Empire and Commonwealth Collection at Bristol Archives. The exhibition will showcase a selection of her contemporary portraits of African people alongside portraits from the archives in a thought-provoking display, to reframe and challenge existing narratives around colonialism, power and identity. Sarah draws heavily on the captions of the archive images in her interpretation, and one of these has been used as the title of the exhibition. There will also be a programme of talks, workshops and events around this exhibition.
Growing Spaces | Chris Hoare | Royal Fort Gardens (University of Bristol)
Growing Spaces by photographer Chris Hoare is a chronicle of urban land cultivation in Bristol. Since April 2020, Hoare has been slowly and methodically documenting the allotment-goers, landscape and seasonal changes across the official and unofficial growing spaces of the city. The resulting photographs will be exhibited in the inaugural edition of the festival to coincide with the publication of a book of the project by RRB Photobooks.
Elective Affinities | BPF Public Gallery | Billy Barraclough, Debsuddha, Jenna Garrett, Kelly O'Brien, Maria Gracia Cebrecos, Sibusiso Bheka
The concept of 'elective affinity' presented in 1809 by Johann Wolfgang Goethe in his novel Wahlverwandschaften (Elective Affinities), is used to express the conflict between responsibility (culture) and passion (nature) – and the 'natural' matchmaking force between them. This concept is the inspiration for the group exhibition, online installation and publication produced during Catalyst —an international mentorship programme showcasing six innovative photographers. The works explore family narratives, social roles, grief and loss, faith and place, mythological representations and racial segregation. This exhibition is produced by IC Visual Lab in collaboration with Bristol Photo Festival.
From Photography to Cinematography | June / October (TBC) Watershed
A series of screenings and events which will explore the creative relationship between the still and the moving image. Many cinematographers work with or incorporate still image influences into their filmmaking. This programme will feature the film work of cinematographers like Ed Lachman (The Virgin Suicides, Carol) Hélène Louvart (Rocks, Happy as Lazzaro) and Seamus McGarvey (The Hours, We Need To Talk About Kevin) to examine their photographic influences and inspirations.
Exhibitions | Opening autumn 2021
Dipina tsa Kganya | Lebohang Kganye | Georgian House Museum 

A film installation exploring a familial narrative that is concerned with notions of healing, enacted through gestures of naming and of cleansing. South African artist, Lebohang Kganye references family, memory and heritage. Kganye has created a new work at the Georgian House Museum as part of Bristol Photo Festival. The installation offers a response to the violence of historical erasure of names and oral traditions. The house was once home to a sugar trader and his enslaved staff. Dipina tsa Kganya invites us to reflect on the legacy of colonialism as a shared history.
Stephen Gill | Arnolfini | 6 October 2021 to 16 January 2022
Celebrating thirty years of extraordinary practice, Bristol-born photographer Stephen Gill, draws together new previously un-exhibited series, such as Please Notify the Sun, alongside works from his iconic back catalogue, with the first UK presentation of images from award winning photographic series and book The Pillar. The exhibition explores through the flea markets and towpaths of Hackney Wick in London, to his current rural surroundings amidst the Swedish countryside.
I AM NOT INVisible | Thilde Jensen | Martin Parr Foundation
I AM NOT INVisible is a visual account of homelessness in America. Over a period of 4 years, Danish photographer, Thilde Jensen, set out across the US to create an authentic document of this community excluded from mainstream society.
WITH-IN | Firecracker 10-year anniversary programme
Bristol Photo Festival is collaborating with Firecracker to celebrate their 10th year anniversary. The exhibition will bring together photographers whose practice moves, with intimacy, through overlooked groups of people. A generation of female and female-identifying photographers is using photography not as a tool of oppression but as instigator of conversations, interventions and collaborations. This exhibition, which includes work by Peyton Fulford, Spanita Malik, and Raphaela Rosella amongst others will be accompanied by a talks and events programme.
Turn to Return. | Helen Sear & Robert Darch | Centerspace

Work by Helen Sear and Robert Darch will be exhibited together for the first time in Turn to Return. The Island by Darch is a poetic series of photographs made in response to Britain's vote to leave the European Union. The series reflects his anxieties, hopes and fears about a decision that will affect generations for years to come. Helen Sear's Love Island is a series of photographs made repeatedly walking the same mountain passage in Majorca during the month of December 2019. Exploring imitation and contagion as forms of magic involving repetition and contact, these photographs depicting Aleppo pines and fallen boulders reveal a path while simultaneously denying a view.
Symposium – 21 May 2021
The Symposium 'Inclusive Collaboration: Commitment to Change', aims to demonstrate the diversity of practitioners within the photographic community. The keynote speaker is Vanley Burke, and other confirmed speakers include Joy Gregrory, Dexter McLean, David Constantine, Joanne Coates, Kirsty MacKay, and Dr Shawn Sobers. Produced by Jennie Ricketts. There will be a second symposium in autumn 2021.