This walk was devised as part of Cinema Rediscovered and Bristol Ideas' Film2021 programme, and includes sites of lost cinemas, places associated with William Friese-Greene and other points of interest.
The walk is mainly on level pavements, though extra care will be needed on uneven surfaces, particularly around Harbourside. It is around three miles long and will take about 90 minutes to complete at a leisurely pace, not including stops at places of refreshment or visitor attractions along the way. There are a few downward slopes but no major uphill ones.

It starts at the Victoria Rooms on Queen's Road.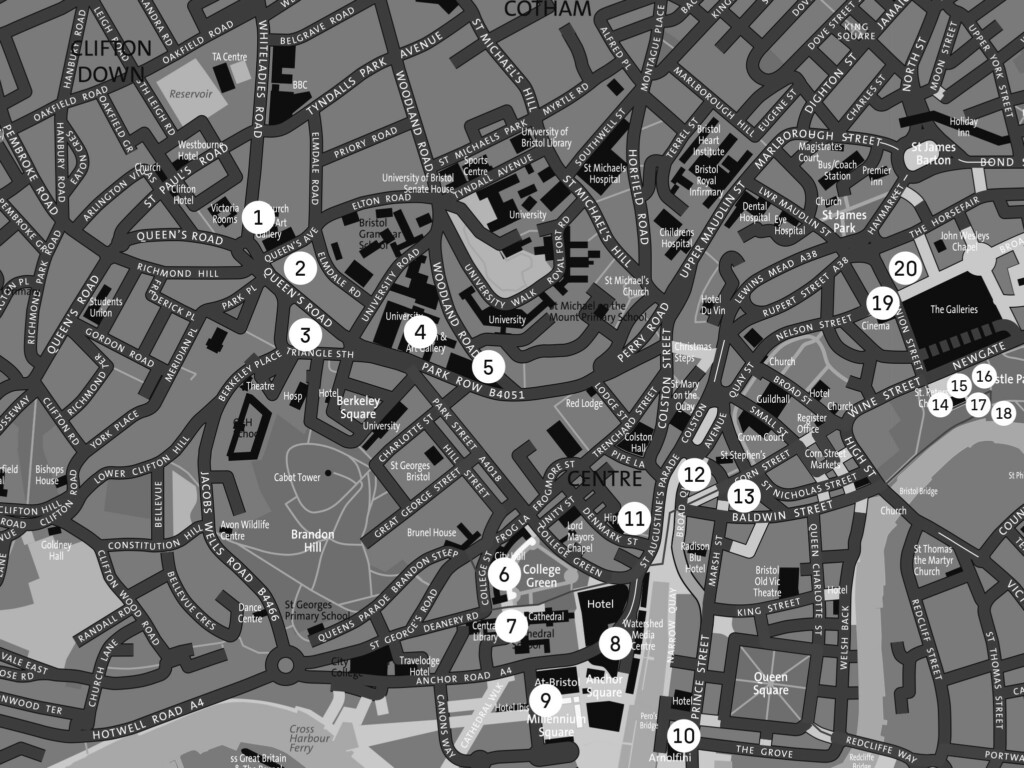 Victoria Rooms
2021 is the 125th anniversary of the first public screening of projected films in Bristol. You'll be seeing the site of where that took place at the end of the walk. Along the way you'll pass the sites of cinemas that have been destroyed by enemy bombing or been closed because they were no longer economically viable, as well as some that continue to operate today. In addition, you'll see buildings that were temporarily used for showing films. These include the Victoria Rooms.
The building was completed in 1842, paid for by a group of wealthy businessmen who thought the Clifton Assembly Rooms were no longer sufficiently exclusive for their needs. It hosted concerts, readings and political meetings. Among those to speak here was Eadweard Muybridge who delivered an illustrated lecture in November 1889 on the Science of Animals in Motion using his Zoopraxiscope movement projector.
The Victoria Rooms was a venue for the screening of films as early as 1897. This included a regular Christmas booking that incorporated a Robert Paul-built projector as part of a magical variety show. In 1901 Bristol was introduced to The Talkies here when the Gibbons' Phono-Bio-Tableaux company presented specially-made films synchronized with a graphophone cylinder player.
In 1920 the building was purchased by Sir George Alfred Wills and presented to the University of Bristol. Shortly after that it was leased for use as the Clifton Cinema for a couple of years. It's currently home to the university's Music Department.
With the main entrance of the Victoria Rooms facing you, walk a little further up Queen's Road to your left to a small building that once housed one of William Friese-Greene's photographic studios (currently Chilli Daddy).
Friese-Greene's Studio
2021 is also significant because it marks the centenary of the death of William Friese-Greene, the photographer, inventor (with over 70 patents to his credit) and pioneer of moving pictures, who invented one of the very first movie cameras.

Born in Bristol in September 1855, Friese-Greene came from a family of modest means and died in poverty but enjoyed periods of wealth, thanks, in part, to the success of his inventions relating to printing and his photographic studios. These eventually included branches in New Bond Street, Piccadilly and the King's Road in London, Plymouth, Bath, Brighton and here in Bristol, one of which was housed in this modest single-storey building. This appears to have been purpose-built as a studio, with large windows in the middle and almost certainly a glass roof at that time. It was already a photographic studio when Friese-Greene took it over, at the peak of his early success, in 1890.
Friese-Greene's profits were eaten up by the cost of his moving picture experiments and his neglect of his day-to-day business and he was declared bankrupt in 1891, losing his substantial studio chain. He was bankrupted twice more – in 1903 and 1910 – as a result of what he spent on his inventions. When he died on 5 May 1921 it is thought that the only money he owned was the 1s. 10d in a coin purse in his pocket, the price of a cinema ticket at that time.

Return to the Victoria Rooms. Use the pedestrian crossing to cross to the Royal West of England Academy and turn right down Queen's Road. Stop at the junction with Queen's Avenue and look across at Embassy House.
The Embassy Cinema
Embassy House was built on the site of one of Bristol's grandest purpose-built cinemas. The Embassy opened in 1933. It could accommodate over 2,000 audience members and had a staff of 50. Like other big cinemas it struggled with the competition from television and other forms of entertainment. It closed in 1963, ending with a programme of Greta Garbo films, and was later demolished.
Cross at the pedestrian crossing and continue on Queen's Road. Use the first crossing on your right to get to the other side and continue to 67 Queen's Road (currently Lola Lo). On the wall you will see a plaque that credits William Friese-Greene as 'the inventor of the moving picture camera'.
Marcus Guttenberg's Studio
William Friese-Greene was originally plain Willie Green, the youngest of seven siblings, whose father was a metal worker. At the age of ten, in 1865, he won a scholarship place for four years' education at Queen Elizabeth's Hospital school on Brandon Hill. He left in 1869. He was later offered a seven-year apprenticeship, paid for by QEH in March 1871, with the Polish portrait photographer Marcus Guttenberg who had once had a studio at this site on Queen's Road. By May 1870, Guttenberg was advertising his studio as being at 17 Royal Promenade across the way, so it appears that this plaque may have both the wrong start date for the apprenticeship and the wrong location.
The finish date on the plaque is also likely to be incorrect and it was in 1874 that Willie brought the apprenticeship to a premature end. This was the year he married Helena Friese and the couple moved to Bath so he could open his own studio. She was the daughter of a Swiss architect. He had met her through another Bristol-based photographer, Daniel Jostry from Germany, who was her half-brother. Willie took the highly unusual move of adding her surname to his, along with an extra 'e' for balance, and thus became William Friese-Greene.

When Friese-Greene died suddenly, moments after speaking about the need for unity at an ill-tempered meeting of film distributors in London, he was a largely forgotten man. In an abrupt about-turn, the film industry was stirred to make up for its neglect, paying for a lavish funeral and memorial at Highgate, and dimming the lights of cinemas at the moment of his interment. The first memorial plaque to be unveiled in the city of his birth was at the Orpheus in Henleaze in 1939. The plaque here was erected by the Queen's Road Traders' Association in 1949. In 1955, the centenary of his birth, there were plaques erected in St George's Church, on behalf of the Scholars of QEH – William and Helena had been married at the church – and at his former home on College Street (which you'll see shortly). As yet there are no civic memorials to him.

Having been rediscovered shortly after his death, Friese-Greene achieved some posthumous acclaim. A sympathetic – and romanticised biography – by Ray Allister (the pseudonym for Muriel Forth) was published in 1948. This was Friese-Greene, Close Up of An Inventor and it became the basis for the Festival of Britain biopic The Magic Box. The film was a commercial and critical flop but Martin Scorsese has many times cited it as one of his favourites, and one that inspired him.

However, attitudes began to change in 1955 when Brian Coe, an historian of photographic technology, wrote his first article on Friese-Greene. Coe based his research on the examination of material in photographic journals during the narrow period of Friese-Greene's initial experimentation and concluded that he had nothing to do with the invention of moving pictures. He also accused him of stealing other people's idea. Many other historians of early cinema were happy to agree with him. Film director and journalist Peter Domankiewicz thinks Coe took a very narrow view and he is working to restore Friese-Greene's reputation. He believes the evidence of Friese-Greene stealing other people's ideas doesn't hold up, but that there is evidence of other people taking credit for his ideas.
Continue along Queen's Road. When you reach the next set of pedestrian crossings, cross over to Browns. Turn right and continue to Bristol Museum and Art Gallery.
Bristol Film Office
Bristol Museum and Art Gallery is home to Bristol Film Office, the city council's production support service. This work includes issuing filming permits, and advising on locations, facilities and crews.

In 2017 Bristol was named UNESCO City of Film, a permanent status that recognises the city's achievements as a world leader in the field of film and the moving image. The accolade enables Bristol's film-making community to engage with and learn from other cities around the world, forging international collaborations, creating new artistic exchange programmes and exploring cross-cultural projects that combine film with other mediums within the Creative City fields.
Continue along Queen's Road as it merges into Park Row. Stop on the corner of Park Row and Woodland Road.
The Coliseum and the Prince's Theatre
The Coliseum opened in 1910 and from 1912 operated a 450-seat cinema, with the entrance at this junction. The building had many other uses, including as a roller-skating rink, an ice rink and an exhibition hall, and for the manufacture of aircraft. The cinema closed in 1924. The building was severely damaged by enemy bombing during the Second World War, with only some of the original façade saved.
Over the doorway you will see a tribute to the dog Nipper, familiar from the marketing for HMV. Nipper's original owner was a stage-set designer at the Prince's Theatre on the other side of Park Row. He gave the dog to his brother, Francis Barraud, who used him as the model for his painting 'His Master's Voice'. The Prince's Theatre had opened in 1867. From the late 1890s it regularly showed films prior to the performances of its plays. From 1913 to 1915 the theatre operated as a full-time cinema. It was destroyed by enemy bombing during the Bristol Blitz of 1940.

Cross to the other side of Park Row. Walk back towards Queen's Road, but take a left turn down Park Street Avenue. At the end of the avenue, turn left into Park Street and proceed down the hill. Stop at the building adjacent to the pedestrian crossing at the corner with Unity Street (currently Pizzarova).

Alfred Tooze, Opticians (not shown on map)
On this corner once stood the premises of Alfred Tooze, Opticians. From January to March 1895 Tooze hosted three Kinetoscopes. These were Edison-patented film viewing machines with loops of 35mm film illuminated by electric bulbs. Their invention inspired the Lumiere Brothers in France and Robert Paul and Birt Acres in Britain to get into the film business. One person at a time could view one film per machine. It cost tuppence a go. These were the first moving photographs using film to be seen in Bristol.

Use the pedestrian crossing to cross Park Street, then walk a little way back up the hill, taking the first left onto St George's Road. Continue straight on (and across the mini roundabout) to College Street. Stop at the plaque on the wall beside the pedestrian crossing, at the rear of City Hall.

Friese-Greene's Birthplace
Friese-Greene was born on 7 September 1855 at 68 College Street (renumbered 12), a house that used to stand opposite this spot. This plaque was originally attached to the house and was unveiled in September 1955 to mark the centenary of Friese-Greene's birth. It was designed by Friese-Greene's son Graham.
It refers to Friese-Greene as 'The Pioneer of Cinematography'. It's probably more accurate to talk of his being 'a pioneer' rather than 'the' one. A modest man, he was generous in acknowledging the achievements of his contemporary inventors in the field of capturing movement on film. However, a significant milestone in his career was the patent granted by the British Patent Office on 21 June 1889. This was for a motion-picture film camera that he had developed in collaboration with a civil engineer, Mortimer Evans. It embodied most of the principles of future motion picture cameras, but with a larger frame size on unperforated film and a top speed of ten frames per second. Friese-Greene sold the rights to the camera to City of London investors for a substantial sum, but they didn't keep up the patent payments. This subsequently lapsed, whilst Friese-Greene was bankrupt and unable to buy it back in time.
Other collaborations included working in Bath in the early 1880s with the scientific instrument maker John Arthur Roebuck Rudge on a variety of devices for showing photographs in rapid succession from glass plates, and a camera developed in 1890 with Frederick Varley to shoot stereoscopic/3D moving images. Friese-Greene even wrote to Thomas Edison in early 1890 describing what he had done. Edison claimed to already have a working film camera, which was untrue. Friese-Greene was later a witness in a New York court case, appearing on behalf of a group of independent film producers challenging Edison's patents. Friese-Greene's testimony helped break the Edison monopoly on film production and distribution, as his 1889 patent pre-dated that of Edison's 1891 Kinetograph Camera, which contained many of the same principles.
The 1955 centenary commemorations were organised by local photographer, writer and Friese-Greene fan Reece Winstone. Despite appeals, in which Winstone played a prominent part – he thought the house should be turned into a museum of cinematography – 12 College Street was demolished in 1958 to create parking spaces for six cars. The plaque was relocated to its present site in May 1959.

Continue walking along College Street. Turn left at the end of the street and walk past Central Library. In front of you is Bristol Cathedral.

Bristol Cathedral
In August 2014 the nave of Bristol Cathedral was used to represent Westminster Abbey for the scene of the coronation of Anne Boleyn in the TV adaptation of Hilary Mantel's award-winning novel Wolf Hall. The cathedral has produced a leaflet giving further details of its use as a location for the programme. You can pick up a copy of the leaflet inside or download it from the website.

Bristol regularly doubles for other major cities in films. Its historic buildings and streets are used as settings for medieval, Tudor, Victorian, Georgian and more modern eras. King Street, for example, has been used in Sherlock: The Abominable Bride and These Foolish Things, and areas of Harbourside have been dressed as Boston in the 1700s and wartime Guernsey. The Film Office website has more details of Bristol's filming hotspots and you can follow #FilmedinBristol on social media.

Follow the path past the cathedral and continue along College Green, past the Marriott. Use the pedestrian crossings to reach the Centre Promenade and then turn right into the covered harbourside area. Carry on walking until you reach Watershed.

Watershed
Watershed opened in 1982, declaring itself 'Britain's First Media Centre'. It is the leading film culture and digital media centre in the South West. It advances education, skills, and an appreciation and understanding of the arts, focusing particularly on film, media and digital technologies. Each year it hosts Encounters Film Festival, which promotes the short film as a way of developing the next generation of film-makers and animators. Watershed has historic links to the independent microplex cinema the Cube on Dove Street South.

Continue along Harbourside. When you see Pero's Bridge on your left, turn right into Anchor Square and continue straight across it into Millennium Square. Stop at the statue of Cary Grant beside the Millennium Square urban allotments.
Cary Grant
Cary Grant was born Archibald Leach in Horfield, Bristol, in 1904. While still at school he became an assistant at the Bristol Hippodrome, and at the age of 14 he joined Bob Pender's Knockabout Comedians as an acrobat. In 1920 he travelled with the troupe to America and decided to stay. He was signed by Paramount Pictures in 1931.

In 1957 Grant starred in An Affair to Remember with Deborah Kerr, who also had connections with Bristol: she had attended Northumberland House Boarding School in Henleaze and had later received acting lessons at the Hicks-Smale Drama School in Durdham Park.

The first Cary Comes Home festival was held in Bristol in 2014.

Retrace your steps to Pero's Bridge. Cross the bridge, turn right and walk along Narrow Quay to Arnolfini (take care on the cobbles).

Arnolfini
Arnolfini was founded in 1961 and moved to its current location – a former tea warehouse – in 1975. It is one of Europe's most important centres for the contemporary arts and is regularly used for film screenings. It shares its facilities with UWE Bristol whose acclaimed School of Animation is based out at the Bower Ashton campus.

Return to Pero's Bridge and continue along Narrow Quay to Centre Promenade until you are opposite Bristol Hippodrome (on your left).

The Hippodrome
In 1911 Oswold Stoll successfully applied for a licence to build a music hall and cinematography exhibition at 13 St Augustine's Parade. The Hippodrome opened in the following year. For two weeks in September 1929 it screened the film This is Heaven, which was so popular that it was decided that the theatre should become a full-time cinema. Live performances ended in 1932. However, after six years of film, the building was closed for renovation and alteration. After reopening, it focused almost exclusively on live performances. If you've seen Stan and Ollie starring Steve Coogan and John C Reilly you may remember seeing glimpses of the theatre during the course of the film.

Continue past the fountains and Neptune's statue. When you get to the pedestrian crossings, use the one in front of you to cross to the other side of the Promenade then turn right and cross Colston Avenue. Continue to the semi-pedestrianised Clare Street. Stop outside number 9, currently the Hatter House Café, on your left.

Clare Street Picture House
Numbers 9 to 11 Clare Street were once the site of the Clare Street Picture House, one of the cinemas that Cary Grant mentioned visiting as a child.

The shops that were demolished to make way for the cinema feature briefly in footage of the arrival of Boer War veteran Lord Methuen to the city. This is the oldest surviving film of central Bristol. The film was commissioned by travelling film-showman Ralph Pringle during his engagement at Colston Hall in November 1902, and filmed by Mitchell and Kenyon of Blackburn. It was ready to be screened the next day. It can be viewed for free on BFI Player.
The 470-seat cinema opened in July 1911. It proved too small to survive financially so its owners, the Provincial Cinematograph Theatre Ltd, built the Regent Cinema in Castle Street (the site of which you'll see later) to replace it. The Clare Street Picture House closed in March 1927.
In 1905, while living in Brighton, Friese-Greene had developed a working system by which to project film that gave an illusion of colour, which attracted investors. It involved taking a succession of images through alternate colour filters. He was subsequently dragged into a prolonged court case with the film mogul Charles Urban over their rival colour processes. Friese-Greene's investors won the case, but Urban's Kinemacolor was the one that made money. Friese-Greene never saw a profit from his innovations in film.

In 1922 Friese-Greene's son Claude – who continued his father's work – demonstrated an early experimental stage of his own colour process at the Clare Street Picture House to an audience that included the Lord and Lady Mayor. A couple of years later Claude would film the travelogue of 1920s Britain in colour, The Open Road.

Continue along Clare Street. At the end of the pedestrianised section turn right into Marsh Street and continue to Baldwin Street. Here, turn left and stop at the large building whose upper stories are painted white (13-21 Baldwin Street).

The People's Palace
The People's Palace, designed by James Hutton for the Livermore brothers, opened as a music hall in 1892.
The Theatrograph projector patented by Robert Paul was used to show films here as part of a variety programme in October 1896. If you've seen the Friese-Greene biopic The Magic Box you'll probably remember the scene in which a passing police officer – played by Laurence Olivier – is the first to witness Friese-Greene's successful projection of motion pictures. This incident was fictious but based on one that involved Paul and his associate Birt Acres when they first managed to get their own film running in a Kinetoscope machine.
The People's Palace was converted to a cinema in 1912 and sold twice in the 1920s. Its manager, Mr G H Blackburn, had attended the meeting at which Friese-Greene died in 1921. According to Winstone, he returned home determined that Friese-Greene should be suitably honoured by the city in which he had been born, educated, apprenticed and married. But this and other campaigns for civic recognition were unsuccessful.
In 1927 the People's Palace was purchased by the Gaumont British Picture Corporation and was completely refurbished. Renamed the New Palace, the cinema could now seat 1,600 and had its own orchestra, and an organ that was equipped with the latest cinema sound effects. In 1952 it was renamed the Gaumont, and in the 1960s its auditorium was modernised. The cinema closed in 1980 and the building has since been repurposed as a nightclub and a bar. Permission to convert the building to student accommodation was granted in 2017, after ten years of it standing vacant. The façade of the building is Grade II-listed and has been retained.

Continue along Baldwin Street and turn left into St Stephen's Street. When you get to the junction with Clare Street, turn right and walk along Corn Street. When you reach the pedestrianised area continue straight on and past St Nicholas Markets. At the end of Corn Street, cross over Broad Street and continue straight along Wine Street until you reach the top of Union Street. Use the pedestrian crossing to cross Wine Street and enter Castle Park.
Castle Park's Ghost Cinemas
This park was opened in 1978. It was created as part of the redevelopment of an area considered Bristol's main shopping centre before the Second World War, which had suffered substantial bomb damage during the Bristol Blitz. Several cinemas were once located here.
The Dolphin Picture Theatre, situated on Dolphin Street, opened in 1910 and was nicknamed the Kosy Korner Kinema. Converted from two existing buildings and given a new frontage, the cinema seated 500 people. It was one of Ralph Pringle's Picture Palaces, one of the earliest cinema chains. This included branches in Glasgow, London, Rochdale, Huddersfield and even Paris, but was centred in Bristol, starting with The Vestry Hall, off Old Market, in 1909. By early 1914 Pringle's business was already showing signs of being overstretched. In 1922 a fire started in the Dolphin's rewind room and spread throughout the building. The cinema never re-opened.
The Queen's Picture House was located at 17 Peter Street. It opened in 1910 and was Bristol's first purpose-built cinema. A section of its roof could be opened for ventilation, to let fresh air in and smoke out. The cinema was one of the last to move over from silent films to talkies. It was demolished in 1933.

The Castle Street Cinema, also known as the Cinema Picture Hall, opened in 1911 at 65 Castle Street and could seat 550. It closed in 1926 when Woolworths extended their premises.

The Regent Cinema – the replacement for the Provincial Cinematograph Theatre Ltd's Clare Street Picture House – took two years to complete. It opened in 1928. At the time, it was considered one of the grandest Bristol cinemas. The main entrance opened into a hall that could accommodate 1,000 people. The auditorium itself had over 2,000 seats and standing room for a further 212. It was equipped with a Wurlitzer organ that would rise from beneath the stage, and had capacity for a 22-piece orchestra. The Regent was badly damaged in the air raid that took place on Sunday 24 November 1940. Its owners were keen to rebuild, but materials were difficult to obtain. The shell of the building remained until the end of the 1950s, when it was demolished as part of the Castle Street area redevelopment.
The News Theatre was built on the site of the old Queen's Picture House, opening in 1933. It could seat 400, and, as its name suggests, mostly showed news items. The building also housed a parcel depository, an information bureau and a children's nursery. The News Theatre was hit in the same air raid that damaged the Regent but was able to reopen in late December. It closed permanently in 1956 and stood empty until it was demolished in 1959.

Leave Castle Park, crossing back over to Union Street. Walk down Union Street, stopping outside the Odeon Cinema near the bottom of the hill.

The Odeon
The Odeon Cinema, built on the site of J S Fry and Sons' former head office, opened in 1938. It could seat 1,000 in the stalls and a further 900 in the balcony. Ellen Perry, who became a trainee at the Odeon in 1939, was Bristol's first female projectionist. The cinema only closed for a few days during the Second World War, when a bomb hit the corner of Union Street, broke a culvert and flooded the basement with water from the river Frome.
In May 1946 32-year-old Odeon manager Robert Parrington Jackson was shot dead in his office as cinema-goers watched The Light That Failed. No one was ever arrested for the crime but in 1989 a man called Billy Fisher confessed to the murder on his deathbed. He told his son that he and Dukey Leonard had gone to the cinema to rob it but had panicked when Parrington Jackson returned to his office unexpectedly.
The Odeon was the first in Bristol to use Cinemascope, and speakers were later installed in the cinema to augment the sound. By 1974 it had been converted into a multi-screen cinema, and in 1983 it was completely gutted and rebuilt. It reopened in June 1985.

Walk a little further down Union Street and use the pedestrian crossing on your right to cross into the pedestrianised Broadmead shopping area. Walk straight on, stopping beside the Marks & Spencer store. This was once the site of the Tivoli.

The Tivoli
Our walk ends at the beginning of cinema in Bristol.

The Tivoli was the first venue in Bristol to show projected moving pictures, screening a programme of shorts for a fortnight from 8 June 1896. The films were presented by the showman and entrepreneur Augustus Rosenberg of Newcastle. On June 22 1896 Rosenberg appeared at the Ball Room of the Assembly Room, Bath, so was responsible for the beginning of cinema there too.For the first week of the Bristol run, the films were shown on their own; for the second they were incorporated into a variety show. They were projected using what the Bristol Mercury described as a combination of Kinetoscope and Magic Lantern.
By this time anyone with about £60 could buy the necessary equipment and enough films to become a music hall turn. The films themselves had no title cards, so they were called whatever the showmen (or journalists) wanted to call them on any given day. The Bristol reviewer's list of the films shown in that first week includes: In The Dentist's Chair; The Village Blacksmith; A Wrestling Match Between a Dog and his Master; A Burlesque Boxing Match; Three Children Dancing [in hand-tinted colour]; Spanish Cyclone Dance; The Execution Of Mary, Queen Of Scots; The Burning Of Joan Of Arc; A Highland Dance; Death Scene from 'Trilby'; and A Skirt Dance. The theatre had been known by other names previously (the Alhambra in the 1870s and the New Star from 1889) but was the New Tivoli at the time of Rosenberg's appearance. It went through further name and management changes and in 1916 was the Broadmead Picture Palace, in a brief period as a full-time cinema, after which time it was primarily used as a venue for live theatre and entertainment. It closed in 1936 and was demolished in 1952.

Acknowledgements
The following resources were used as part of the background research for this walk:

Anderson, C, 1983. A City and its Cinemas. Bristol: Redcliffe Press.
Barker, K, 1990. Bristol's Lost Empires. Bristol Branch of the Historical Association.
Cinema Treasures website
Dream On: Bristol Writers on Cinema, 1994. Bristol: New Words.
Know Your Place website
Stephenson, D and Willmott, J, 2005. Bristol Cinemas. Stroud: Tempus Publishing Limited.
Winstone, R, 1969. Bristol As It Was: 1953-1956. Bristol.
Winstone, R, 1971 (4th ed). Bristol Today. Bristol.
Winstone, R, 1986 (2nd ed). Bristol As It Was: 1956-1959. Bristol.

Our thanks to Peter Domankiewicz and Mark Fuller for additional information.
There are links in the text which show relevant archive images. Some of these are also available on a downloadable PDF. No image may be reproduced without the permission of the copyright owner.
PARTICIPANTS IN THE MORNING And AFTERNoon Walks THAT TOOK PLACE on Saturday 31 July 2021 AS PART OF CINEMA REDISCOVERED, LED BY MELANIE KELLY AND ANDREW KELLY OF BRISTOL IDEAS. PHOTOGRAPHER: LORENA PINO.
THIS WALK has been devised and written for the FILM2021 programme. It is part of the Opening up the Magic box project, which iS FUNDED BY THE NATIONAL LOTTERY HERITAGE FUND. BRISTOL IDEAS RETAINS COPYRIGHT AND TEXT CAN NOT BE USED BY OTHERS WITHOUT ITS PRIOR PERMISSION.