Vanessa Kisuule is a writer and performer based in Bristol. She has won over ten slam titles including the Roundhouse Slam 2014, Hammer and Tongue National Slam 2014 and the Nuyorican Poetry Slam. She has been featured on BBC iPlayer, Radio 1, and Radio 4's Woman's Hour, Blue Peter and TEDx in Vienna. She has been invited to perform nationally and internationally, from Belgium to Brazil to Bangladesh. Her poem on the historic toppling of Edward Colston's statue, 'Hollow', went viral in the summer of 2020. She has two poetry collections published by Burning Eye Books and her work was highly commended in the Forward Poetry Prize Anthology 2019. She was the Bristol City Poet for 2018-2020, and she has performed at and taken part in many Festival of Ideas events.
Listen
This playlist contains all of Vanessa's events for which we have audio recordings. The playlist includes a panel discussion on racism and how it affects the lives of young people today; readings of specially commissioned poems; a discussion about the legacies of guilt; and a conversation with Pulitzer Prize-winning critic and memoirist Margo Jefferson.
Watch
In conversation with Caleb Femi
What is it like to grow up in a place where the same police officer who told your primary school class they were special stops and searches you at 13 because 'you fit the description of a man' – and where it is possible to walk two and a half miles through an estate of 1,444 homes without ever touching the ground?
In his book of poetry and photography, Caleb Femi explores the trials, tribulations, dreams and joys of young Black boys in twenty-first century Peckham. He contemplates the ways in which they are informed by the built environment of concrete walls and gentrifying neighbourhoods that form their stage; talks about the personalities and sagas of his South London youth; and pays tribute to the rappers and artists who spoke to their lives. He is in conversation with Vanessa. Watch on Crowdcast.
Bristol Poetry Institute Annual Reading: Claudia Rankine
Award-winning poet, writer and thinker Claudia Rankine delivers the 2020 Bristol Poetry Institute Annual Reading. Recipient of the 2016 MacArthur Fellowship and author of five poetry collections, Professor Rankine reads from her new publication, Just Us: An American Conversation and is in conversation with Vanessa. Watch on Crowdcast.
Vanessa Kisuule and Caleb Parkin: A Conversation with Bristol's City Poets
In conversation with Professor Madhu Krishnan, Vanessa and Caleb talk about the difference that poetry makes to a city. Vanessa discusses some of her favourite moments in the City Poet role and Caleb reads his first commission, 'Party Poem'. Watch on YouTube.
State of the City
Vanessa reads 'State of the City', her seventh commission in the role, at the start of Delivering for Bristol: The Mayor's Annual State of the City Address 2019. Watch on YouTube.
100th Anniversary of the Addison Oak, Sea Mills
As part of Homes for Heroes 100, on 4 June 2019 the centenary of the Addison Oak was celebrated with a birthday party in Sea Mills and the planting of an oak sapling at the new housing development at Ashton Rise. Vanessa wrote and performed a poem to mark the occasion. Watch on YouTube.
Read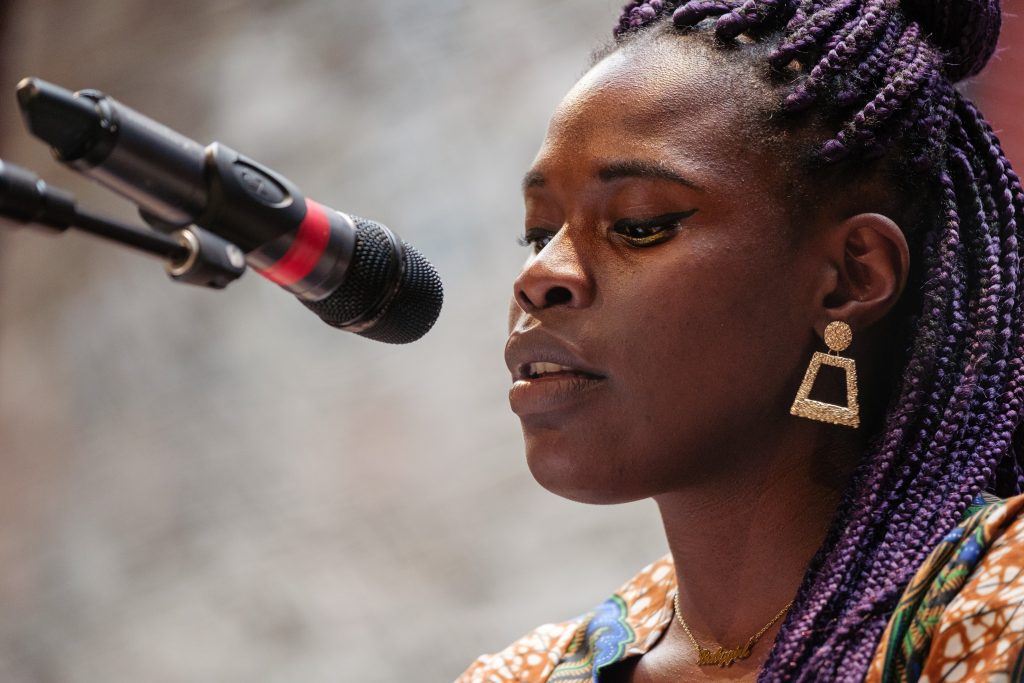 Vanessa Kisuule 2018-2020
Vanessa Kisuule was the second Bristol City Poet to be appointed. At the end of her term we published an anthology of her commissions, which is available to download as a PDF at the link below.
You can view the film made by Bristol City Council of her 2020 poem City of Hope here.
Photo credit: Evan Dawson.
Main image by: Jon Aitken