I first saw Kevin Brownlow's restoration of Abel Gance's 1927 epic Napoleon when it was new – not the famous January premier at Radio City Music Hall in New York (although I still have the poster from that occasion on my wall), but a year or two later at the Arts Theatre in Cambridge, Massachusetts.
The restored movie had an astonishingly warm reception in the US, among both audiences and critics. After all, that version was nearly four hours long, black-and-white, silent (albeit with a fantastic Carl Davis score), and requires some working knowledge of the events of the French Revolution. Since then, I've watched it on TV once, and attended a multi-hour all-day screening with meal breaks at the Royal Festival Hall, featuring a live performance by the Philharmonia Orchestra. It was a day well spent. Netflix has announced plans to fund and show Gance's seven-hour director's cut version later in 2021.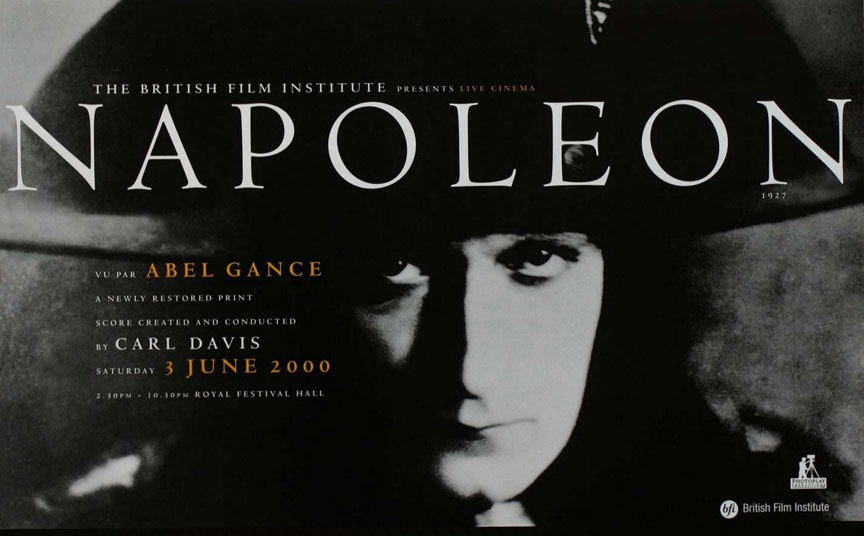 What is it about the film? It certainly isn't that I'm a Napoleon groupie. War-loving authoritarians are generally not my cup of tea. You don't need to know much of the history of the period to appreciate that Gance's perspective is not at all objective. The film's techniques are clearly – still – innovative and amazing, including a unique triptych format. This is definitely wide-screen. But then it is also a multi-hour, black-and-white, silent movie. What makes it so compelling?
The answer has to be at least in part the emotional impact it had. The exact details are hazy in my memory, but I had just arrived in the United States to do my PhD. It was all a bit of an accident. I had only applied to the programme because somebody a year ahead of me had done so and for some reason I decided to give it a go too. When they offered me a place and funding, I was horrified, although it would clearly have been crazy to decline. I was 20 when I flew into Boston for that first semester in September 1981. I had only been abroad once before, by boat train to Paris; family holidays had always been to places like Blackpool or Skegness or Margate. I had never flown before. In the departure lounge at Heathrow, a large Texan man mocked me for clutching my teddy bear.
After the culture shock of my undergraduate years at Oxford (though I quickly grew to love it), now came the culture shock of the United States and graduate school at Harvard. It was hard work keeping up with my peers, fuelling a bad case of imposter syndrome: what on Earth was I doing alongside all these people who were really clever? Like all immigrants, I had to learn quickly how to fit in enough to get along with everyday life – how to pronounce 'tomayto' so you would be understood and get some on your lunchtime sandwich, how the subway tokens worked, how to get a social security number, how not to stand paralysed in front of the huge array of toothpaste brands in the supermarket.
By the time Napoleon was screened – I think at the Cambridge Arts Theatre – I must have been over these early hurdles, coping. But although many details of that time are hazy, I do remember my terrible homesickness. It was too expensive to fly to the UK for Christmas. I had made some friends of course, kind people, but not yet close.
And then I saw the movie. The earliest scenes are set in the military academy at Brienne where the young Napoleon was schooled. He is an outsider mocked for his provincial Corsican accent. He is bullied. He keeps an eagle sent by his family, consolation in his loneliness. The bullies free the bird, which then returns to the sobbing Napoleon. The snowball fight scene at the school is a filmic marvel, and the young actor (Vladimir Roundeko) is extraordinary. And then there's the rest of the movie, with the compelling performance of Albert Dieudonné as the adult Napoleon. Nevertheless, I think it was emotional identification with the lonely young misfit that imprinted the film on me.
If and when Netflix shows its new version, I'll watch that too, all seven hours, even on a small screen. The movie never flags, there are no moments of surreptitiously (or not) looking at the time. I have to give some credit to Napoleon himself: you don't need to be an admirer to recognise an extraordinary life in extraordinary times. Perhaps it helps to have been a forlorn newcomer to recognise and identify with the bullied school-child, but then a lot of us have been there. No wonder this nearly century-old movie has so many ardent fans.
Diane Coyle is Professor of Public Policy at the Bennett Institute, University of Cambridge, and also co-director of the Bristol Festival of Economics. She has written many books about economics: Cogs and Monsters: Economics for the 21st Century is the latest.
THIS ESSAY IS A DRAFT FOR INCLUSION IN OUR FILM2021 BOOK WHICH WE WILL BE PUBLISHING IN OCTOBER. THE BOOK IS FUNDED BY THE NATIONAL LOTTERY HERITAGE FUND. THE AUTHOR RETAINS COPYRIGHT AND TEXT CAN NOT BE USED BY OTHERS WITHOUT Her PRIOR PERMISSION.