Bristol – European Liveable City 2040
'President Caroline Lucas yesterday announced that Bristol has been awarded the accolade of the EU's Most Liveable City, 25 years after it became European Green Capital. She congratulated Bristol and Bath City Region's independent Metro Mayor Professor Alice Roberts for the vision and determination that had brought the city region level with its Danish and Dutch counterparts.'
Dream on!
I was first elected to Bristol City Council 50 years ago in May 1973, having campaigned to save swathes of terrace houses, public green space and the city docks from destruction by massive highway plans that would have torn through many of our historic communities. I had the privilege and experience of representing Cabot Ward in the heart of the city for six years, the best education in real life anyone could have, before resigning from local politics to make a career in architecture and placemaking.
I had arrived in this extraordinary city as a wide-eyed 18-year-old, having lived in various parts of the UK and abroad as my dad was in the military. I came to attend the University of Bristol architecture school, across the road from where I now live in the city centre. I have since travelled the world, learning from wherever I go, but have not moved far.
When I arrived in this 'city of villages' it immediately felt like home and I have had no desire to leave. In 1965 Bristol still seemed to be recovering from the Second World War, with hosts of untended bombsites and derelict buildings overgrown with buddleia, or 'blitz weed', as Bristolians fondly called it.
However, the post-war mindset seemed to have a penchant for vacating and flattening old streets and terraces, to be replaced by soulless blocks set in grass and tarmac. To me, as a naïve young architecture student, it appeared that my wonderful adopted historic city was sacrificing its sense of history and community to the great god car.
A healthy, caring city
I put health at the heart of my vision for Bristol, in an attempt to close that shameful gap of some ten years or more in life expectancy, depending on where you live. To achieve this, we need to make a thousand small moves and just two or three major strategic ones. Most of those small moves will come not from City Hall but, as they always have done, from brilliant individuals and groups within the city who only need to be given permission, and sometimes the means, to bring them to realisation.
Fifteen-minute communities
I referred to Bristol as being 'a city of villages'. Historically that is what we are, with over 100 villages making up one city, making us very different from the 'big boned' metropolitan manufacturing cities such as Birmingham or Manchester. They are great cities but the biggest mistake we make is to emulate their US-style buildings and highways. The wiser thing to do is to reinforce local identity and character, and seek to create a network of '15-minute' healthy communities with all life's needs within easy walking or wheelchair reach. Many of these neighbourhoods would benefit greatly from higher density living to provide the accommodation that is so desperately needed and attract the facilities we all seek. This does not mean encouraging environmentally damaging taller buildings but traditional terraced streets and squares which have proved to provide the best form of medium-rise high-density urban living throughout Europe.
Green city
We should build on the success of our term as the UK's only European Green Capital (2015) to make us the outstanding city of nature and green infrastructure, protecting and fostering our parks and open spaces and linking them all via green, car-free walking and cycling routes. I would fully adopt the 'Car Free Bristol' proposals of the charity Possible, who identify that those currently hit the hardest are 'older people, Disabled people, children and communities where people of colour and poorer people live.'
Healthy schools
I see us becoming a 'city within a forest', trees largely planted by our children through an expansion of our One Tree Per Child initiative, started in 2014.
All schools, primary and secondary, will be rated by their health and environmental credentials and be an integral part of the communities they serve. They will be open outside school hours and during holidays to people of all ages and abilities for everything from further education and volunteering, to care for the elderly and Disabled people. The green road network will be planned on the basis of a combination of safe routes to every school and sanctuaries for wildlife, forming a biodiverse 'web' across the city and beyond. There will be dynamic outside playgrounds and classrooms.
Local food growing
The majority of the city's fresh food will come from the surrounding area via a compact with local farmers freed from the stranglehold of the supermarket chains. The Grade I listed Corn Exchange will be restored as an abundant, continental-style central food market packed with stalls from local farms and makers. This local food culture will be reinforced by vertical farms within the city, making use of defunct multi-storey car parks and all spare roof space.
The listed 'A-Bond' warehouse at Cumberland Basin, which has proved too impractical and expensive to turn into affordable housing, will be a demonstration 'aeroponic' farming project run by Bristol pioneering company LettUs Grow. The 12-acre historic Bristol Zoo site, snatched from the jaws of developers in a last-minute act of generosity, will be a biodiverse walled market garden and food research establishment together with the world's first 'OurWorld Bristol' augmented reality natural world visitor attraction.
Zero Emission Zone
The whole of Bristol will have become a Zero Emission Zone with a maximum 20mph speed limit and zero-emission vehicles only if the city is to meet its zero-carbon target. Every child should be entitled to an upbringing that is as clean and healthy as they would enjoy living in the country, thereby greatly improving quality of life and health for all.
We should aim to make active travel the preferred means of transport within the city by all those who can, with ease of use and priority for disability vehicles by all others, supplemented by light trams and guided buses. Commuting by car into the city during peak hours will be banned following the expansion of park and ride provision and a city region-owned public transport network, including light trams, elevated transit and/or cable cars. These will be clean, comfortable and flexible, gaining huge passenger numbers from those who have decided it is easier to move around the city without a car.
Water and energy
The city region's cleaned-up rivers, canals and docks will be fit for fish, and wild swimmers. A new flood barrier and local crossing at Avonmouth will turn the River Avon and New Cut, down from the M5 bridge, into an anglers' paradise and enable the closing of the Portway to traffic. A traffic-free, nature-rich Avon Gorge will return to its natural state and become a place of learning and leisure on water and land.
The city's district heat network, powered by renewables, will cover the whole city, having learned from Copenhagen, our fellow EU Green Capital and model northern European city. The River Frome will be opened up through the centre and under the M32 as a leisure water park. The M32 will itself be primarily for public and park and ride transport, freeing one side to active travel to form a new park like New York's High Line, built on an old elevated freight train track in Manhattan.
Connected city
There will be high-speed train connections to London, Birmingham and the North, more essential than ever now that GB air travel will have been restricted by Parliament to islands and the more remote areas of an independent Scotland. The majority of Bristol Airport parking will have been returned to agriculture.
There is so much more that could be said on many more issues, but I hope this gives a flavour of my dream for a healthy, caring and connected Bristol.
I still stand by the vision for Bristol I published ten years ago, available on peopleandcities.com. Much has flowed under the bridge since then but the needs and aspirations are little changed. We can't afford to wait another ten years.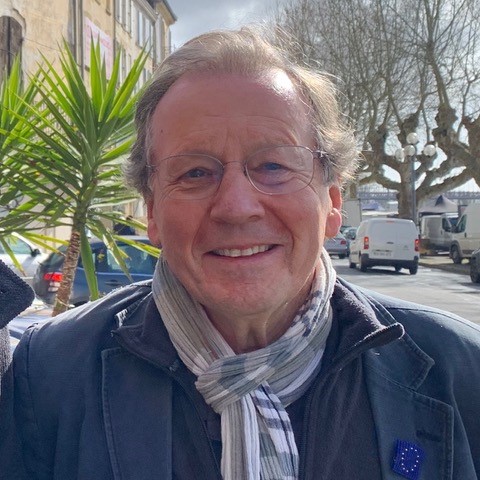 George Ferguson was President of the Royal Institute of British Architects 2003-2005 and the directly elected mayor of Bristol 2012-2016. His work can be seen at peopleandcities.com
This article appears in Bristol 650: Essays on the Future of Bristol, a book bringing together essays from over 30 contributors, addressing some of the challenges the city faces and sharing ideas about how we might meet them. From dealing with the past, the future of social care, culture and housing to building a city of aspiration, the book looks to promote learning about the future of Bristol and encourage new ideas to come forward.
Free copies of Bristol 650: Essays on the Future of Bristol will be available at selected Festival of the Future City events in October 2023, or you can find articles featured in the book at bristolideas.co.uk/bristol650book.