Five Things I Have Learned from My Internship at Bristol Ideas 
Irine Qavtaradze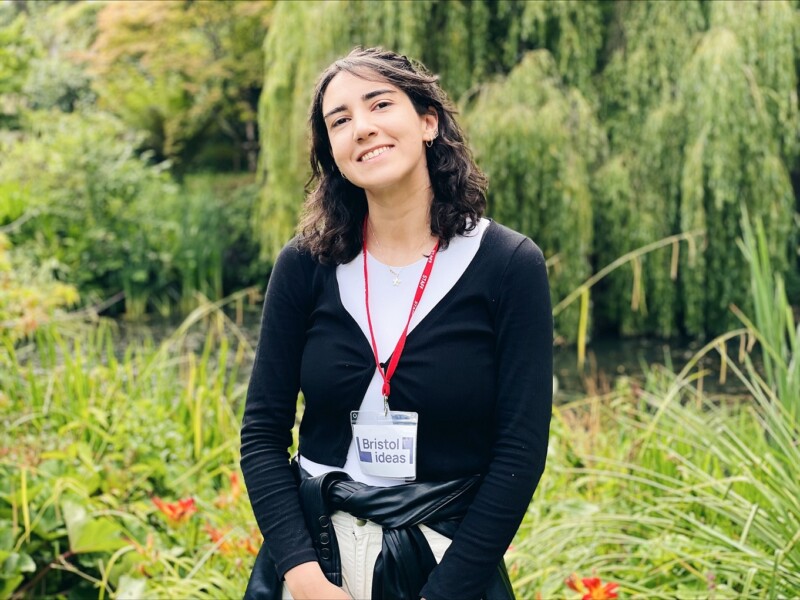 Irine Qavtaradze, an MA Publishing student at the University of Exeter, reflects on her recent internship at Bristol Ideas.
As Andrew Kelly, Creative Programmer and former Director of Bristol Ideas, said to me recently, no one has monopoly on ideas. Believing that creative, thought-provoking and innovative ideas might come from anyone and everyone, the organisation creates a safe space for debates and discussions on how to create a better future together.
Multiple festivals, strong partnerships and unique, stand-alone projects are all integral parts of the organisation with only five staff members and big ideas. Despite having certain assumptions of what my journey would be like, I would have never imagined feeling so fulfilled and motivated to explore new possibilities. Everything from organising a film screening at the former IMAX at Bristol Aquarium, to meeting favourite authors, to discovering that physics can be fun, has made me more curious and open to being inspired and challenged by the ideas around me.
So, here are the five main things I took from my month full of opportunities, learning and personal development as an MA Publishing student.
1. You can always find a solution to a problem
Before one of the events I asked Zoë Steadman-Milne, Creative Content Producer of Bristol Ideas, how she always keeps calm and deals with the last-minute issues that tend to pop up in creative industries. She told me that there are no problems that cannot be solved. Cancelled flights, delayed trains, technical issues and even a global pandemic are all the things she tackles while overseeing programming. It is necessary not only to think on the spot but to manage the audience expectations and keep up high standards. So, in spite of all the obstacles and hindrances, if we remember to take a step back and look at the issues from a different angle, we will always find a solution.
2. Be enthusiastic and passionate
Bristol Ideas organises hundreds of events. Everyone from authors and artists to politicians and scientists has had thought-provoking discussions with their audience. Amy O'Beirne, Operations Manager, has met people from various backgrounds and different points of views but every new event she organises is a source of knowledge. Every new person she meets is a new bond she can establish. After a month of internship and more then ten events, I have learned to absorb every kind of fascinating piece of information that comes my way and treat every day as a new possibility to grow.
3. Prepare for the worst, hope for the best
While organising an event there are various things that are outside our control. Julia Trow, Head of Finance, is always prepared and aware of all the possible outcomes. While she always does the most amazing job and has everything ready to go, she is aware of all the scenarios that may occur and is not caught off guard. Despite all the achievements and every successful project, as long as we remember that it is essential to acknowledge all the things that might go wrong, we will be one step ahead of our challenges.
4. Be open-minded and listen to others around you
Whether you are in charge, managing a small team or doing an internship, you can always be inspired by the people around you. Andrew Kelly was Director of Bristol Ideas for 29 years before May 2022. Throughout that time, and even now as Creative Programmer, he has come up with and developed his viewpoints by listening, learning and then reflecting on ideas he has read, watched or heard. He is open to debates and discussions, challenging himself and everyone around him to create a better tomorrow together and as individual thinkers. During my internship I've learned about politics, science, literature and art and I have never been more open to hearing what the people around me have to say.
5. Inspire people around you
Almost none of us succeed individually – we want and need people around us to support, inspire and help us. I have heard many times that some people are natural leaders, being able to bring out the best in people. However, besides the given skill, Naomi Miller, Acting Director, has genuine interest in her team's interests and ideas. She knows that in order to make the most memorable events, every member of the team is invaluable and irreplaceable. So, everything from individual projects to team meetings turns into a lively discussion where the best outcome is achieved. In the future, whether I work in a small team or a large one, as a manager or an intern, I will always remember that sharing your passion and making people feel valuable is of utmost importance when you are doing a job you love.