I was young when I first witnessed racism. I grew up in a mixed heritage and mixed skin colour family with a white British mum and Kurdish-Iranian father who had fled to the UK. Whilst I was light-skinned, my father and brother were not. When I was four, we moved from multicultural South East London to a predominantly white, working-class, rural area where we were one of only a few minority ethnic families. Racial abuse was a daily experience, and included physical attacks against my brother, discrimination across the board for my father (which carried on wherever he went when he left the family unit) and relentless verbal abuse towards me. I quickly learned to negotiate and argue my way out of the bullying I faced but it wasn't so easy for my brother or father. There were lots of repercussions including mental health issues, family breakdown and a feeling of being outsiders.
These experiences have informed my life's work, inspiring me with a determination and passion for promoting human rights and doing what I can so that others do not have to go through what I did, or are at least supported and believed when they do. Sadly, joining Stand Against Racism & Inequality (SARI), a leading regional hate crime charity, has made it clear to me that we still have a long way to go. Far too many people continue to suffer at the hands of a minority of people who view the richness that diversity brings to the world as a threat.
SARI was set up by a steering group of local people who wanted to make Bristol a more just city for its minority ethnic communities. These pioneers included victims of racial harassment such as parents, business owners, a local Black reverend, a director of a Black housing association and SARI's wonderful founding director, Batook Pandya. They shared a common understanding that dealing with racism often led to coming up against a brick wall, criminalisation and frequently an inadequate response from agencies, which were at best unable to understand their plight and at worst institutionally racist and complicit in the abuse. Victims were alone and vulnerable.
Support Against Racist Incidents, as it was known then, secured its first funding in 1991. I joined as SARI's first caseworker that year, aged 22 and fresh out of university. Already in post was Agnes Yeomans, who sorted all the back office and administrative needs of SARI and who is now our finance and HR director, and Batook, SARI's first director, who sadly passed away in 2014.
Batook was instrumental in SARI becoming the highly regarded charity it is today. He was a tireless campaigner for justice in our city and renowned for his honest, outspoken, multi-agency approach to fighting racism. He believed that you had to work with agencies such as the police and local authorities who had the power to make the difference. However, he was determined that SARI clients had to be firmly in the driving seat. As our chair at the time of his death, Esther Deans, stated, 'Batook believed passionately in creating a better society by working together, not against each other, which is why there is such a need to overcome the crippling injustices that divide us – a community divided by discrimination can never be a community united.' Losing him was a huge blow personally and professionally. It is in his honour that I continue ensuring SARI does all it can to fight hate in all its insidious forms.
In our first year, we opened and supported 44 racial harassment cases. Batook and I were out day and night, visiting those who were being attacked in almost every way you can imagine. Many stick in my mind, including a young Pakistani man, Tariq Hussain, who had a finger and thumb slashed off in a vicious, unprovoked racist attack by a group of white men when he was on his way back from work, and a spate of 80-plus attacks across the Fishponds area when a far-right group ran a racist campaign to target anyone in the telephone directory with a foreign-sounding name. Our cases leave an imprint and constant reminder that we must do better, and that communities and agencies must unite to prevent and reduce hatred which, if left unchecked, can go to very dark places, as we saw with atrocities such as the Holocaust and the Rwandan genocide.
Fast-forward 31 years, and we are a diverse team of 23 staff, all dedicated to tackling hate across Avon and Somerset. We remain led by a board, nearly all of whom have lived experience of hate. Each year, we deal with up to 900 referrals and open around 400 cases, reaching thousands more via our signposting, education, awareness and outreach work.
SARI has adapted to the changing times. Whilst we started out focussed solely on victims of racism, we have expanded our focus to support people dealing with all types of hate crime, changing our name to Stand Against Racism & Inequality to reflect this shift. We also collaborate with specialist partners, recognising that we needed new expertise and new lived experience for LGBTQ+ and Disabled people.
SARI was created in the context of a long-divided city that was built on the suffering of those who were enslaved; much of Bristol's wealth comes from exploitation and trauma. In the decades before our creation, we saw the Bristol Bus Boycott, a successful movement for justice against the deeply unfair colour bar that relied on the actions of ordinary people to overturn. And in the 1990s, as SARI was formed, we witnessed a wave of civil unrest with uprisings happening across the country, including in St Pauls in Bristol due to unfair policing and discrimination of the UK's Black communities.
Bristol's reputation on the national and global stage complements and contrasts with its everyday reality. We have lots to be proud of regarding campaigns for justice but, despite our reputation as a trendy, edgy, diverse and multicultural city, there is also discord and discontent lying beneath the surface. According to the Runnymede report Drifting Upwards or Sliding Back, we were the seventh most unequal city in the UK in terms of racial equality in 2011. We have witnessed truly awful acts of injustice and hate in our city, including the violent assault of Black teenager Marlon Thomas in 1993, when a group of white men set out to deliberately target young Black people at a funfair. In the past ten years we have seen two racist murders of people who came to our city seeking safety and sanctuary – Bijan Ebrahimi, murdered on 14 July 2013, and Kamil Ahmad Ali, murdered on 7 July 2016. The very fact that SARI has to exist, and that it is as busy as it is, is a demonstration of how far our city still needs to come.
That isn't to say that there aren't great things happening in Bristol. We are also one of the most innovative, compassionate and wonderful cities when it comes to striving for justice. In my role as Strategic Director at SARI, and during my year as High Sheriff of Bristol 2022-2023, I was privileged to see this. From Creative Youth Network's Welcome Wednesdays, a drop-in for unaccompanied asylum-seeker minors, to volunteers of all ages and backgrounds working together in a dilapidated warehouse to get donations across to Ukraine, to Youth Moves' teenage leaders coordinating funding for local people in need, I have seen some of the best of humanity in Bristol. This dedication and passion galvanises me to keep on fighting for justice.
There is much to keep us hopeful. As I said in my introduction to my pioneering event as High Sheriff, A Lifetime for Justice, 'every meaningful step towards…improved human rights, has been pre-empted by ordinary citizens with fire in their bellies. People who have been unwavering, persistent and relentless in their quest for a fairer society. Often fuelled by their own experiences of brutal injustice, these are the people who have pledged their life to justice.'
So, what do we need to do to create a city that is just? We need determination and persistence. We need everyone to share the responsibility for seeking justice. We need many people achieving small acts that combine to make their community safer and fairer. This can be in any sphere: school, workplace, place of worship, local pub. You can contribute to equality and justice in each of these life locations. You can advocate for better systems for dealing with bullying and hate anywhere. You can organise inclusive celebrations which embrace diversity. You can be a committee member, a governor, a volunteer, a parishioner, or do a walk or run for charity.
It is the god of small steps that make a city more just. As Eleanor Roosevelt said: 'Where, after all, do universal human rights begin? In small places, close to home – so close and so small that they cannot be seen on any maps of the world. Yet they are the world of the individual person; the neighborhood [they live] in; the school or college [they attend]; the factory, farm, or office where [they work]… Unless these rights have meaning there, they have little meaning anywhere. Without concerted citizen action to uphold them close to home, we shall look in vain for progress in the larger world.' This is my life mantra – can you make it yours?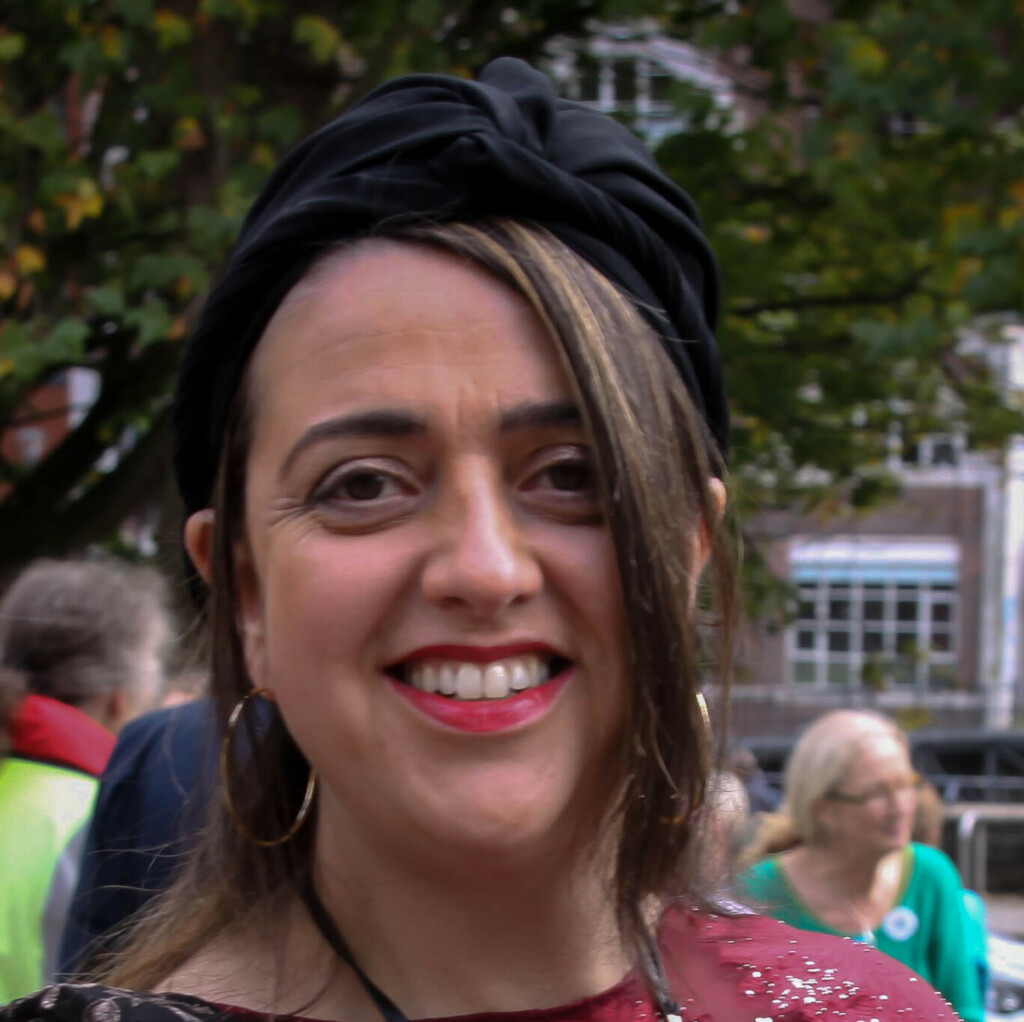 Alex Raikes was the first caseworker at Stand Against Racism & Inequality (SARI), a leading regional hate crime charity. She is now their Strategic Director and continues to be a driving force in the city in tackling racism and hate crime. She was awarded an MBE in 2009 for her contribution to race relations, made an Honorary Doctor of Laws by UWE Bristol in 2019, became a Deputy Lieutenant of Bristol in July 2020 and was High Sheriff of Bristol 2022-2023.
Anna Wardell is Communications and Fundraising Officer at Stand Against Racism & Inequality (SARI).
This article appears in Bristol 650: Essays on the Future of Bristol, a book bringing together essays from over 30 contributors, addressing some of the challenges the city faces and sharing ideas about how we might meet them. From dealing with the past, the future of social care, culture and housing to building a city of aspiration, the book looks to promote learning about the future of Bristol and encourage new ideas to come forward.
Free copies of Bristol 650: Essays on the Future of Bristol will be available at selected Festival of the Future City events in October 2023, or you can find articles featured in the book at bristolideas.co.uk/bristol650book.