I believe that when the Covid-19 pandemic brought Bristol to a standstill in March 2020, our relationship with nature changed. I know mine certainly did. My strongest memory of those early days of a global pandemic is taking my nine-month-old from our city-centre flat to Queen Square to give him some much-needed practice crawling on grass. It was only a few minutes before we were sent home by a police officer monitoring the square with a reminder that only one hour of outdoor exercise was permitted under current restrictions. The unexpected experience of being suddenly cut off from nature, even in its most basic form in a city-centre Georgian square, would stay with me years later, and directly influence my charity's environmental communication activities and campaigns.
Back to Covid-19: in 2020, the media was filled with stories of wildlife emerging onto empty streets and birdsong finally being heard in the city centre. These stories, full of awe and wonder, would eventually give way to images of overflowing waste bins and stories of trying to socially distance on mountaintops and in forests.
It was in February 2020, only a month before the first Covid-19 restrictions, that Bristol became the first city to declare an 'ecological emergency'. A companion to the climate strategy launched in the city the year before, the declaration set out how intrinsically linked the challenges were. Now that so many cities and regions have followed, it's easy to forget how forward-thinking it was to clearly outline that we could make progress on our climate targets but that if biodiversity collapsed we would still face dire consequences. The declaration itself makes for sobering reading: Bristol's songbirds, such as swifts and starlings, wiped out by 96 per cent between 1994 and 2014. Between 60 per cent of wild invertebrates and up to 76 per cent of insects wiped out around the world since 1970.
I've been working in environmental communications for 20 years, leading The Natural History Consortium, a charitable collaboration of Bristol-based and national organisations working together on a common mission of engaging people with the natural world. Facts, figures and statistics are important and illustrative tools, but they can also obscure, mislead or confuse our audiences. However, I've always liked the choice of these two evocative facts and have had many conversations with people who recall 'having more insects on the windshield' or 'hearing more birds in the city' in the past or when they were young. Words matter. Even the term 'ecological emergency' can sound out of step with more familiar terminology such as 'nature' or 'wildlife'. Some collaborators were concerned with the use of the word 'emergency' as we already found ourselves in a global pandemic.
These points were front of mind when, over the spring and summer of 2020, a group of representatives from 39 different organisations across the city sat down to write a city-wide strategy for addressing our ecological emergency. It was, by necessity, written remotely and online, through a summer of changing restrictions.
To my surprise, pulling the strategy together turned out to be more straightforward than I expected. There was broad – if not total – agreement that we already knew what needed to be done, and that the primary aim of the strategy was to set it out clearly in a way that demonstrated the role that all individuals and organisations in the city have. Here is what we broadly agreed.
First, people and organisations across Bristol need to combine resources to create bigger, better and more joined-up habitats for nature. Bristol's strategy echoes national and international targets, calling for 30 per cent of the city to be dedicated as 'space for nature' by 2030.
Second, we need to stop degrading and destroying our current habitats. The strategy for Bristol focuses on reducing pesticide use in the city by 50 per cent by 2050, and explores the health of our waterways. The strategy also calls on individuals, organisations and businesses to consider and reduce the 'wider footprint' of their purchasing and procurement decisions that may affect habitats around the globe, and this has sparked fascinating discussions inside and outside the city.
Whatever clarity we may have had about what needed to be done, how to reach these targets – together, as a city – is an ongoing debate and discussion. From my perspective, the strategy is written very much with the 'emergency' perspective in mind. It sets out where the city should aim, and does not make recommendations around, for example, baseline measurements.
The Natural History Consortium mission is 'engaging people with the natural world through collaborative action', and our focus is on environmental communications and engagement. As Bristol celebrates its 650th anniversary, our charity celebrates its 20th. Our annual Festival of Nature continues to celebrate wildlife in the city, but also to encourage and track individual 'actions for nature' – increasingly targeted to the specific calls in this strategy document.
In 2021 we experimented with a 'pesticide amnesty', an event in partnership with University of Bristol and Bristol Waste that attracted regional and national press coverage. The idea was simple: provide mobile disposal (with a specialist chemical team) in two areas to invite people to empty their houses and allotment sheds of pesticides. We were surprised that what people brought was often very old, dripping bottles of chemicals, many without labels, and sometimes inherited from previous shed owners on an allotment.
I sat on the welcome desk for two days. The crucial learning for me was that the majority of people who visited and openly shared their views about pesticide use were nature lovers. I spoke with many people who were keen to create beautiful gardens and outdoor spaces. Many were unaware of the damage that herbicides (chemicals sprayed on plants) could have on insects, especially when there was a nice friendly bee on the label. Many pet owners were also unaware of the impact of flea sprays on Bristol's insect population. We have published our findings from the event and held a number of conversations with other cities about our work. Our city's local recycling centres have chemical collections throughout the year, but the weekend experiment allowed us to speak to people directly and inform future communications activity.
There are a huge number of projects, organisations and campaigns across the city. Festival of Nature involved over 100 organisations and groups this year, and there are many more. Responses to the city's annual 'Quality of Life' survey demonstrate that people are aware of their impact on the natural world, eager to spend time in it and believe that they are taking action for nature. Avon Wildlife Trust has created Team Wilder, based on recent research around creating societal tipping points for change – in this case, collective individual action for nature. Momentum is growing and progress is being made.
Yet there are great challenges too. Future Bristolians looking back at 2023 will find that the main discussions about our 'ecological emergency' today are around difficult questions regarding land use, housing and local green spaces. These debates are hugely important, and better recorded by others more closely involved. Access to nature and diversity in decision making require difficult discussions and faster progress. Our wildlife and green spaces are critically important to the one in eight people who do not have access to nature.
Bristol 650 gives us an opportunity to look closely at our city, our decision making and our collective work on our biggest challenge. I hope that 2023 will mark a turning point as together we tackle our ecological emergency and support nature's recovery.
In May 2023, we had word from a local volunteer, Susan Acton-Campbell, who shared that she had photographed a bee during our annual 'City Nature Challenge'. During this annual event our charity asked people across Bristol to take photographs and upload them to the iNaturalist website. It's a citizen science effort to help add to our database of wildlife across the city. Susan shared that it seemed she had recorded a bee called Nomada zonata in Troopers' Hill, the first time the bee had been found in Bristol. It was hairless, looked rather like a wasp, and was known as a 'cuckoo bee' as it was a type of 'parasite' known as a cleptoparasite. A sighting, only the 113th in the UK and the first in the region, therefore showed that the 'host' species, Andrena dorsata, was also present in the city.
Susan's bee sighting highlights the technological revolution of wildlife sighting – a bee was photographed on a mobile phone, uploaded to iNaturalist for one expert opinion and sent over Twitter for another. We need more environmental data, not just collected on iNaturalist but long-term data sets. It's difficult to know how long this type of bee has been living in Bristol – it has only been recorded in the UK since 2017, and the closest previous sighting was in Stroud in 2020. Still, it's a fitting addition to Bristol 650. Welcome to Bristol, Nomada zonata. Long may you thrive in our city.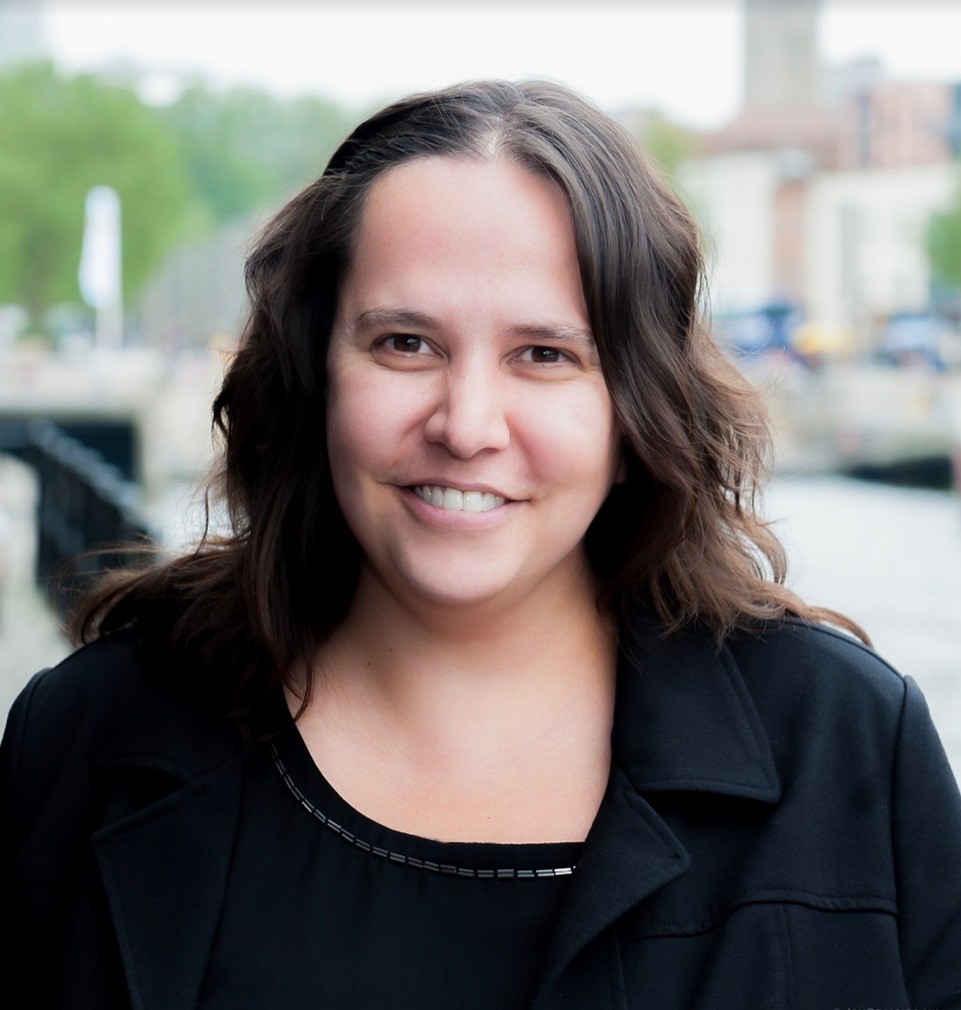 Savita Willmott is Chief Executive of the Natural History Consortium. She joined in 2006, managed the transition to charitable status in 2008, and as Chief Executive continues to grow the impact and reach of the projects locally, nationally and internationally.
This article appears in Bristol 650: Essays on the Future of Bristol, a book bringing together essays from over 30 contributors, addressing some of the challenges the city faces and sharing ideas about how we might meet them. From dealing with the past, the future of social care, culture and housing to building a city of aspiration, the book looks to promote learning about the future of Bristol and encourage new ideas to come forward.
Free copies of Bristol 650: Essays on the Future of Bristol will be available at selected Festival of the Future City events in October 2023, or you can find articles featured in the book at bristolideas.co.uk/bristol650book.