There was no doubt about it, that Friese-Greene fellow had some very rum ideas about women. Not in the sense that might have the modern Twitter Warrior scrambling to their phone to broadcast their disgust, but rather in a manner that must have raised the eyebrows of all genders in the times he lived.
In 1874, at sweet eighteen, William Edward ('Willie') Green of Bristol married Mariana Helena ('Lena') Friese – a Swiss-German woman, five years his senior. Willie was currently apprenticed to the photographer Marcus Guttenberg in a swanky address at 17 Royal Promenade, but two doors down was another photographer, Daniel Josty, who was Helena's half-brother and companion, and it seems highly likely that this is how working-class Willie encountered the daughter of a baron who had fallen on hard times.
Willie abruptly broke off his apprenticeship, and two years later the couple could be found in Bath with a daughter, Ethel. Willie was working in the photographic studio of Mrs H R Williams at 35 Milsom St. In fact, those were her husband's initials: she was born Lucy Matilda May. Not only that, but her husband – a solicitor's clerk – had died before she began in the photographic business. Starting up in 1857, Lucy Williams was one of the very first commercial studio photographers in Bath, and her current premises had previously been occupied by a Mrs Hannah Whaite, another early adopter who found herself in the photography trade after the death of her husband in 1856. Williams appears to have initially shared the business with a Mrs J Roper and around 1877 passed it on to Eliza Hawkins, another widow, who turned it into the 'West of England Branch' of her successful 'Brighton School of Photography'.
Although commercial studio photography was undoubtedly dominated by men, one can clearly see that plenty of women ran studios, either on their own initiative or because of entering their husband's business. Census reports reveal that the ratio of male to female photographers was around 5:1 at this time, but by the turn of the century 25% would be women. Not only that, but the vast majority of the backroom work was done by women – in ascending pay order: mounting, printing, retouching and colouring. Retouching involved making corrections to the negative or print to remove blemishes and enhance the original (photograph or sitter). Photographs were hand-coloured from the earliest days and there was a fluidity between the role of 'artist' and 'photographer'. Indeed, Lucy Williams had begun as a painter of miniatures, a not uncommon transition.
So Willie's first professional employment may well have been in an entirely female environment. As Mrs Williams left her studio, he set up on his own account. Well, not exactly. The business run from their home at 3 Old Bond St in Bath was actually registered as 'Mrs Friese Greene' and the Cartes de Visite (the cheap portraits of the day) were stamped simply 'Greene', with the extra 'e'. When he moved into more prominent premises under his own name in The Corridor shopping arcade, William fully adopted 'Friese Greene'. This was something very unusual for the day: not only joining his wife's name to his own, but altering that name to provide 'balance' (as he later supposedly explained it). This new name would become his brand.
In 1881, the Friese Greene name was to be found on a second, larger Bath studio and others in Bristol and Plymouth. That was also the year that Helena lost both her parents. After a trip to Switzerland with Ethel, she returned with her sisters, Ida and Carla Friese, who then learnt developing and printing, becoming part of the businesses. In 1885, William opened the first of many studios in London and Helena and Ethel would soon follow him there. Meanwhile, Ida and Carla kept things going in Bath, before eventually joining them.
A few years ago, a Carte de Visite from one of the Friese Greene Bath studios came to light at auction, which shows a woman in working clothes, operating one camera, with two others beside her. From her appearance this seems to be one of the three Friese sisters – quite possibly Helena herself – and provides evidence that they were not merely working behind the scenes, but were personally taking the pictures.
William soon established himself as a notable figure on the London photographic scene, attracting some high society clientele, and personally taking portraits of the more illustrious customers, even as his attention was increasingly drawn to inventing. An 1888 account of one of these is notable: 'Mr Friese Greene of Piccadilly may be congratulated on his latest novelty, "the guinea engraving." I have just seen a capital portrait in this style of Miss Emily Faithfull.' Largely forgotten now, she was an incredibly important figure in the nascent women's movements in both Britain and America, to wit, 'Miss Faithfull's efforts to increase the employment of educated women began nearly thirty years ago . . . Thanks to her persistent advocacy ladies now find remunerative occupation in many directions . . . The photographer has taken her at her own writing-table, surrounded by her books and papers and has caught a particularly happy expression as she looks up from her writing . . .'
The aforementioned Keyboard Warrior would probably balk at Faithfull's conservative politics, her support of colonialism and, perhaps, the approval she enjoyed from the Queen. Nonetheless she was a powerful force in campaigning for women to enter the workplace and have financial independence, most notably founding the Victoria Press, an all-female enterprise which gave women training and employment in the printing trade – work that men had sought to exclude them from. Apparently a lesbian, she survived significant scandal largely unscathed and in the year of this portrait was sent an inscribed engraving of Queen Victoria by the monarch herself, in recognition of Faithfull's decades of work for women's rights, this being quickly followed by a Civil List pension.
This photographic commission seems significant as Friese-Greene followed Faithfull's example, not only in the case of his wife and sisters-in-law, but also in bringing other women into the photographic trade. For instance, it appears that one woman he likely met whilst still an apprentice, was trained and brought through various of his studios to London until she flourished greatly in her own right and ran an exclusively female business. That is still research-in-progress but I hope to write more soon.
William Friese-Greene never seems to have been part of any of the political or social movements of these times, where women's rights often intersected with other new ideas, around temperance, vegetarianism and the early anti-vaxxer movement. Nonetheless, he seems to have been what one would call, in modern parlance, 'an ally' and made his views manifest not simply in speech but, above all, through his actions and choices.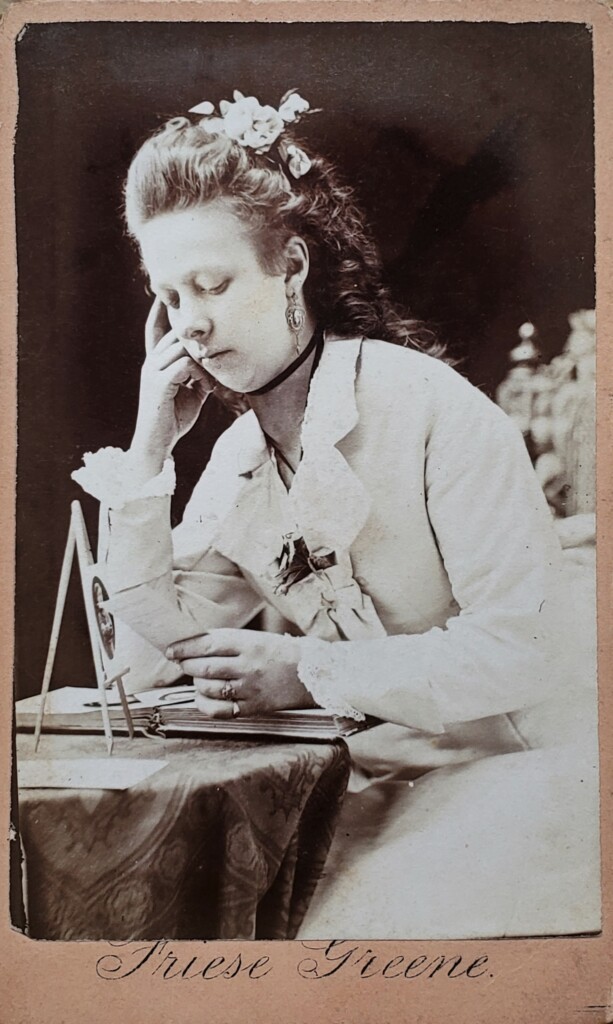 Peter Domankiewicz is a film director, screenwriter and journalist with an abiding interest in the beginnings of moving pictures.
THIS ESSAY has been commissioned as part of OUR FILM2021 project which IS FUNDED BY THE NATIONAL LOTTERY HERITAGE FUND. THE AUTHOR RETAINS COPYRIGHT AND TEXT CAN NOT BE USED BY OTHERS WITHOUT His PRIOR PERMISSION.