The role of City Poet was officially handed from Vanessa Kisuule to Caleb Parkin in a special event which took place on Wednesday 23 September 2020 at Bristol Old Vic.
The event was marked with performances and conversations from both poets, and the publication of an anthology of Vanessa's official commissions during her residency.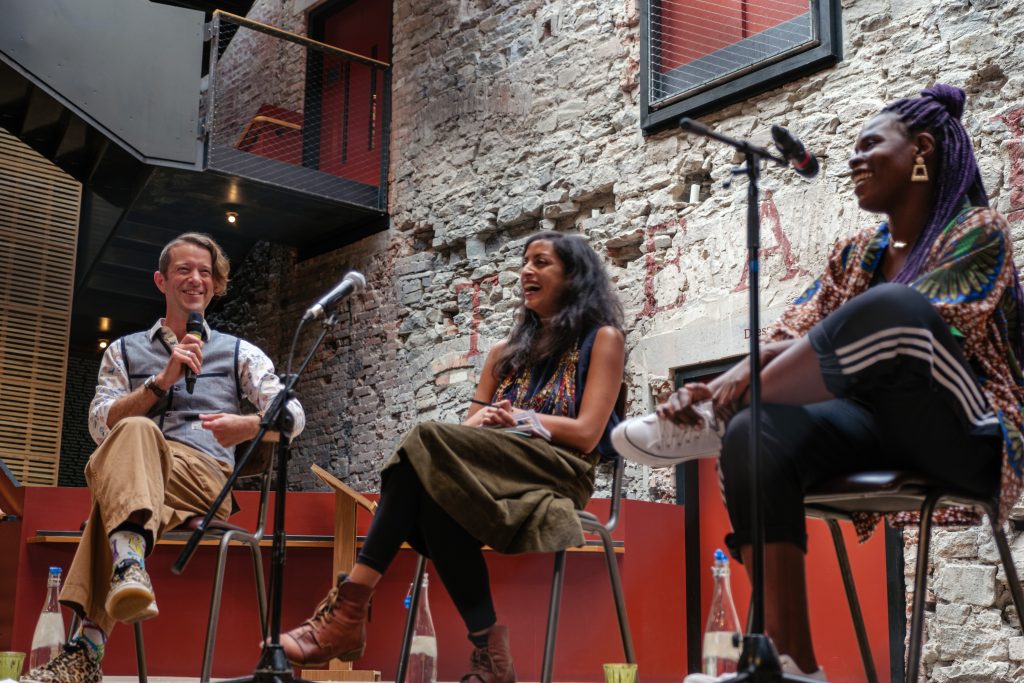 The role of City Poet was created in 2016 by Mayor Marvin Rees. Writing in the introduction to the anthology, he said:
'Vanessa has understood and communicated Bristol's soul. She has challenged the city and engaged people from all walks of life. She has crafted poems and phrases that have opened up iconic moments in Bristol's story – and the meaning of those moments – to ourselves and to people across the world.'
Speaking of what it had meant to be the City Poet, Vanessa said:
'Our experiences of this city are splintered. From the top of Cabot Tower, nestled as it is between Hotwells, Redland and Clifton, Bristol seems idyllic. From there, the coloured houses, bountiful trees and wide sky dotted with balloons is the fodder of glossy brochures. But the Bristol you see from below is a different and often darker story. It's hard to cultivate imagination when you are focused on the bare essentials of living: getting a job, paying bills, keeping your family afloat. From above, the scope of life seems boundless. From below, its all too easy to feel hemmed in by tall flats you can't afford to rent, huge crowds of indifferent people, a mercenary government that puts the bottom line before the people they're paid to serve.
'What does a City Poet do, then?
'Perhaps: they are honest, even when the truth is ugly or damning. They shed light on hope and unabashed joy, without leaning on platitudes. And they try, when they can, to offer more than just one vantage point.
'The City Poet simply shows the view from above and below.'
In June 2020 Caleb was appointed Vanessa's successor following an open-call for submissions. Caleb is a facilitator and filmmaker with a particular passion for inclusive environmentalism: wellbeing, arts, culture and heritage; and LGBTQ+ pride. Caleb performed his first commission as City Poet, Party Poem, which will be uploaded on 1 October to mark National Poetry Day.
Later in the evening, Vanessa and Caleb took part in an online conversation with Professor Madhu Krishnan who chaired the City Poet selection committee. You can watch their conversation on our Crowdcast platform.
The View From Above and Below
Download a PDF of Vanessa Kisuule's anthology here.