From the revision of Magna Carta in 1216 to the trial of the Colston Four eight centuries later, Bristol has been the home of major changes in the law and democracy. Sometimes this change has come from public protest; sometimes it's been the dedicated work of individuals and small groups over many years; sometimes MPs have led the way.
Though there have been setbacks and failures, the progress made towards social justice has been strong, if long, and shows what can be achieved when good ideas, campaigns and people come together.
This material provides details of some of these changes, challenging us all to follow these pioneers in making future positive change happen. 
Booklet and Timeline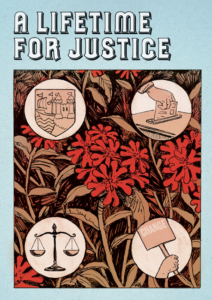 Bristol is a city with a radical past and a long heritage of demonstration, protest and fights for justice. This pamphlet seeks to rediscover and explore this heritage, encouraging all those who read it to discover your community heritage as changemakers of the city; inspire you to play active roles in justice activism; and to consider the legal and justice sectors for your future work. Hearing and understanding these stories, people and moments help us see the past in new ways and be inspired by their actions to make our own mark on the city.
Illustrated and designed by Willem Hampson, it has been produced by SARI (Stand Against Racism & Inequality) and Bristol Ideas during Alex Raikes' year as High Sheriff of Bristol, and is made possible with the National Lottery Heritage Fund.
Learning Resources