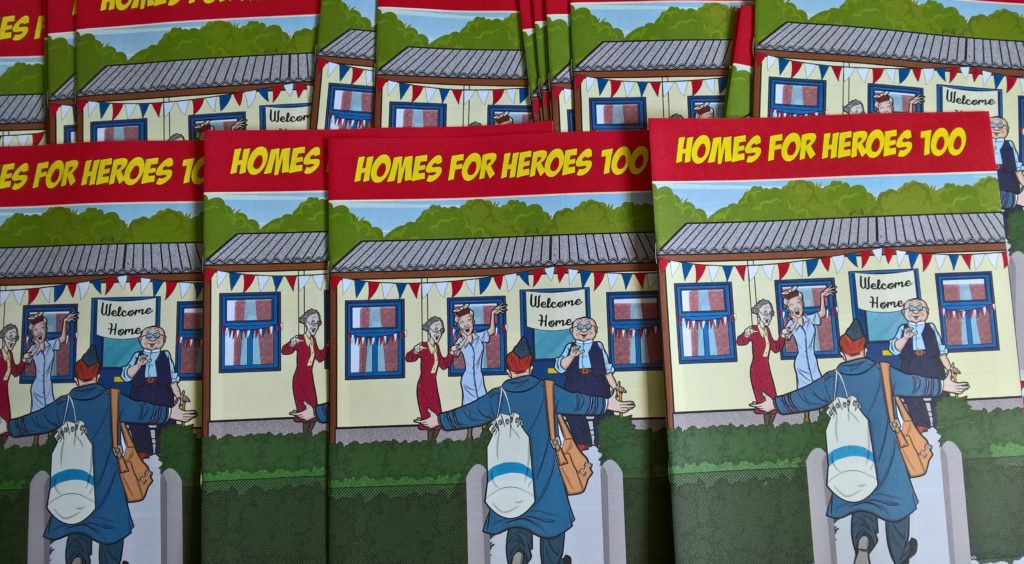 Homes for Heroes 100 Comic
A comic-book style history of a century of council estates in Bristol has been published as part of Homes for Heroes 100.
The comic is illustrated by Tony Forbes and was devised and written by Eugene Byrne who said:
'Our aim was to entertain and inform youngsters about the remarkable story of something most people take for granted – decent housing. Tony has done a fantastic job in telling the tale from the viewpoint of an ordinary Bristol family. He's made it humorous, but also often very moving, too. But it's not just for children. We hope it will be accessible to people of all ages. Housing is an important issue, and one that has become very urgent once more.'
Nearly 40,000 copies have been printed. They are being used in projects led by partners in Homes for Heroes 100, but some are also available to the general public while stocks last.
Feedback from readers to date includes the following:
• 'I was surprised to see the photos of Bristol in the olden days and I really enjoyed looking at the different types of council housing.'
• 'I actually found the comic book story really engaging and got quite emotionally invested in the characters.'
• 'It's a fascinating insight into Bristol life over the last 100 years.'
• 'Interesting, well written summary of 100 years of Bristol council housing.'
• 'It's so fascinating – homes that we pass every day have such a great story.'
• '… a good read.'
The main sites distributing copies are branches of the Bristol Library service across the city and the Tourist Information Centre. There are also copies in the Sea Mills 100 Museum, Cafe on the Square (also in Sea Mills, Bristol Cathedral, Bristol Archives, M Shed, Blaise Museum and the reception area of City Hall, among other locations. (Available only while stocks last and currently subject to restrictions resulting from the Covid-19 pandemic.)
During Bristol Open Doors (13-15 September 2019), copies were given away from the Architecture Centre and some of the sites participating in this high-profile celebration of the city.
During the Festival of the Future City (16-18 October 2019), copies were available from the festival information desk in Watershed, linked to sessions discussing the impact of council housing and how it might best be delivered in the future.
Among the organisations who are using the comic in their community and educational work are Knowle West Media Centre, Local Learning, Bristol Museums and some of the local scout groups. They are also being used by students at the University of Bristol and University of the West of England.
The comic can not be posted to individuals, but it can be downloaded as a PDF file here: Homes for Heroes 100 Comic (8MB). It has also been uploaded to ISSUU where it can be read online. Read the launch-day article in Bristol Post here (PDF).
Regular updates on where copies are available – as well as photos and feedback submitted by readers – can be found on the Homes for Heroes 100 Facebook page. The comic has also received national coverage, with some of the pages uploaded to the Guardian website in its The Illustrated City series.
Tony Forbes Tribute
Tony Forbes died in early August 2019, shortly after the publication of the comic.
Tony was born in St Pauls in 1964 and grew up in the council estate of Southmead, where his parents and all his friends still live.
In 1995 he enrolled onto the BA Honours Illustration course at UWE Bower Ashton and graduated in 1999. Straight after his degree show he signed with Sylvie Poggio, a London-based artist agent. The agency specialises in educational publishing and the majority of Antony's commissions were through the English Language Teaching department at Oxford University Press where he created artwork for school books that are used around the world. In 2018 he decided to return to UWE and at the time of his death he was studying a Masters degree in Graphic Arts.
Eugene Byrne wrote a personal appreciation for Bristol Times which you can read here (PDF). He said: 'Tony was a delight to work with. He instinctively understood how to tell a story in cartoons and produced results far better and funnier than anything I'd envisaged.'
Melanie Kelly, Research Director and Project Manager for Bristol Ideas, was a member of the panel assessing the submissions sent in response to the call for artists. At the time of Tony's appointment she said:
'All those who applied for this commission were clearly talented artists and several had extensive professional experience. What made Tony stand out was his existing knowledge of the subject, his passion for the project and his understanding of the aims of the wider Homes For Heroes 100 programme. We look forward to working with him over the coming months.'
Reader Photos