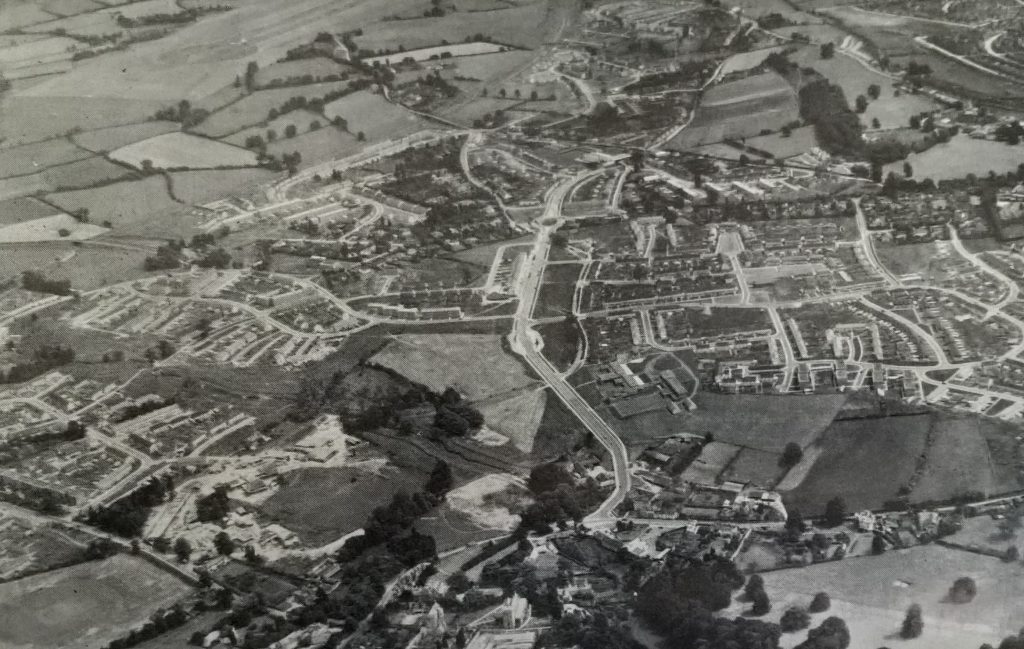 Bristol Housing Reports: 1955-1959
The 1950s was a period of further expansion in the wake of continuing slum clearances in Bristol, as well as the rehousing of those whose homes were destroyed or severely damaged during the Second World War.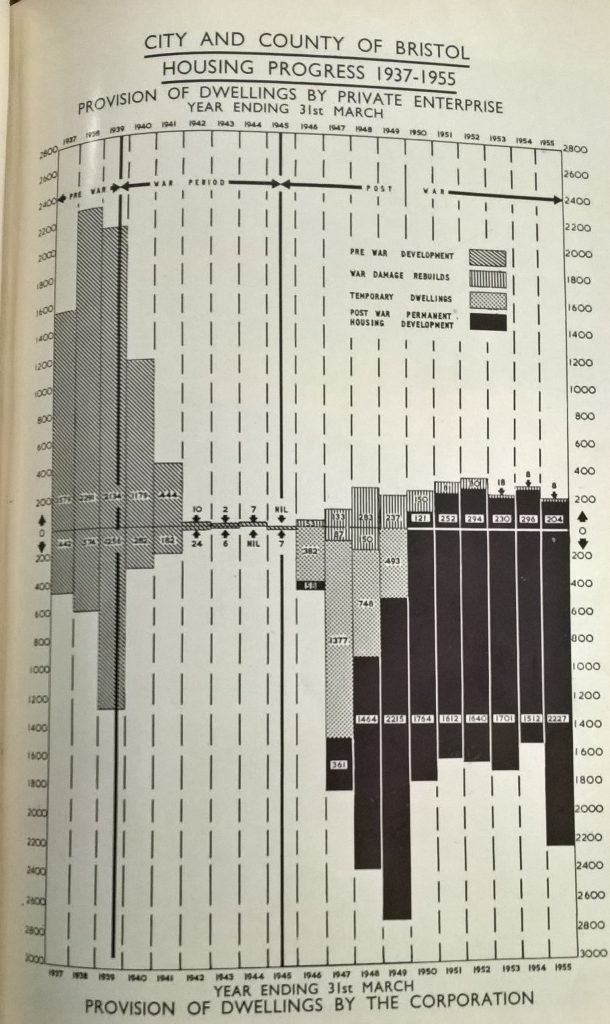 The graph above from the 1955 Housing Report (Bristol Reference Library B14100) shows the construction of dwellings in Bristol since 1937. The graph we used in Bristol Housing Reports: 1934-1936 showed how the private sector and council were constructing new homes at a similar rate after the First World War. This indicates that the majority of construction was undertaken by the council after World War Two.
In addition to the estates described in the reports of the 1930s, new estates were being developed, as the table below shows. The photo at the top of this page is an aerial view of Henbury.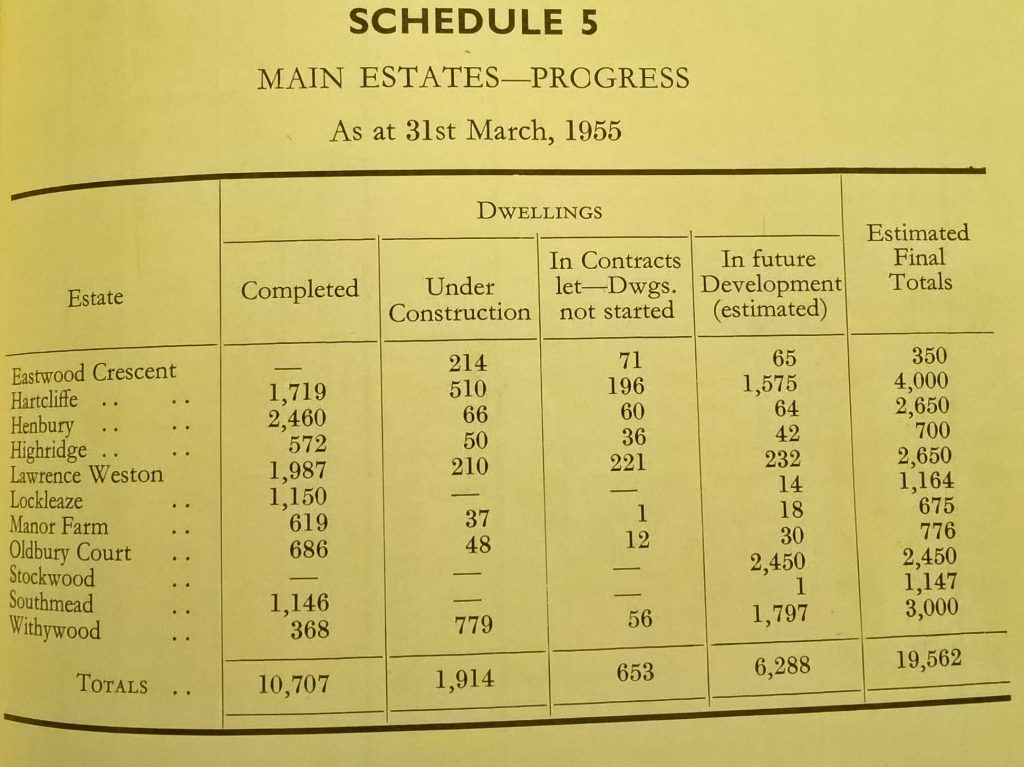 Homes were still built using traditional brick, but increasingly new, more cost-effective methods were preferred including Easiform. This was a type of in-situ concrete construction developed by John Laing and Son Ltd. Laing completed 4,885 permanent dwellings for the council between 1945-1955, far more than any other contractor. The photograph below is of Bristol Lord Mayor, Alderman Harry Crook, presenting the key of the 5,000th Easiform home to its new tenant.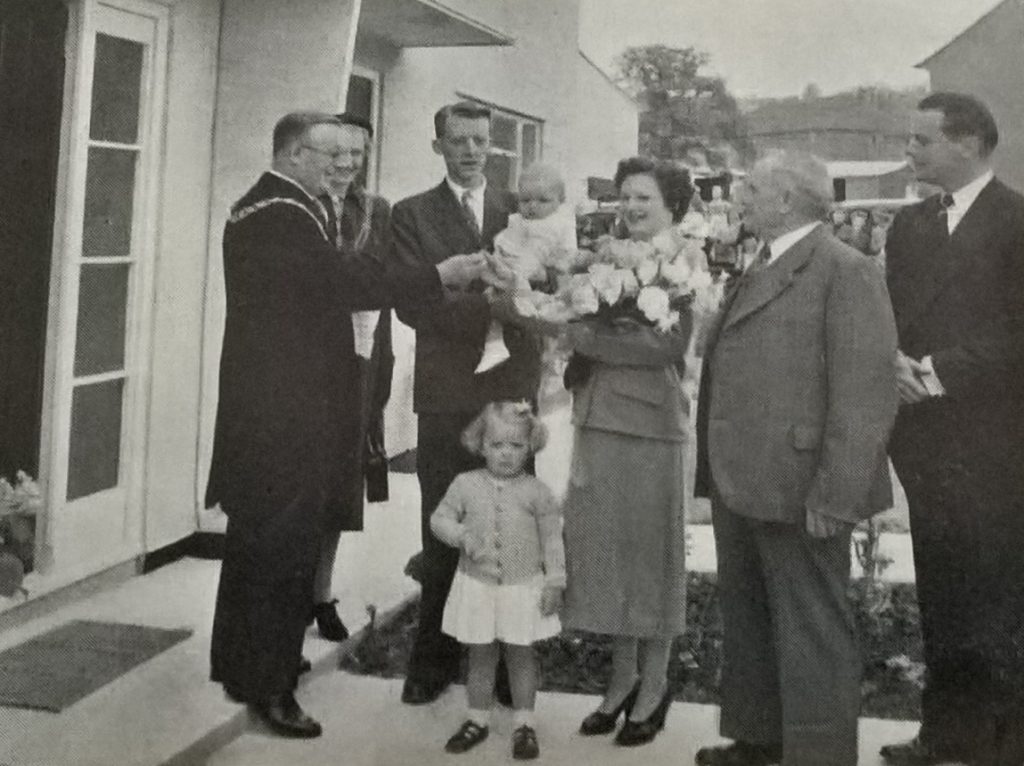 By 31 March 1956 5,415 Easiform homes had been constructed as can be seen in the table below.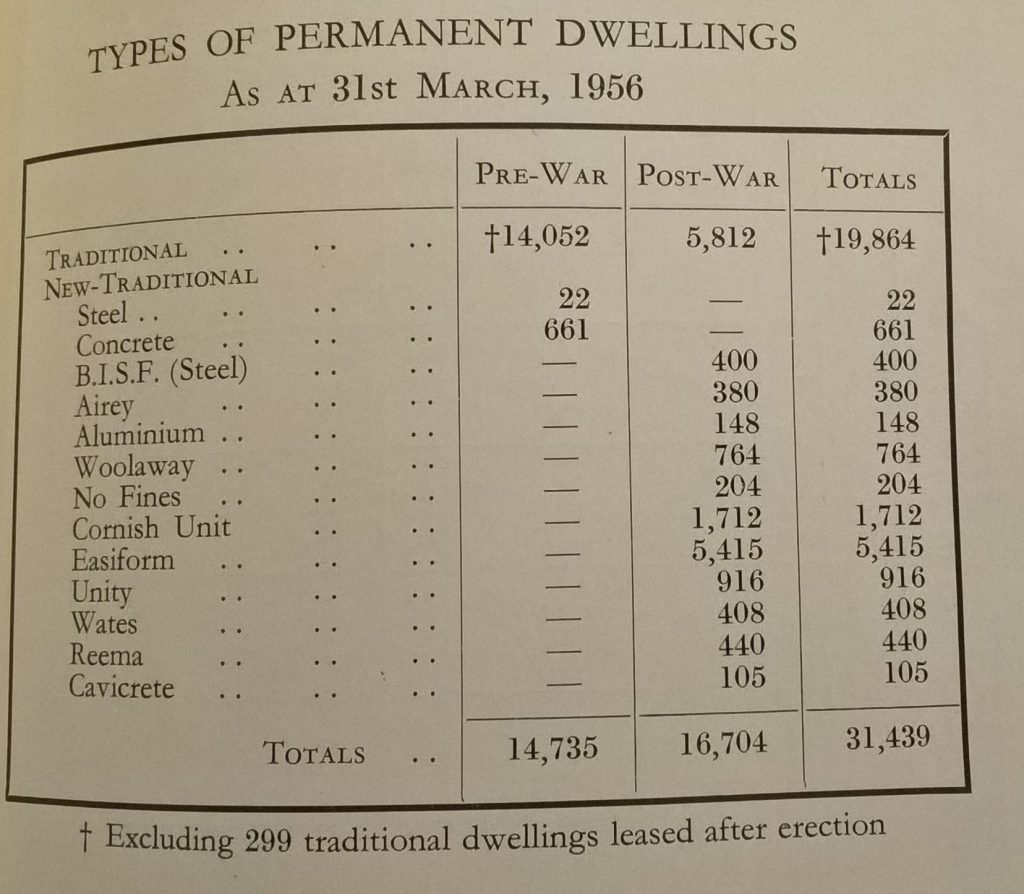 Thousands of residents were still homed in temporary dwellings erected in the years immediately following the war. The promotional photo below from the 1955 Housing Report is of children playing in Sanctuary Gardens, Stoke Bishop, the site of a temporary bungalow estate built in the grounds of Sneyd Park House.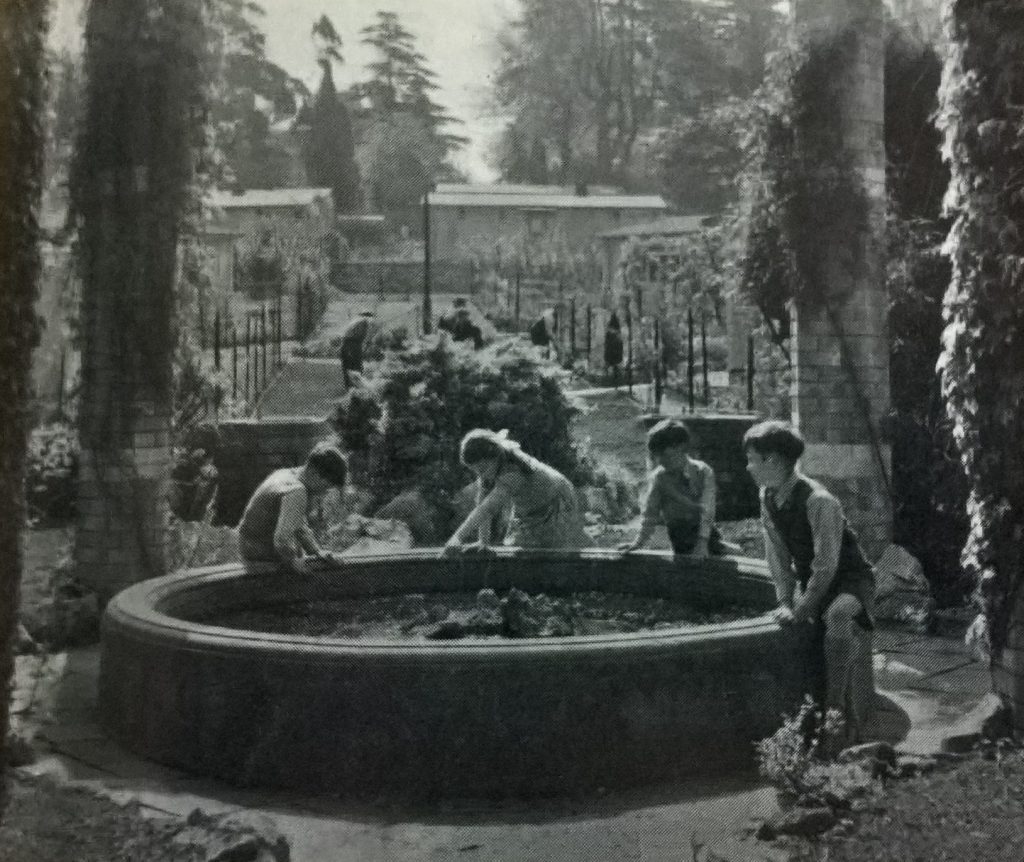 In the city centre, areas were still being cleared of housing deemed unfit for human habitation while individual properties underwent extensive renovation. The photo below shows clearance work in Barton Hill. In 1952 the council had published a 20-year redevelopment plan that involved the compulsory purchase of many existing homes. Although some residents welcomed the plan, the majority opposed it, forming the 'Barton Hill Planning Protection Organisation'. They lost the fight and the community was broken up (see the Bristol Museums page Barton Hill Redeveloped).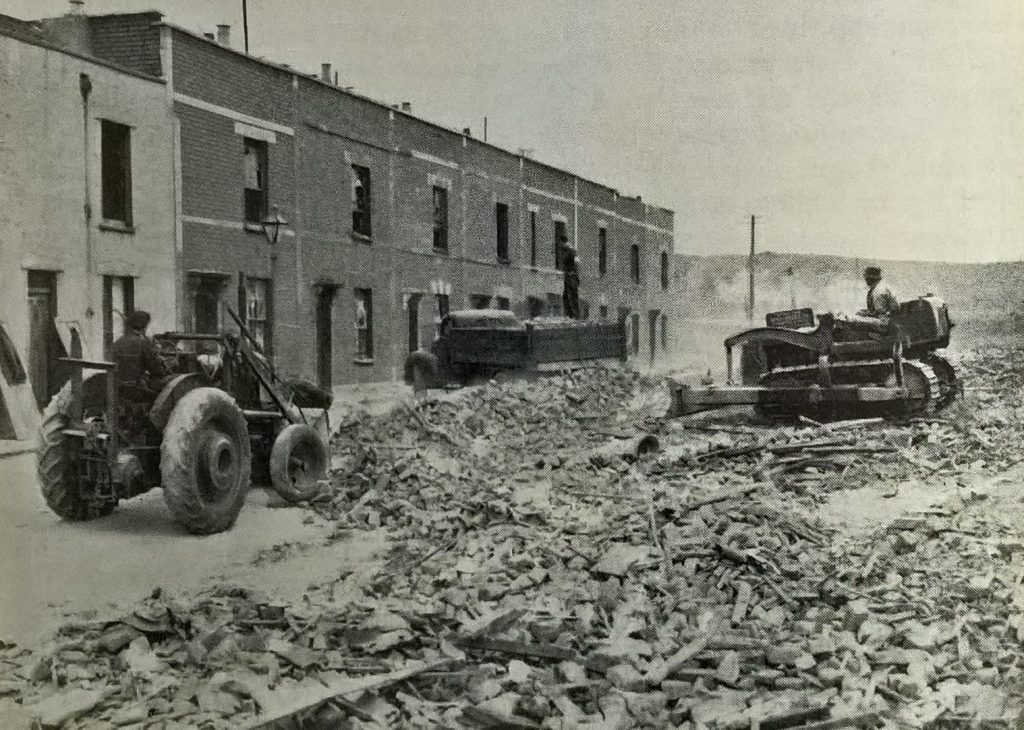 The Barton Hill redevelopment area included tower blocks. This photo from the 1958 Housing Report shows the construction of the 15-storey block 'A' containing 98 dwellings. It was designed by the City Architect, J Nelson Meredith, and built by the contractors Holland Hannen and Cubitt.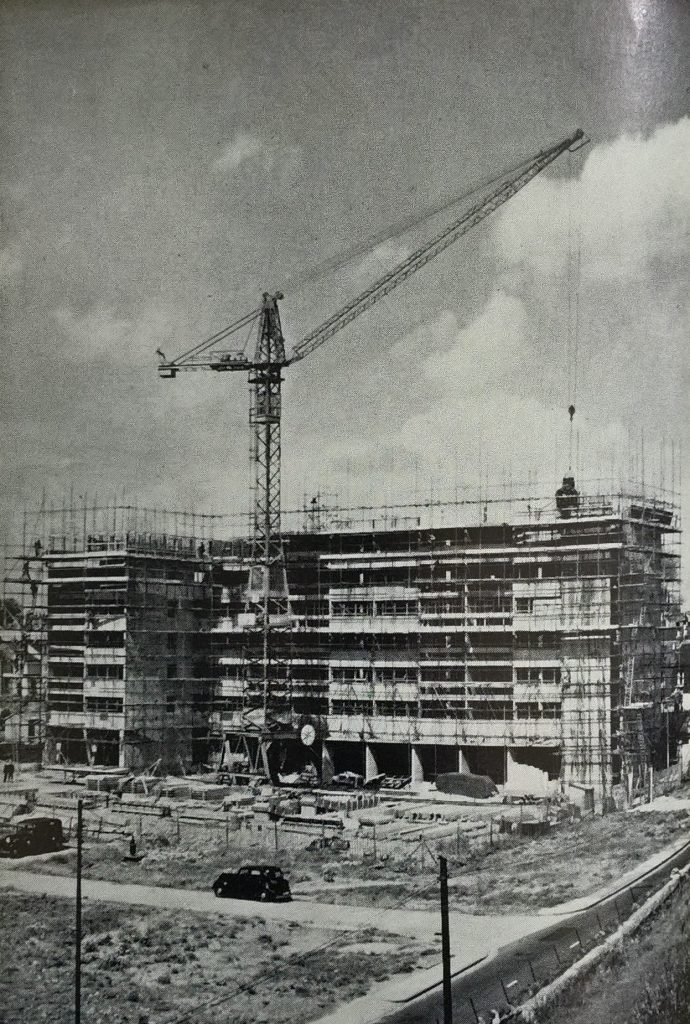 THIS ESSAY WAS FIRST PUBLISHED IN 2019 AS PART OF THE HOMES FOR HEROES 100 PROJECT.