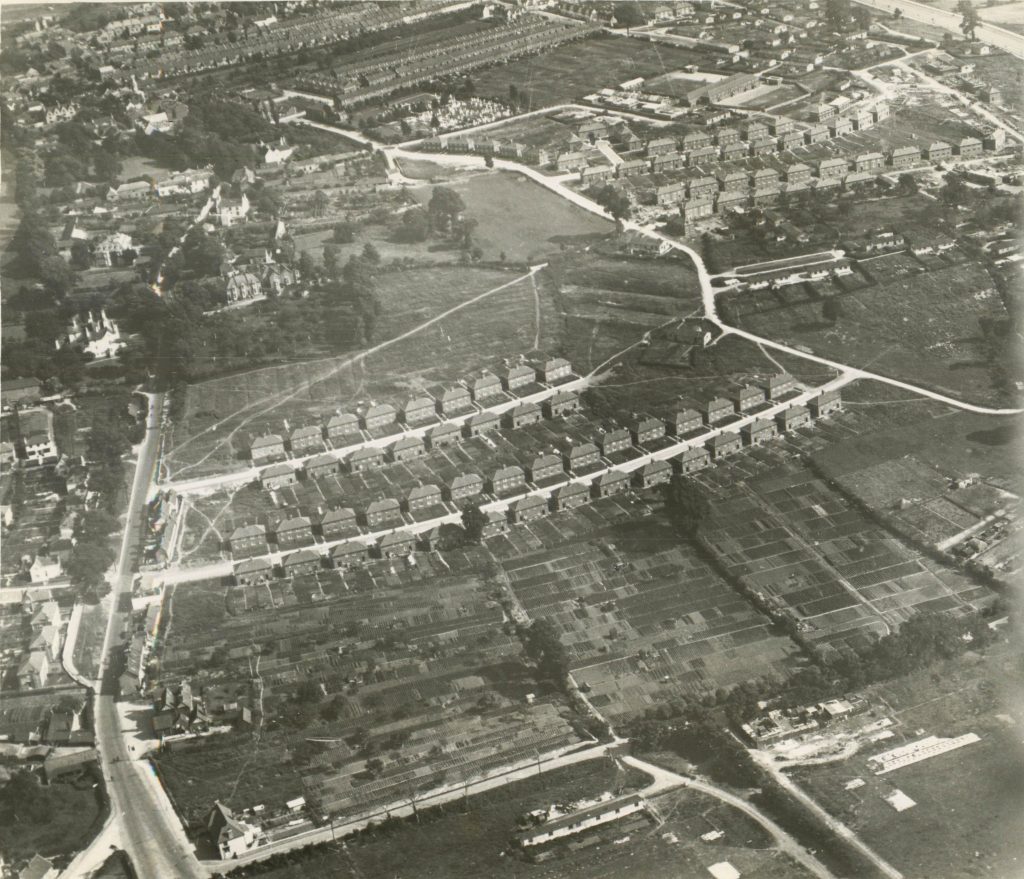 Bristol Housing Report: 1930
Part 1
As part of our background research for Homes for Heroes 100, we have made good use of the excellent resources and staff expertise at Bristol Reference Library, and are particularly grateful for the support and guidance provided by Dawn Dyer.
Among the many items of interest is an illustrated booklet published by the City and County of Bristol in 1930 that serves as an annual report on housing but also provides an overview of the council's house building programme since the 1919 Act (library ref: B14100). The following list of estates and properties built or under construction by March 1930 is taken from that publication.
1. Bedminster and Knowle: 411 acres acquired 1928-29. Work commenced Autumn 1929. Estimated would contain 3,000 homes on completion.
2. Bedminster Down: 52 acres acquired 1919-20. By March 1930, 120 parlour and 260 non-parlour homes had been completed by the council. An additional 50 homes had been built privately on the estate. This work was part of the Bedminster Down Area Improvement Scheme.
3. Bedminster Road: Acquired in exchange for land owned by the Education Committee at Knowle in 1925. By November 1926, 24 non-parlour homes had been completed.
4. Easton: Nine partly-built terrace houses were acquired and completed under special provision of the 1919 Housing Act in 1921, of which seven were subsequently sold (one additional house had been erected).
5. Fishponds Estate [Hillfields Park]: The first estate acquired and developed as a result of the 1919 Act. Originally comprised 128.5 acres purchased in 1919 with additional plots added at a later date. By March 1930, 788 parlour and 670 non-parlour homes had been completed by the council. An additional 22 parlour homes were built privately.
6. Fishponds Road: Three houses erected 1925 on a plot of salvaged land.
7. Great Ann Street, St Jude's: Two new dwellings built on site of demolished houses in 1928.
8. Ham Green: Eight houses completed by the Health Committee in 1926 for men employed at the Ham Green Estate.
9. Highbury Road, Bedminster: Acquired 1924 and 22 terrace-type non-parlour houses completed.
10. Horfield Estate: 74.25 acres acquired 1919 with additions in 1928, 1929 and 1930 making a total of 148.75 acres. By March 1930, 70 parlour and 934 non-parlour homes had been completed; 206 non-parlour were under construction; and 310 plots were still to be developed. Nearly all the homes were of concrete construction.
11. King Street, Avonmouth: 14 parlour homes were constructed between 1926 and 1927 on land belonging to the Docks Committee.
12. Knowle: 128.75 acres acquired in 1920 with 503 parlour and 156 non-parlour completed by 1927 by the council. 277 parlour homes were privately built; 26 parlour and 24 non-parlour homes were built by the Great Western Railway Company.
13. Luckwell Road, Bedminster: Acquired 1924 for the erection of 36 terrace-type non-parlour homes.
14. Penpole Estate [Shirehampton]: 150 homes erected by the Ministry of Munitions during the war taken over by the council in 1924. This was a non-assisted scheme, meaning that it was not paid for using financial support from central government.
15. Ridgway Road Estate, Fishponds: 20 acres acquired in 1928. By March 1930, 108 non-parlour homes completed with a further 56 near to completion.
16. Sea Mills Estate: 187 acres acquired between 1919 and 1921, described as being in a 'sylvan setting'. By March 1930, 458 parlour and 598 non-parlour homes completed by the council, with an additional 78 parlour homes built privately. 70 parlour and 18 non-parlour council homes were under construction, along with two more private parlour homes. The council still had 20 plots to develop; 8 additional plots were owned privately.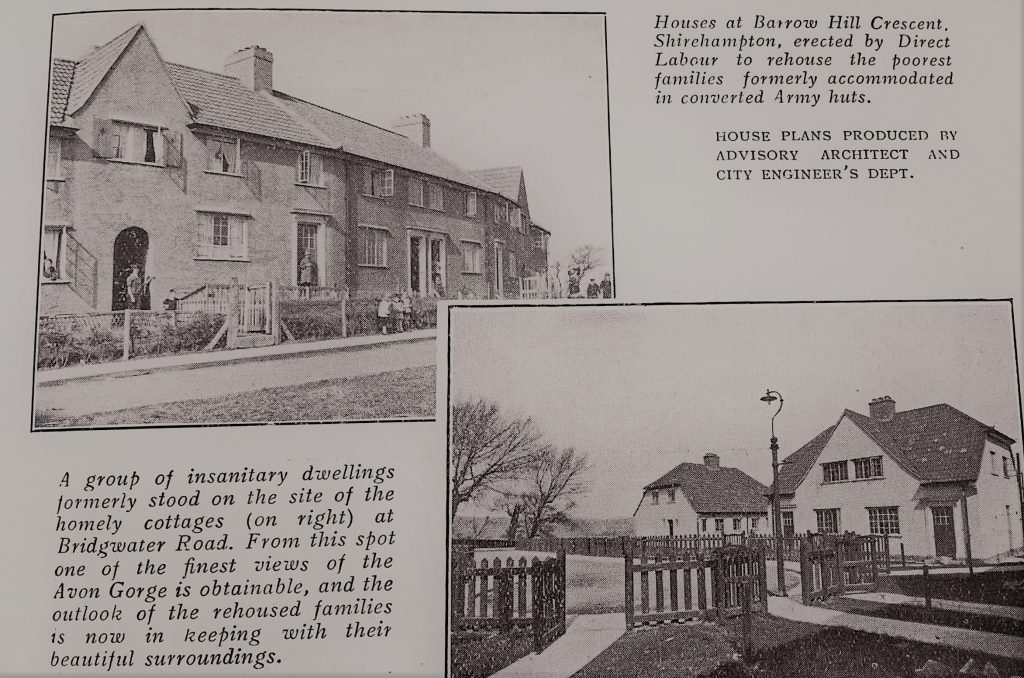 17. Shirehampton (picture above from the booklet; the picture at the top of the page is an aerial view of the estate taken 1926: Bristol Archives 44819 3 190): 82 acres acquired 1920 and almost complete by 1929 with 28 parlour and 462 non-parlour council homes and 74 private parlour ones. In March 1930, 14 non-parlour homes were under construction and the building of 136 parlour homes was underway on additional land acquired in 1929.
18. Southmead: 422 acres acquired 1929 with provision for 5,000 homes. It is described as 'an excellent building estate'.
19. Speedwell, St George: 25.75 acres acquired 1920 and extended in 1926. By March 1930, 84 parlour and 380 non-parlour homes completed by council, with 14 parlour homes privately built. Under construction were 66 additional council homes, with another 48 plots available.
20. St Anne's, Brislington: 45 acres acquired 1926. By March 1930, 248 non-parlour homes completed; 34 parlour and 60 non-parlour homes under construction; provision for 92 additional homes for the rehousing of people moved from St Philip's as part of the Dings Area Improvement Scheme carried out on the orders of the Minister of Health.
21. St John's Lane, Bedminster: 14.75 acres acquired 1920. 96 parlour and 62 non-parlour homes completed by 1924. This area was to be merged into the Bedminster Estate.
22. Whitehall Estate: 4.5 acres acquired 1927 and 54 non-parlour homes completed by 1929. Tenants came from demolished houses or those subject to closing orders. The report says: 'For every house occupied on this Estate an unfit house has been accounted for.'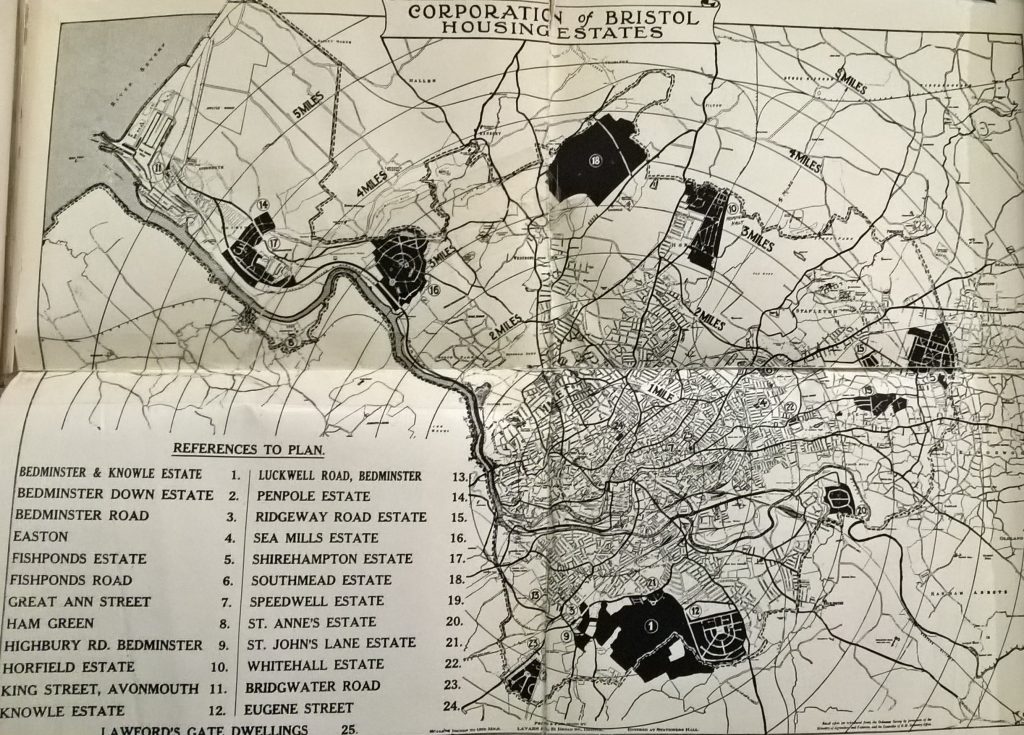 THIS ESSAY WAS FIRST PUBLISHED IN 2019 AS PART OF THE HOMES FOR HEROES 100 PROJECT.