Film2021 is a multi-partner collaborative project that will celebrate the city as a world-renowned centre for film-making – past, present and future – as well as exploring wider social, technological and creative issues relating to cinema.
2021 marks the centenary of the death of Bristol-born film pioneer William Friese-Greene. It is also the 125th anniversary of the first public cinema screening in Bristol, which took place at the Tivoli on 8 June 1896. This followed the first British film screening earlier that year when the Polytechnic Institute, Regent Street, hosted a display of the Lumière brothers' new moving picture device, the Cinématographe.
The proposed programme includes:
• Screenings – including silent films with live musical accompaniment
• Talks and panel discussions with film historians, artists, musicians and academics
• A series of exhibition panels erected around the city on or near sites of former cinemas
• A lantern parade inspired by people's memories of cinema-going in Bristol
• Digitisation of local film collections
• A compilation of specially commissioned essays in which people reflect on their personal connections to film
• Music, film and poetry commissions
• A photography festival
• Maps of cinema sites and places with film-related memories
• Workshops and performances led by the City Poet
• Oral history recordings
• Outreach events and workshops
Bristol Ideas is coordinating the overall programme. Partners delivering and promoting projects include: Bristol UNESCO City of Film, The Bottle Yard Studios, Bristol and Bath Cultural Destinations, Bristol Archives, Bristol Film Office, Bristol Photo Festival, Cinema Rediscovered, Destination Bristol, Encounters Film Festival, Local Learning, South West Silents and UWE Bristol. Activity will also be in association with the Festival of Ideas and Festival of the Future City.
Opening Up the Magic Box is a specific heritage element within Film2021 that is supported by the National Lottery Heritage Fund using money raised by National Lottery players. See News item announcing funding.
We'll regularly be adding details of events on the Film2021 Facebook page as well as archive material and links to relevant articles and organisations. #bristolfilm2021
City Films 2019
As part of the Festival of the Future City in 2019 we ran a series of film-related events exploring depictions of cities from the days of silent cinema onwards. You can find out more at the link below.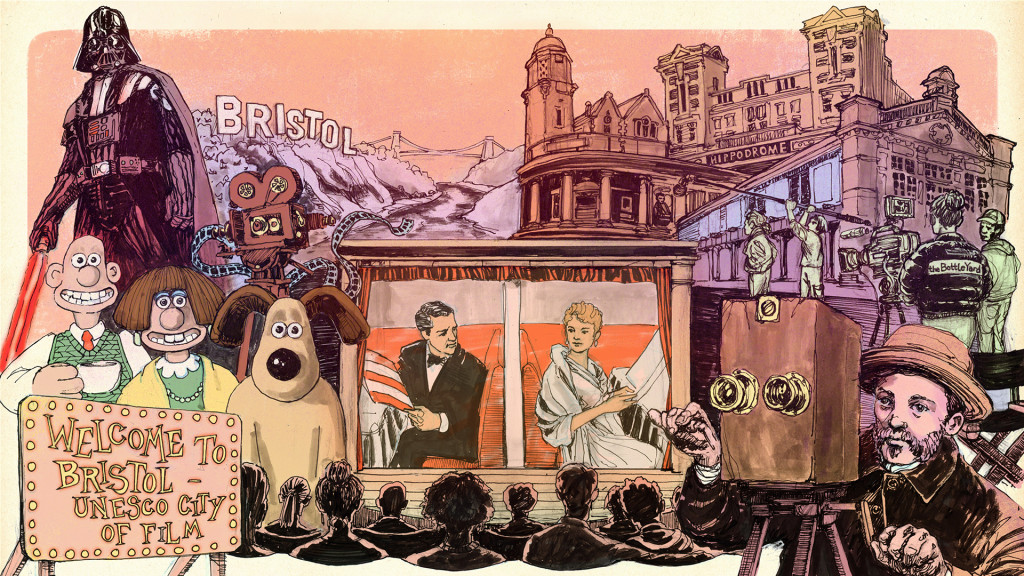 The promotional image for Film2021 is by Willem Hampson. Wallace & Gromit appear courtesy of Aardman.