In the annual Festival of Economics, economists and experts from around the world debate with each other – and their audiences – some of the key economic questions of our time.
Our 12th festival returns 13-16 November 2023 and is co-programmed by Diane Coyle (Professor of Public Policy, University of Cambridge and author of Cogs and Monsters) and Richard Davies (Professor at Bristol University and author of Extreme Economies).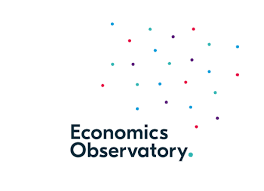 We are delighted to be presenting this year's festival in partnership with the Economics Observatory to bring together economists, policy makers, academics and the public to discuss the challenges our society and economy are facing, and some of the possible solutions.
Listen to the Festival of Economics 2023 Recordings
The Festival of Economics is an opportunity to discuss the big economic questions of our time. Our events are for everyone, with a strict no jargon and no PowerPoint rule for our experts from around the world. They can help us all better understand the latest academic research, government policies and big ideas needed to improve our lives, and we can help them understand what questions people have about the economy.

Diane Coyle and Richard Davies
At the 2022 Festival of Economics, we considered:
The pound in your pocket: What are the impacts of global politics on energy supplies, prices and wages and food security? Can growth be a force for good and combat the climate crisis?
Robots and our future: How can we control big tech without stifling innovation? What can we learn from the global history of financial bubbles? Big data, alternative finance and cryptocurrencies – what are they and why should we care?
Our turbulent world: What are the big ideas from the centre right and the centre left? And what does Britain's next decade look like?
Listen to Festival of Economics 2022
Listen to Festival of Economics 2021
Watch
Our 2020 events took place online and you can catch up on them on on our Crowdcast Channel. Browse the full programme by searching 'economics'. Here is a selection to get you started:
Festival of Economics: Tim Harford
Join Tim Harford for a deep dive into the world of disinformation and obfuscation, bad research and misplaced motivation to find those priceless jewels of data and analysis that make communicating with numbers worthwhile.
Festival of Economics: Shriti Vadera
How did we go from the 'End of History' in 1989 to two major economic downturns in little over a decade and predictions of the demise of capitalism? Shriti Vadera is in conversation with Festival of Economics co-director Diane Coyle.
Festival of Economics: Linda Scott
What are the gender inequalities that are built into the global economy, and how could promoting women's economic empowerment boost social, financial and environmental conditions around the world? Linda Scott is in conversation with Professor Sarah Smith (University of Bristol).
Festival of Economics: Ha-Joon Chang
What next after globalisation? What are the post-pandemic prospects for the poorest countries in the world? Leading economist Ha-Joon Chang looks at the big shifts ahead in the global economy, casting a sceptical eye on conventional wisdom.
Listen
There are playlists of audio recordings for most of the Festival of Economics events that took place prior to 2020. You'll find these on SoundCloud or by clicking on the buttons below.
Main image created by Till Lukat.