In the annual Festival of Economics, economists and experts from around the world debate with each other – and their audiences – some of the key economic questions of our time.
Our tenth festival took place in person during November 2021 and returned to We The Curious in the centre of Bristol. It was co-programmed by Diane Coyle (University of Cambridge and Enlightenment Economics) and Richard Davies (professor of Public Understanding of Economics, Bristol University and author of Extreme Economies).
In celebration of our tenth anniversary we partnered with Economics Observatory to bring together economists, policy makers, academics and the public to discuss the societal questions and challenges that Covid-19 and its aftermath have brought.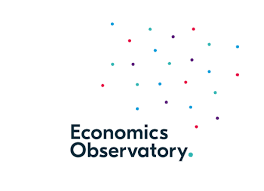 Economics Observatory delegates and Bristol Ideas audience members from across the UK attended a three-day programme of dynamic and important panel discussions, interviews, book launches, podcast recordings, networking and debates.
Listen to Festival of Economics 2021
Scroll down to browse this year's programme and listen to individual event recordings either by selecting a specific event, browse the SouncCloud playlist here or the button below.
Promotional image for the 2021 festival created by Willem Hampson.
Watch
Our 2020 events took place online and you can catch up on them on on our Crowdcast Channel. Browse the full programme by searching 'economics'. Here is a selection to get you started:
Festival of Economics: Tim Harford
Join Tim Harford for a deep dive into the world of disinformation and obfuscation, bad research and misplaced motivation to find those priceless jewels of data and analysis that make communicating with numbers worthwhile.
Festival of Economics: Shriti Vadera
How did we go from the 'End of History' in 1989 to two major economic downturns in little over a decade and predictions of the demise of capitalism? Shriti Vadera is in conversation with Festival of Economics co-director Diane Coyle.
Festival of Economics: Linda Scott
What are the gender inequalities that are built into the global economy, and how could promoting women's economic empowerment boost social, financial and environmental conditions around the world? Linda Scott is in conversation with Professor Sarah Smith (University of Bristol).
Festival of Economics: Ha-Joon Chang
What next after globalisation? What are the post-pandemic prospects for the poorest countries in the world? Leading economist Ha-Joon Chang looks at the big shifts ahead in the global economy, casting a sceptical eye on conventional wisdom.
Listen
There are playlists of audio recordings for most of the Festival of Economics events that took place prior to 2020. You'll find these on SoundCloud or by clicking on the buttons below.