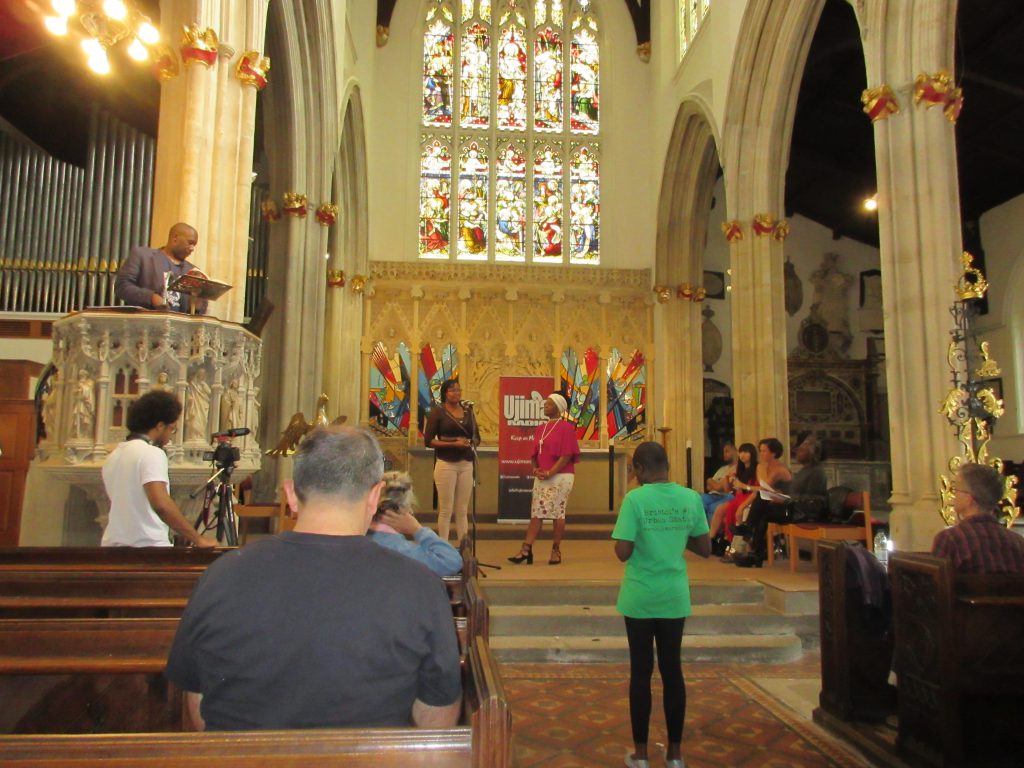 My Bristol, Our Future
On Sunday 18 September 2016, Bristol's award-winning community station Ujima Radio hosted their first ever live outside broadcast inside of a church.
The Ujima/Festival of Ideas event was called My Bristol, Our Future and formed part of the Make Sunday Special initiative. The speakers were a fitting mix of the young, wise, poetic, bold and inspiring.
The event began at St Stephens Church – a building steeped in the past of centuries -with Councillor Asher Craig and Ujima broadcaster Primrose Glanville reflecting on Ujima's recent award for best UK Community Station and Female Presenter of The Year. Roger 'The G Man' Griffith then spoke from the pulpit to a gathering crowd of radio listeners and passers-by who had drifted into the church. He read from his memoir My American Odyssey, reflecting on his travels in America and discovering Bristol's dark secrets.
After an impromptu reading from poet Miles Chambers, next to take centre stage was Jenny Davis, an eminent Bristol writer and playwright. She read a passage from her current work that explores the themes of slavery and power. Following her was the writer Hari Ramakrishnan, who shared witty anecdotes of experiences of British life through the eyes of his Indian upbringing.
Den 'Bee' Shots changed the vibe with his slick MC skills, addressing themes of Bristol and youth empowerment. Reflecting on the growing links between Bath and Bristol, spoken-word artist Hannah Teasdale shared a piece she had drafted for the event, which carried a powerful message of staying strong when faced with adversity.
Ujima poet-in-residence Lawrence Hoo was the penultimate act, reading poems reflecting on the power of words in the past, present and future. Finally, Makela Cheung wrapped up the event with her warm energy and acappella songs on Bristol.
As the commotion of the Make Sunday Special street celebrations filtered in from outside, part one of the broadcast came to a close and the attention shifted to the Independent Label Market live from St Nicolas Market on Corn Street.
The market was filled with the hustle and bustle of families and friends. Community consultant Jose Barco was doodling an infographic based on the ideas of passers-by about Bristol's future. These included more sustainable energy, cycle routes and lanes, more friendly spaces for people from all backgrounds in Bristol to use and pleas for better integration.
Two of Ujima's finest presenters DJ Style and Tommy Popcorn were covering the market and sharing their love of vinyl records. They also interviewed up-and=coming busker Bethany whose soft soulful voice echoed across the Old City. Roger Griffiths then rounded off the jam-packed day with an interview with Lorna Knapman, the organiser of Make Sunday Special, who was extremely happy with how the day had gone and who hoped there would are many more events like this in the future.
The whole day was a reminder to all Bristol residents of the breadth of diversity and culture in the region, and the need to strive for the inclusion of all. It also gave a platform to independent musicians and small businesses.
Make Sunday Special formed part of the Ujima Autumn Cultural Season in 2016 supported by Arts Council England. This article is adapted from one published in 2016 written by Eliza Lomas and Helly Dudley with additional input from Roger Griffith. Header photo supplied by Ujima.