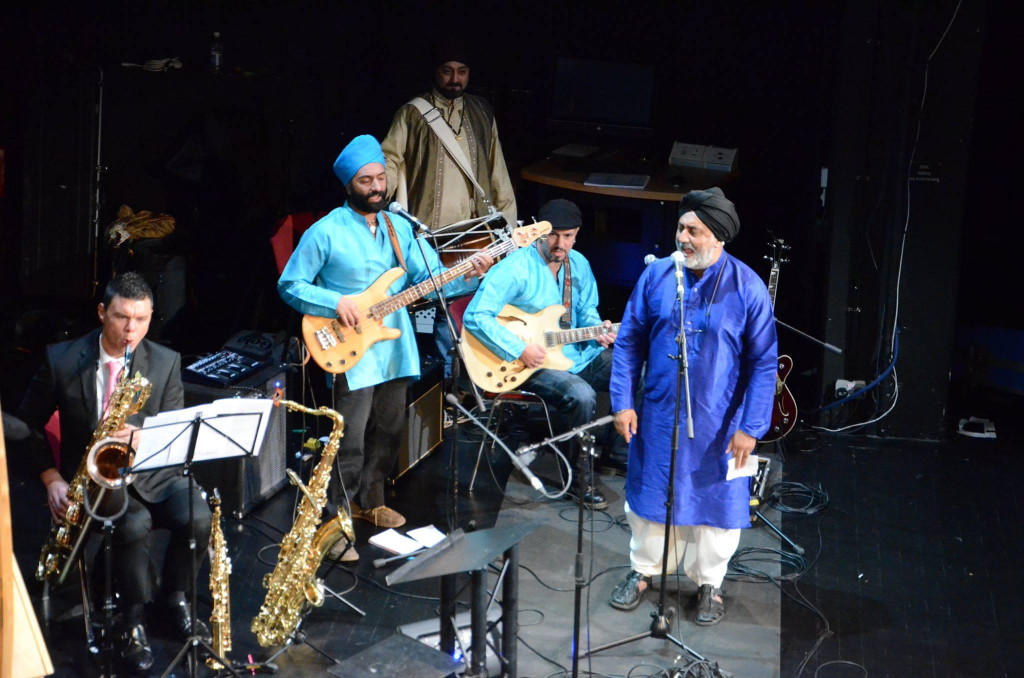 'Dance where the Spirit Enlightens'
A concert was held at Arnolfini in Bristol on 11 November 2016 to mark the 70th anniversary of the founding of Arts Council England (ACE).
Sir Christopher Frayling, former ACE chair, gave a lecture on the organisation's early history and its continuing role. This was followed by the premiere performance of a specially commissioned musical work called 'Dance where the Spirit Enlightens' composed by Liz Lane, who here reflects on its composition.
The composition
Dance where the Spirit Enlightens brought together a diverse group of 17 musicians of different cultures and musical backgrounds, ranging from top professionals to young students, in a celebration of art and culture through seven decades. Seven movements portray aspects of ACE's history, whilst also representing key elements of the ACE's support for the arts today: collections; combined arts; dance; libraries; literature; museums; music; theatre and visual arts.
The title is inspired by quotes from ACE's first chairman, John Maynard Keynes, and the current chairman, Sir Peter Bazalgette.
The brief to create 'Dance where the Spirit Enlightens' was an opportunity to write for, and work with, an eclectic group of players and vocalists, showcasing musicians from different fields and also enabling young players to work alongside musicians of international standing. It juxtaposes musical styles and establishes cross-genre identities, reflected in collaborative elements with RSVP Bhangra, and also explores ambitions for the future – taking bhangra and brass onto the festival stage. Above all, it creates an original artistic and cultural experience to mark ACE's 70th anniversary.
The movements
1. 1940s – Arts Council of Great Britain
Incorporating RSVP Bhangra 'Bhabiye'
Commemorating the 1946 Royal Charter and featuring the initials A(rts)-C(ouncil)-(of)-G(reat)-B(ritain) as a recurring musical theme.
2. 1950s/1960s – Representing Visual arts and Collections
Showcasing the Council's contribution to the Festival of Britain, when commissioned artworks became part of the Arts Council Collection, were given to public venues and bodies, and housed at the Hayward Gallery.
3. 1970s/1980s – Representing Combined arts, Dance and Theatre
Incorporating RSVP Bhangra 'Heer'
Wandering through a festival campus with snippets of merging and conflicting music; a laid-back festival vibe is eventually taken up by the main stage headline act.
4. 1990s/2000s – Arts Council England
Incorporating RSVP Bhangra 'Bhabiye'
Signifying a new format and name, featuring the initials A(rts)-C(ouncil)-E(ngland) as a recurring musical theme, and the emergence of the National Lottery.
5. People
Incorporating RSVP Bhangra 'Boliya'
A tribute to the people of the Arts Council over 70 years.
6. 2010s – Representing Museums, Literature and Libraries
Reflecting on Arts Council England's support and development for museums.
7. #culturematters
Incorporating RSVP Bhangra 'PJD' [traditional]
Discussing aspects of the present ACE strategy, looking back over the decades and towards the future. With the lyricist's inspiration from "John Maynard Keynes, Macbeth and Dorothy, with hints of C P Cavafy".
The performers
Ruth Watson – Oboe and Cor Anglais
Andrew Loveridge – Saxophone
Belinda Evans – Soprano
David Thornton – Euphonium
Steph West – Harp and Voice
Alice Cleaver – Cello
RSVP Bhangra Band:
Rana Dildar Singh – Vocalist
Judge Singh – Bass Guitar
Jeevan Singh Chauhan – Dholak, Tabla and Dhol
Cris Peirsenne – Mandolin and Guitars
Members of Lydbrook Brass Band:
Glen Carroll – Eb Soprano Cornet
Philip Storer – Bb Cornet/Trumpet
Robert Morgan – Bb Cornet
Jack Lythaby – Eb Tenor Horn
Paula Taylor – Bb Baritone
Nigel Howard – Bb Trombone
Trevor Moss – Eb Bass
Ian Holmes – Conductor
Reflections after the event
This was a ground-breaking and unique collaboration between diverse musical genres and cultures, with a wide age-range, musical experience and ability (from professional to student). It encompassed a number of formats with regards planning, collaboration, rehearsal and performance; these included communication via email and social media, phone calls, face-to-face meetings, Facetime sessions, rehearsals in the UK and in Spain, and the bringing together of all performers and conductor on the day for a final rehearsal and performance. In addition, technology played an important part, with University of the West of England students past and present being involved with creating rehearsal audio for the performers; combining and merging original soundtracks of the bhangra band soundtracks with new music written by myself; filming and creating a video record of the event; and assisting with the live sound. There was also a photographer.
As a result of this concert, the musicians are looking at possibilities for future performances, and/or a recording of 'Dance where the Spirit Enlightens'. In addition, it is felt that there is much potential for the combination of brass and bhangra, also with soprano soloist – with a goal of putting on a new performance at a festival stage such as Womad, again with specially written music. Many members of the ensemble are also now supporting each other's musical endeavours via social media.
Header photo: Concert performance of 'Dance where the Spirit Enlightens' (Mark Lythaby).