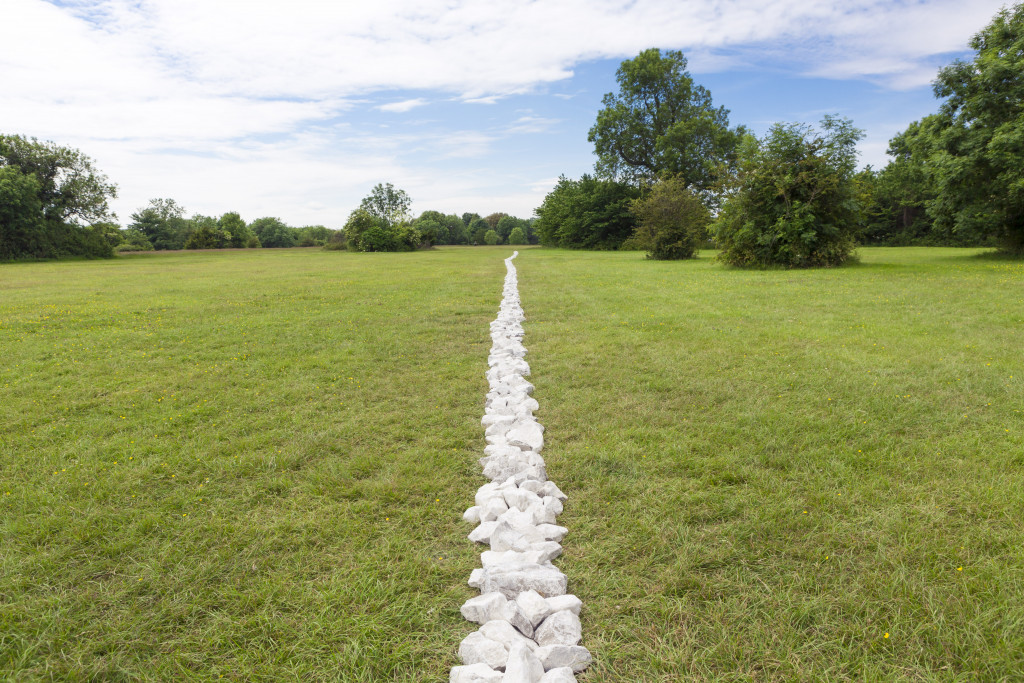 TIME AND SPACE
As part of Bristol2015, Arnolfini presented a major new exhibition by Richard Long, TIME AND SPACE, which included several new works and recreations of previous ones.
The exhibition was open from 31 July to 15 November 2015. It focused on Long's personal relationship to the area and to local materials. The major new works were a sculpture made from Cornish slate and a wall work made with mud collected from the River Avon. An accompanying book was published in September 2015. In addition there was an off-site commission, Boyhood Line, funded by Simplyhealth, which was opened on 20 June 2015 and also ran to 15 November. It was constructed on Clifton Downs using white limestone to mark a 'desire line' made over many months by the footprints of people walking the same route.
The collaboration with Long provided Arnolfini with the opportunity to curate a large-scale solo exhibition celebrating 50 years of internationally acclaimed practice within the artist's home city.
Arnolfini's Learning and Participation Team designed and delivered a series of educational workshops, and there was also a wide-ranging public programme that offered events for different audiences. This included:
Family-focused activity and the provision of a dedicated family space
Walks and tours
Music events
Film screenings
A weekend exploring reading and writing in the context of Long's work
A weekend of artist presentations in response to themes in Long's work.
Header photo: Boyhood line (Max McClure).