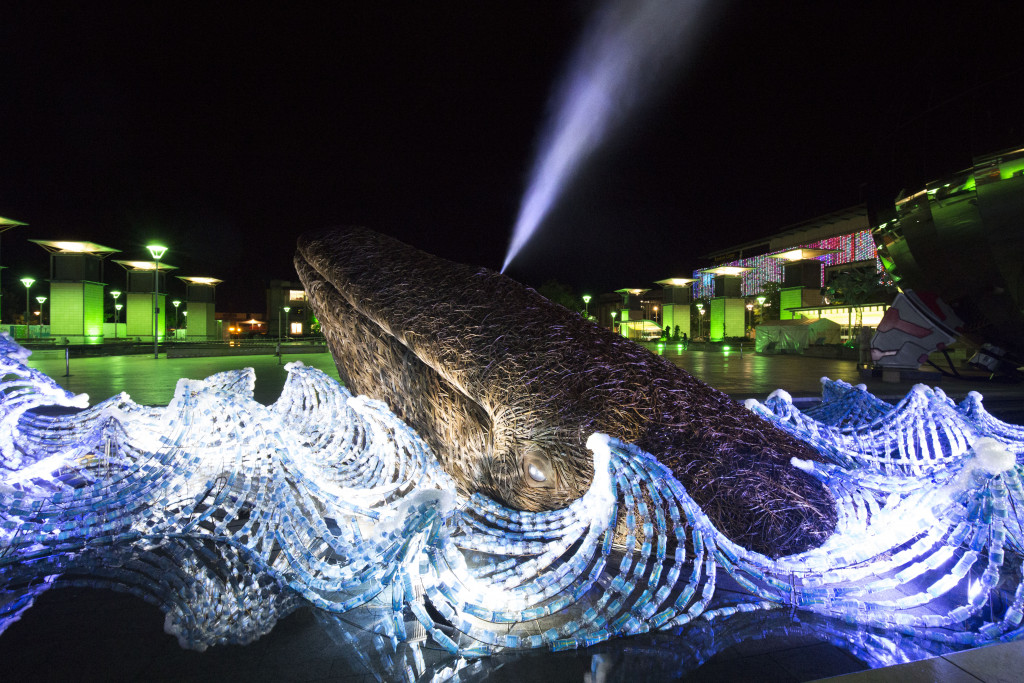 The Bristol Whales
The Bristol Whales was a temporary artwork for Bristol2015 initiated by Artists Project Earth, and designed and built by Cod Steaks.
Constructed from steel frames overlaid with 48 bundles of steamed willow harvested locally in Somerset, the sculpture depicted two life-size whales (the 15-metre long tail of one and the nine-metre long head of another) swimming through an 'ocean' of 70,000 empty plastic bottles collected from the Bath half marathon and Bristol 10K. It was situated in Bristol's Millennium Square between 17 July and 1 September 2015.
This project aimed to represent the beauty and fragility of our oceans and the increasing human threats that whales in the wild face. It particularly focused on the detrimental effect of plastic pollution and encouraged a reduction in the consumption of single-use plastics.
The Cod Steaks team ran workshops with local schools at their headquarters in St Philips so that children could be involved in helping to create the sculpture. Pupils from Victoria Park Primary, The Manor CofE Primary, Henleaze Juniors, Whitehall Primary and St Patrick's RC Primary all contributed to the build.
The Bristol Whales was a centrepiece in the campaign led by Bristol2015 to help Refill Bristol connect with as many Bristolians as possible.
Header Photo: The Bristol Whales (Paul Box).