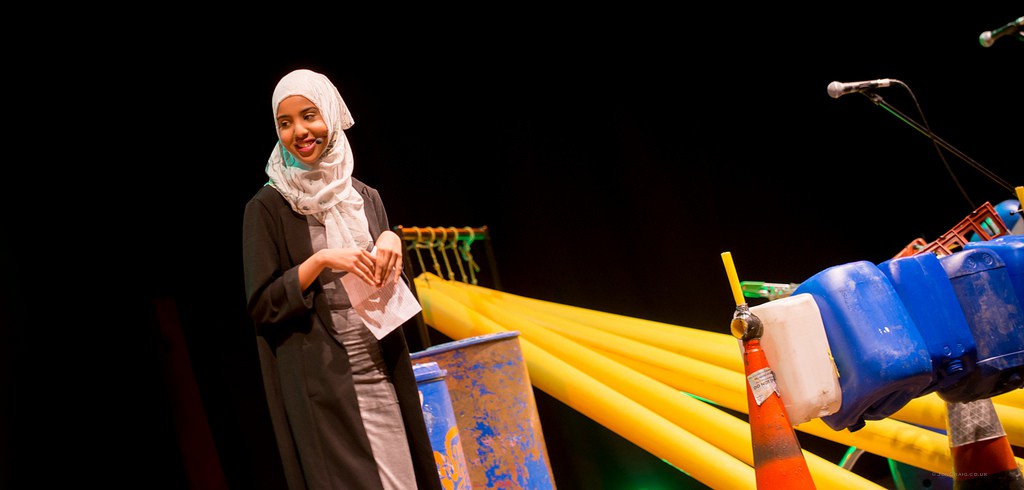 Green Youth Day
This article about the Bristol2015 event encouraging young people to talk about their future was written by Shape My City 2014 Alumni Cai Burton.
Thanks to the Architecture Centre and Shape My City, I was lucky enough to attend Bristol's Green Youth Day last week (20 April 2015) as part of the Festival of Ideas and Bristol2015 programme. It was an exciting day filled with speakers talking about all sorts of green issues. We started the event with the loud and energetic beats of Weapons of Sound, before Marcus Brigstocke took to the stage to introduce the event.
To kick things off, we had Arthur Kay (who set up bio-bean, a business converting used coffee granules into fuel) talking about Urbanisation. He explained that by 2050, three quarters of all people will live in cities and to support that, we'd need to build a new city the size of New York every month.
Writer Alice Bell – whose job is to 'be hopeful about climate change' – then told us about the three types of people who negatively impact climate change. 'Green Wash-ers', who will do small good deeds, such as planting a tree to cover up for large bad deeds, such as cutting down hundreds of trees every day. 'It's not that bad-ers', who – when it's less credible to outright deny climate change – insist that it's not as bad as everyone thinks it is. Finally, the 'It'll be fun-ers', who think that climate change will actually benefit them. While we can all sometimes act like this a little, she said that we can make a difference – no matter how small.
Next up was Laurens de Groot who specialises ocean conservation. He began by telling us about his background and how he's grown from sailing boats in front of whaling ships to creating drones that can locate poachers! Next, before a break, was Michaela Musilova who has dreams of being an astronaut. Her job was to stop any harmful microbes from ending up on the Mars rover, and consequently she has her signature on Mars.
We then had a short break where we could explore the Colston Hall foyer. Here there were all sorts of stalls, including First, At-Bristol (now We The Curious), Knowle West Media Centre, Creative Youth Network and Temple Records. It was an incredibly lively atmosphere and it was fun to wander about. I spent some of my time creating a large collaged letter 'N' with the Collage Club that'll be put up outside The Station in the centre as part of a sign saying 'Waste Wanted'.
Once seated again, we kicked off the next section with Marcus Brigstocke making his own pledge – to halve his meat consumption and to try to cycle a lot more. Laura Bates, founder of Everyday Sexism, was up next, and she felt that sexism has a lot in common with climate change. It's easy to just look away, but if everyone stands up for these issues (sexism and climate change), then we can all make a difference. After her, Owen Jones took to the stage to talk to us about hope. He felt that it was important to question the establishment. Why – when we are one of the richest countries in the world – are there so many people using food banks? Why are most people in poverty in work? Why, when instead of being angry at the powerful, are we angry at the weak, who have no power at all? Owen Jones challenged us saying 'if you unite together, you are invincible' and told us that it is all about us, and the power we have. Pretty inspiring stuff.
Georgia Gould was next on the agenda, and she explained that there are lots of inaccuracies about the youth of today. 75 per cent of people thought that youth crime was increasing when it isn't at all. She shared many examples of young people standing up for what they believe in, inspiring us to make a difference.
Finally, before lunch we had young Bristolain Fahma Mohamed from Integrate Bristol. She told the story of how they challenged Michael Gove to include education about Female Genital Mutilation in the curriculum. Lots of people opposed them, but with a good cause, a good team and good support, they managed to make a difference.
I was invited to the VIP lunch where young people took part in group discussions with local businesses. My group was with KPMG and we talked about the future of work. During the lunch break, the range of stalls were out again, and it was still really interesting to wander round. At the bottom of the foyer, there were even people teaching parkour! But it was nice to just bask in the sun for a while, and reflect on all that I'd heard…
When we returned, we started things off with Max Wakefield telling us about the solar tree that they've built in Millennium Square. He explained how they had built the first Solar Panel Tree, and that the energy it produces is so much cleaner than fossil fuels. After him was Ugo Vallauri from The Restart Project. His aim was to encourage people not only to recycle, but to fix things all together. They run workshops where you can bring along broken gadgets and learn to fix them.
Following a short break again, we had a presentation from Labour Behind the Label. They showed us a short video highlighting the bad working conditions for the people who make our clothes in Cambodia. Whilst the creator couldn't attend in case he was arrested for making the video, a representative was there who explained that most high street stores use workers working in these conditions, and it was up to us to find out where our clothes came from.
The last speaker was Emmanuel Jal, who wasn't so much of a 'speaker' as a 'singer' and 'dancer'!
He opened with his song "We Want Peace" and that was the theme of his talk. He explained his past and how he fought in a civil war at a very young age – even watching his friends die. After eventually getting help, he turned to music. His music focuses on peace, and he managed to get us all up singing and dancing!
The event was closed by Mayor George Ferguson who really encapsulated the whole feel of the event. He was very enthusiastic about the day and the things that would come out of it.
The event was really interesting. The wide range of speakers gave me a lot to think about. However, I feel as though the biggest influence the day had on me was making me think about green issues in a much broader sense. There are so many ways that we can be green – whether we're sitting in ships in front of whaling boats or simply fixing our broken mobile. It's inspiring to think that there are so many ways that we can get involved.