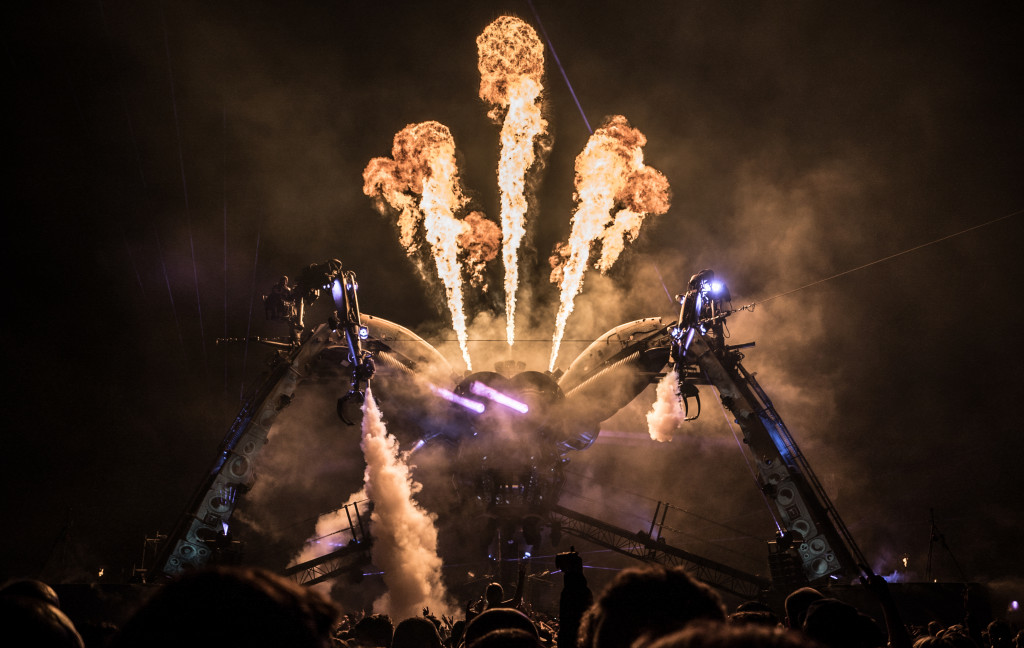 Arcadia Bristol
As part of the Bristol2015 Exceptional Fund programme, Arcadia Bristol took place in historic Queen Square on Friday 4 and Saturday 5 September 2015.
DJs and live acts performed on three stages in a 50-tonne, 20-metre high mechanical spider made in Bristol from repurposed military hardware. The highlight of the evening was the 30-minute, 360-degree Metamorphosis show featuring strobe lights, dry-ice, sound effects, and costumed performers dressed as aliens creating a post-apocalyptic-themed spectacular that evolved into a mood of euphoria and hope. This was the world's first biofuel pyrotechnics show.
Arcadia Bristol aimed to fuse sustainable ideas and technologies. It won Sustainable Event of the Year at The Event Production Awards, and Live Production of the Year and Production Manager of the Year at the TPi Awards.
Pip Rush Jansen and Bert Cole, Arcadia's founders, said:
'Bristol and its community have been so influential in our evolution, and it was a real honour to play such a key role in the city's life during such an important year. The shows were a memorable moment of unity that celebrated the inspirational possibilities of what can be done with the world's waste.'
Header photo: Arcadia Bristol (Ben Daure).