BAC100 was a celebratory programme in 2010 marking the centenary of the founding of the Bristol Aeroplane Company and the start of the aviation industry in the West of England.
Hundreds of thousands of people have worked in aerospace in the Bristol region over the last century and the industry continues to be a major employer.
The programme took place from 19 February 2010 to 30 January 2011 in Bristol, South Gloucestershire, North Somerset, Wiltshire and online.
It was developed and delivered by Bristol Cultural Development Partnership (BCDP – now Bristol Ideas) in association with industry sponsors, voluntary heritage groups, local authorities, arts organisations and charitable bodies. These included Airbus, BAE Systems, Bristol Aero Collection, Bristol Airport, Filton Community History, GKN, MBDA, Rolls- Royce, Rolls-Royce Heritage Trust, the Society of Merchant Venturers, South West Screen, UK Film Council, UK Trade and Investment and both Bristol universities. Many individual enthusiasts also contributed and people of all ages from pre-school children to retired industry employees took part.
The story of aviation in the West of England is a complex one that covers a wide range of topics from the vision and bravery of the pioneers to the latest innovative engineering projects; from the worldwide connections achieved through long-distance flight and international business partnerships to the contribution made by the industry to the local community; from the role of aircraft in times of war to the changing passenger experience. It also embraces the future challenges facing the industry.
Through BAC100 BCDP aimed:
• To increase awareness of the achievements of the West of England aviation industry, past, present and future.
• To increase interest in aviation archives and the organisations that care for them.
• To increase regional pride.
• To build new partnerships, networks and friendships.
• To create a positive legacy.
Events included:
• Flight, a major exhibition at Bristol Museum and Art Gallery, which had 65,093 visitors between 18 September 2010 and 30 January 2011. Katherine Hann, a freelance consultant, was appointed exhibition manager and some of the ideas developed for the content and displays informed the plans for the new industrial heritage museum Aerospace Bristol. 91 per cent of visitors to Flight who expressed an opinion said their awareness of local heritage had increased as a result of seeing the exhibition and 98 per cent said they would recommend it.
• Smaller displays at heritage sites and libraries in the West of England region.
• Take Flight, a 320-page hardback book telling the story of the Bristol Aeroplane Company from the earliest days to the present and beyond (15,000 copies were distributed).
• A service of celebration at Bristol Cathedral.
• Talks and debates as part of the Festival of Ideas.
• A centenary rally and parade of Bristol-made buses, cars and lorries.
• Higher education round-tables with representatives from industry.
• A mass flight on Durdham Down of box-kites built by local children.
• The planting of 100 fruit trees as part of Airbus' support for the Convention on Biological Diversity's Green Wave initiative.
• A heritage walk led by a National Trust volunteer around Larkhill in Wiltshire on 30 July to mark the first flight of the Bristol Boxkite.
• Competitions and engineering challenges.
The launch, which was managed by Airbus, won the Chartered Institute of Public Relations West of England PRide Award for the Best Event category.
A separate BAC100 Learning Project ran alongside the main programme. This was supported by a Heritage Lottery Fund Your Heritage grant, industry sponsors and the local authorities of Bristol and South Gloucestershire.
The main elements of the education programme were:
• An extensive website at www.bac2010.co.uk featuring audio and film material, written text, images and interactive games. It had 68,884 visits between March and December 2010. 81 per cent of visitors to the website who expressed an opinion felt their local pride had increased as a result of seeing the site and 89 per cent said they would recommend it. (The website is now archived. It is still available to access but does not conform to current data protection requirements and we no longer have the means to edit it.)
• Workshops using collage-making, creative writing and simple science experiments to explore the history and technology of the local aviation industry. 1,500 children and young adults took part in a total of 81 sessions held across 30 educational sites. The workshop leaders were supported by a team of 28 graduate trainees from the aviation industry. Pupils from eight of the participating schools were given free open-top bus trips to Flight, provided by City Sightseeing Bristol. 82 per cent of teachers who expressed an opinion agreed their pupils had been inspired by what they learnt in the workshops and all said their pupils had learnt something new about aviation and had enjoyed taking part in BAC100.
• Teachers' resource pack including CDs containing PowerPoint presentations, teachers' notes and digitised historic images; DVDs of historic film material; information posters; and a timeline wall chart.
• A new publication, The 2010 Book of Aviation Wonder, presenting science and history in an engaging, enjoyable and informative way. 20,000 copies were distributed to form the 2010 Great Reading Adventure. 95 per cent of readers who expressed an opinion said they had enjoyed the book and 90 per cent said that they had learnt something new about the local area from reading it.
Feedback comments received over the year included:
• 'This has been the best day in the seven years I've been alive.' – Primary school pupil after science workshop
• 'I thought I wouldn't be particularly interested in the exhibition, because I am not typically engrossed by such topics, but the addition of historical context and various visual mediums used enabled me to gain an interest and therefore improve my knowledge. It definitely has broadened my mind as to what I will take time to observe in the future.' – Visitor to Flight exhibition
• 'I have always lived in the Bristol area and did work in the aerospace industry so have existing interest in local history and events, but the website has proved very interesting and helpful and has definitely told me things I was not aware of.' – Visitor to website
• 'Everyone [in the class] loved having their own aviation annual. What a treat! They have been reading them constantly and sharing them with their families.' – Teacher on The 2010 Book of Aviation Wonder
• 'I worked with a wide range of age groups in very different settings and I found it very interesting to see such enthusiasm for the project everywhere I went. I felt this was partly due to the fascination we all have for flight but also it was due to the hard work put in [by BCDP] in setting up the project, programme and all the extended events.' – Workshop leader
• 'I am proud to have been associated with this whole project, which has brought our local industry into the limelight, and provided so much activity, education and fun.' – Steering group member
• 'Thank you for inviting me to the book launch. I thoroughly enjoyed the evening and your wonderful books are now being enjoyed by three generations of my extended family, aged 3 up to 73.' – Guest at the BAC100 book launch
• 'The resources and workshops have been fantastic, the children really enjoyed and benefitted from the knowledge of the workshop leaders and the books and posters are fantastic as is the website resource. Really great.' – Teacher
• 'Outstanding; another alphas plus performance from [BCDP] and all their sponsors; it's vital this work is continued as a part of Bristol's legacy building but also part of its future. This project is a perfect fusion of all that is great about Bristol: arts, business, community, and of course engineering excellence.' – Visitor to website
There are few businesses that last 100 years; most companies close long before then. BAC100 provided the opportunity for BCDP to once again link the arts to the sciences and to celebrate a great Bristol success story.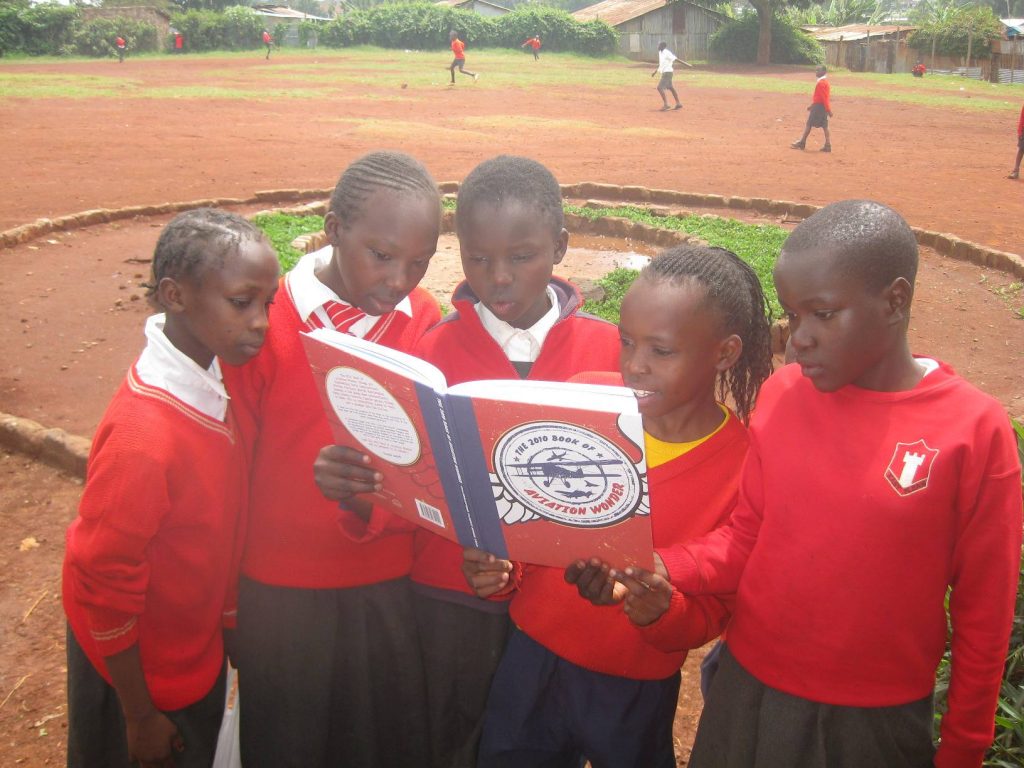 Header photo: Visitors to the Flight exhibition (Martin Chainey). Gallery Details: Three of the banners produced in school workshops – Churchill School, north somerset, Filton Primary, South Gloucesterhire, and Hillfields Primary, Bristol (Martin Chainey). PUPILS AT DESAI MEMORIAL PRIMARY SCHOOL, KENYA, READING COPIES OF THE 2010 BOOK OF AVIATION WONDER, WHICH WERE DONATED AS PART OF BAC100 AND DELIVERED BY VIRGIN ATLANTIC PILOT BOB ILETT, WHO ALSO TOOK THE PHOTOGRAPH.
THIS ARTICLE WAS FIRST PUBLISHED IN 2018 AS PART OF THE PROGRAMME MARKING THE 25TH ANNIVERSARY OF THE FOUNDING OF BRISTOL CULTURAL DEVELOPMENT PARTNERSHIP (BCDP), THE ORIGINAL NAME FOR BRISTOL IDEAS.