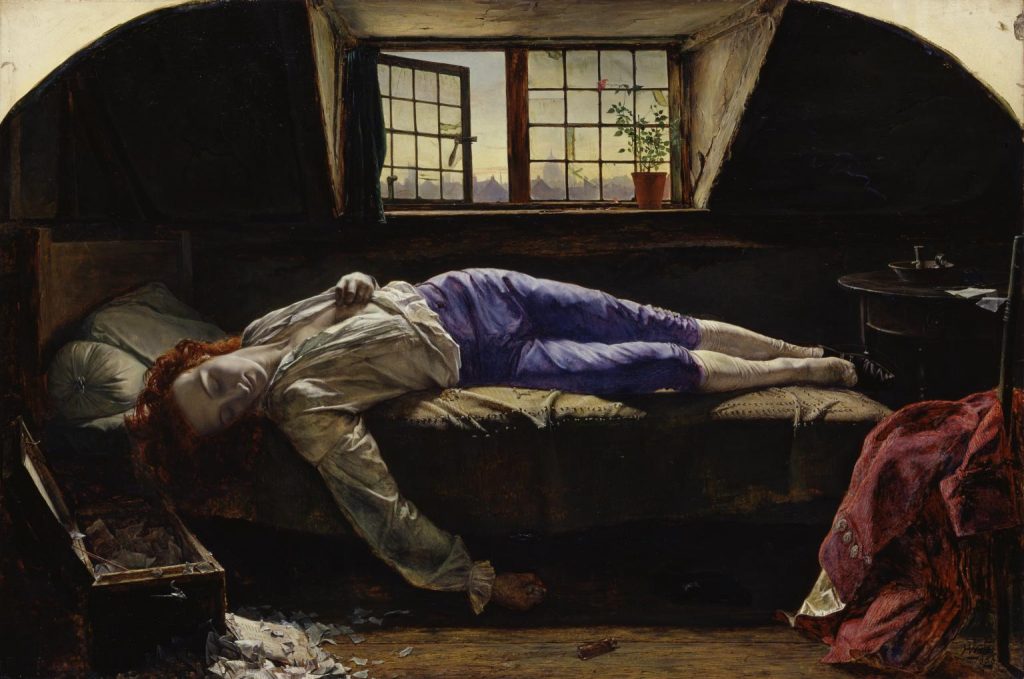 RWA's Chatterton Exhibition
An exhibition providing an opportunity to see Henry Wallis' painting of Thomas Chatterton on his death bed was held at the Royal West of England Academy in October 2020 as part of the Poetic City programme.
The painting created a sensation when it was first exhibited at the Royal Academy in 1856, and was described by leading art critic John Ruskin as 'faultless and wonderful'. It is now in the collection of Tate Britain and is rarely allowed on loan.
The exhibition also included examples of art developed by young people in workshops led by Writer in Residence Polly Denny and RWA Academician Laurie Steen.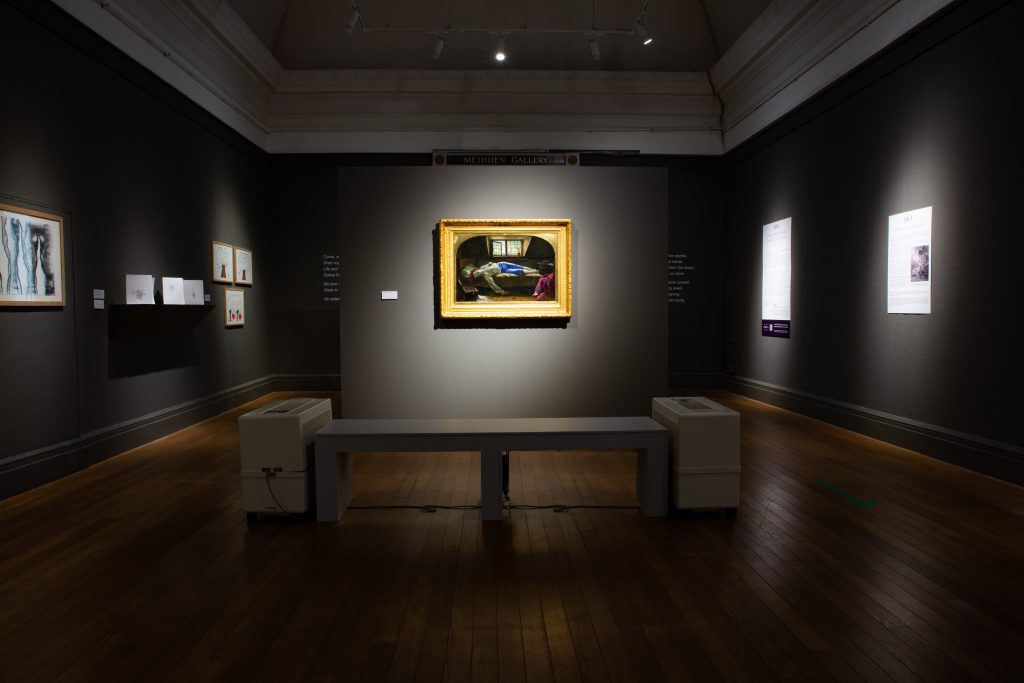 Photo of exhibition: Lisa Whiting.
Watch and Listen at the Exhibition
The RWA is one of the venues where visitors can collect free copies of the Poetic City publications: the comic book telling the story of Chatterton and his legacy; and a new poetry anthology developed in association with Lyra – Bristol's Poetry Festival. Some of the poets who contributed to the anthology were filmed by Michael Jenkins (8th Sense Media) reading their work in front of the painting. The poets featured are: Theresa Lola, Anthony Anaxagorou, Fran Lock, Keith Jarrett and Chris McCabe.
Danny Pandolfi and Lucy English, co-directors of Lyra, said:
'After spending months talking to the poets about their preparation, research and writing, it was quite a surreal experience to see the poems performed live beside the original piece of art. Upon arrival in the room, all of the poets commented on how the colours look completely different in person, and how it felt like an emotional connection with the painting had been formed through their relationship with the poem. Michael Jenkins' videography paired the painting and the poet in a way that really captured the intense and intimate atmosphere so excellently curated by RWA in the exhibition room. We're really proud of the project and the anthology of poems, and these films are a brilliant celebration and culmination of the whole experience.'
Our thanks to the RWA for providing the following recordings: the audio guide for Chatterton exhibition (by Nathalie Levi, Head of Programme – Curator of Exhibitions, RWA) and a selection of Chatterton poems read by Polly Denny, RWA Poet in Residence.
Main image credit: Chatterton, 1856, Henry Wallis. Tate: Bequeathed by Charles Gent Clement 1899. Photo © Tate. Image released under Creative Commons CC-BY-NC-ND (3.0 Unported).
The Poetic City programme is funded thanks to grants awarded by the National Lottery Heritage Fund, using money raised by National Lottery players.