As part of our Festival of Ideas programme, we are launching a new series on the future of democracy and freedom of expression with sessions on new thinking, citizens' assemblies, the future of liberalism and conservatism, women and freedom of speech, how to deal with strongmen leaders and debates with the candidates for both the city and WECA mayor.
'Democracy is one of our greatest inventions and yet – in many parts of the world – it is in crisis. We need to reinvent democracy here too. Our new series will ask: Do we need a written constitution? Should we have an English Parliament? Should we replace the House of Lords with an elected Senate? What should the future electoral system be? What would proper and full devolution mean? How can people feel more in control of their lives and their futures?' Andrew Kelly, Director, Bristol Ideas
As part of this work, we are collaborating with English PEN on their centenary project #CommonCurrency with a range of partners across the UK. One of the world's oldest human rights organisations, English PEN was originally established in 1921. This year, the Common Currency programme will mark this centenary milestone in a unique programme of in-person and online events, residencies and workshops exploring freedom of expression and showcasing the world's greatest literature. Bringing together renowned, emerging and new writers, readers and activists, the programme will present timely debates and discussions. The project takes its name from the PEN Charter that states 'literature knows no frontiers and must remain common currency among people'.
'English PEN has been championing the freedom to write, the freedom to read and literature for 100 years and we're delighted to mark this centenary year with the Common Currency programme. The unique programme is ambitious on a global scale, featuring some of the world's greatest writers alongside the emerging writers and new voices who will lead the next generation of literary greats. Championing freedom of expression, democracy, language and more, we hope the ideas, debates and residencies they present will encourage a thoughtful discussion of these themes, and help to inspire the next 100 years of writers' Daniel Gorman, Director, English PEN
English PEN sits at the intersection of literature and advocacy, championing the freedom to write and the freedom to read. Common Currency is supported by a National Lottery Project Grant from Arts Council England, British Council, Cockayne Grants for the Arts – a donor advised fund of London Community Foundation, and PEN International.
To join in the conversations on social media, please use #FoIDemocracy and #CommonCurrency.
Some recordings of past events are available to watch on our Crowdcast channel or by browsing the list below.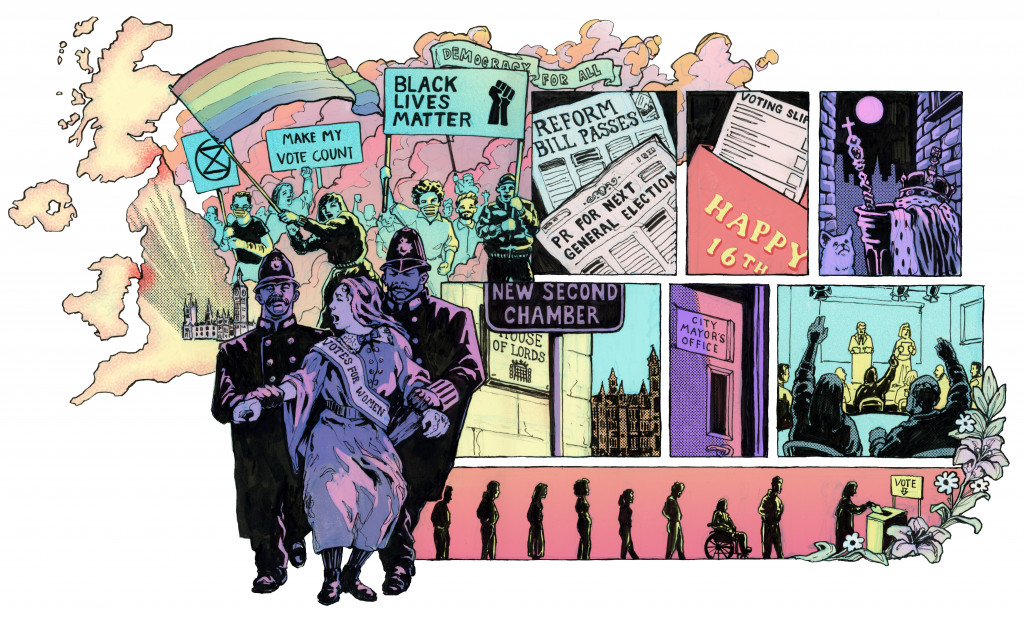 Democracy Illustration by Willem Hampson.