William "Woody" Woodworth the son of William and Elizabeth was baptised at St Peters and Paul's church, Shepton Mallet seven days before the Christmas of 1896.
At the age of four, Woody and his family moved to Bristol and settled in No 16 Stacey Street, Southville. The 1911 census reports Woody's trade as an errand boy.
With the threat of the First World War, Woody would follow in the military footsteps of his brothers Arthur and Alfred and enlist to fight for King and Country.
Woody joined the 6th battalion of the Gloucestershire regiment in 1915, his number being TF4875. This was a pre-war territorial battalion that was recruiting mainly from the Bristol area and the south. This battalion split at the start of the war and Woody spent many months training before finally arriving in France with the 2/6th in the early summer of 1916.
Woody sent and received many post cards during his active service and seemed to be very popular with the ladies!
In France his unit suffered many casualties at the attack on Fromelles. The battalion diary recorded "men were practically blown back as they went over the parapet by machine guns and shrapnel". Woody was wounded in August 1916 at Laventie and was sent back to England to recuperate.
In early 1917, Woody re-joined a reserve battalion (266691) at Catterick, which took in recovering wounded soldiers before they were sent out to the front again.
An old post card sent at Christmas 1917 shows Woody back in France fighting with the Glorious Glosters.
In the spring of 1918, his battalion was in position around Fresnoy in preparation for the German offensive. It was during that offensive that he would be injured for a second time, this time much more severely that would lead to him losing his left leg.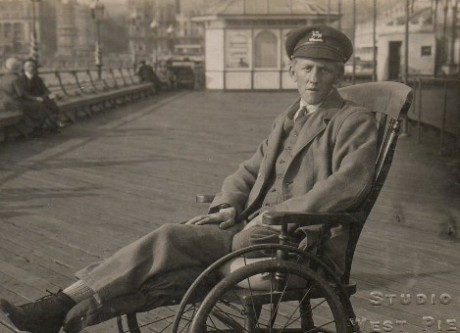 Woody on Brighton Pier, 1919
Cossham hospital in Bristol became his home from March 1918 for four months, later transferring to the Royal Pavilion military hospital in Brighton before arriving back in Bristol in 1919. Woody was presented with the silver war badge given to injured servicemen.
The loss of his left leg had a major impact on his life and in 1924 the Bristol Bench imposed a £5 fine or a month's imprisonment on Woody, after he was charged with improper conduct on several different occasions in the presence of young women.
Woody died in Weston Super Mare aged 67 in 1964, a year before I was born.