The son of a carpenter, Henri Gaudier was born in October 1891, at St Jean de Braye, a village near Orleans in north-central France, some 70 miles south-west of Paris
A solitary child, immersed in books, school work and drawing, Gaudier showed such aptitude that at the age of 12 he won a scholarship to the Benjamin Franklin Secondary School in Orléans, and four years later, in 1907, was awarded two further scholarships to study overseas. The first took him to Bristol, the second – in April 1909 – to Nuremberg to study German Business Studies.
Arriving in Bristol in mid-1908. he studied commerce and English at Merchant Venturers College; and in the second phase of his British scholarship he worked for a commercial coal importer and exporter called Fifoot and Ching in Cardiff.
In Bristol Gaudier boarded with the Smith family and began a friendship with the young daughter, Kitty. This friendship continued to the end of his short life. During his time at Bristol Gaudier kept at least one notebook which he filled with drawings, including detailed studies of birds seen in Bristol Zoo. There are other sketchbook pages that show highly wrought architectural details of the city's cathedral and the Bristol Cross; another of the front of St Peter's Hospice, and a rigorous sketch of the Roman baths drawn in Bath Spa on 25 July 1908. There is also a fine self-portrait, its faceted facial planes indicating the direction his art would take as he matured into a serious and respected young modernist.
After his stint in Cardiff and Germany, Gaudier moved to Paris mixing in circles of artists, writers, and anarchist militants, becoming embroiled in campaigns and demonstrations. By 1910 he had started sculpting and had also met Sophie Brzeska, twenty years his senior, whom he tried unsuccessfully to integrate with his family back in Orleans. His advocacy of free love and anarchist ideals did little to win him favours in his home village.
Under a cloud of social hostility, Gaudier fled the French army draft in 1911 settling in London with Sophie and sharing her surname. Influenced first by the shadow of Rodin and stimulated by visits to the British Museum, his work became increasingly shaped by the tribal arts of Africa and Oceania. During 1912 and1913 he was in the orbit of the more radical elements of the London cultural scene; his friendships with T. E Hulme, Ezra Pound and Jacob Epstein had a profound influence on his sculpture, which became geometrically simplified, bare and taut. Recognising the abject poverty in which he and Sophie lived, Pound supported the young artist by purchasing his carvings, but also giving him raw materials including a block of marble out of which he carved the remarkable 'Hieratic Head of Ezra Pound'. Part-helmet, part-carapace it is a stripped-down, strikingly virile sculpture remarkable for an artist so young.
The pair had first met in front of Gaudier's figurative sculpture 'The Wrestler'. The young man stepping from behind the pedestal 'like a Greek god in a vision' and 'with the gentlest fury in the world' to correct Pound's terrible pronunciation of his name with, as Pound later wrote its ''appalling assemblage of consonants'.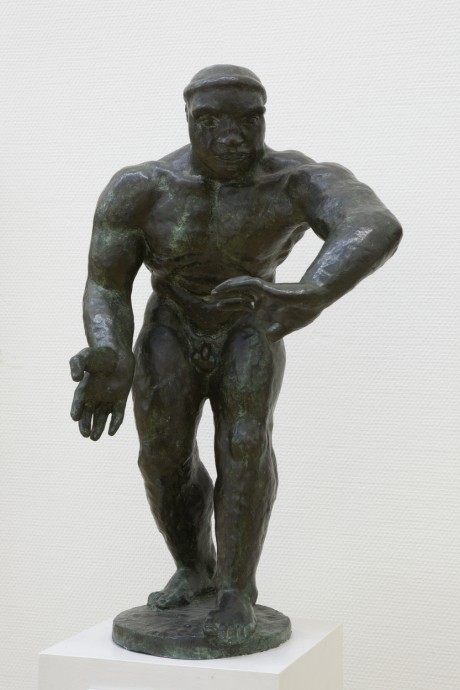 Gaudier's work was included in the extraordinary first issue of the magazine BLAST, a puce-covered broadside aimed at the indolent middle-brow cultural class that Wyndham Lewis so despised. The Vorticist war cry that they were all 'Primitive mercenaries in the modern world' chimes exactly with Gaudier's taut and convoluted carvings, which by the eve of the war had started to move from the mechanistic rigidity of his near-armoured creatures into more organic, often sensuous forms.
Few sculptors of that period could combine such opposing forces: in 'Bird Swallowing Fish' (now in Kettle's Yard, Cambridge), the two animals are transformed into combative armoured creatures, with angular wings and fins, protruding parts, the fish 'jammed into the bird's mouth like a weapon.' Wrote Gaudier:
Sculptural energy is the mountain.

Sculptural feeling is the appreciation of masses in relation.

Sculptural ability is the defining of these masses by planes.
Despite his anarchist predilections Gaudier volunteered for service with the French infantry and served on the front-line, where he made time to create small carvings. He wrote:
I have made an experiment. Two days ago I pinched from an enemy a mauser rifle. Its heavy unwieldy shape swamped me with a powerful image of brutality.
I was in doubt for a long time whether it pleased me or displeased me.
I found that I did not like it.
I broke the butt off and with my knife I carved in it a design, through which I tried to express a gentler order of things, which I preferred.
BUT I WILL EMPHASIZE that MY DESIGN got its effect (just as the gun had) from a very simple composition of lines and planes.
Twice promoted, recognised for courage, and just twenty-five years old, he was killed in an infantry charge at Neuville St. Vaast , near Arras in northern France on 5th June 1915.
Note
Gaudier added Sophie Brzeska's surname to his own after moving with her to London.  This article is an extended version of the essay which is included in 'Four Artists' in Bristol and the First World War, the book distributed as part of the Great Reading Adventure.