While carrying out some family history research, I came across an interesting and rather unfortunate story about my great uncle, Arthur Woodworth, during the Bristol bombing in 1940. Firstly however, I would like to give you some background information on Arthur so you can set a picture of what he had done in his life before 1940.
Arthur Woodworth was born in Shepton Mallet, Somerset on 16 November 1884. He moved to Hotwells, Bristol with his family before the turn of the century as his father William had a job as a Steam Cane driver at Bristol Docks.
Unfortunately at 14 years of age Arthur and his father William got into some trouble stealing bicycles and Arthur was convicted on 2 May 1899 and sentenced at the Petty Sessional Court Bridewell to four years and six months as an inmate of the Kingswood Reformatory School. The School was for boys convicted of criminal practices for sentences of three years or more.
The crime was reported in the Bristol Mercury. William Woodworth got two months' hard labour at Horfield Prison for his involvement.
On the entry to the reformatory school, Arthur was described as living at number 6 Little Caroline Row in Hotwells, his education was poor and his character indifferent. He was 5ft 2inches tall with brown hair, of medium build and with a fair complexion.

The Superintendent of the Reformatory School in 1902 was a Mr B Andreys, who was an ex army officer and this may have been why following his release, Arthur joined the Royal Scots Fusiliers as a private, where he was stationed in India from 1905
In the 1911 census Arthur was shown as a Musician in the 1st Battalion stationed at Roberts Heights Pretoria Transvaal, South Africa.
As a full time soldier (Reg No 8583) he returned to Europe in March 1914 and in August embarked on a war that they said would be over by Christmas. He was one of some 120,000 regular troops who were in the British expeditionary army. The RSF were one of the first British formations to move to France.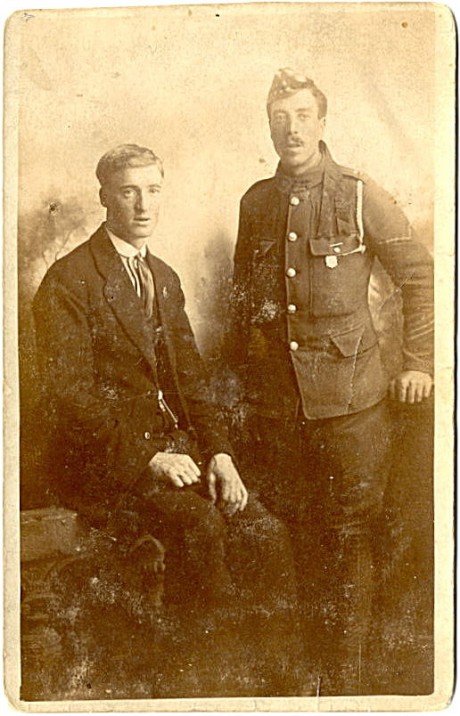 Arthur on the right next to his younger brother and my Granddad Alfred Woodworth
Arthur served with the 1st battalion of the Royal Scots Fusiliers in the First World War and was present at many battles including:
Battle of Le Chateau; 1st Battle of the Marne; 1st Battle of Aisne; 2nd Battle of Ypres, which witnessed the first use of a new German weapon on the western front – poisonous gas!
He also was present at the Battle of the Ancre in the freezing winter 1916/17; the 3rd Battle of Ypres and the Battle of Lys. On Armistice Day he was at Romaries according to his army records.
How he managed to keep alive and even sane I don't know!
In 1919 his battalion had to renew the old regimental experience of duty in Ireland during the Irish civil war. He landed in Dublin on 13 May 1919 and the battalion was stationed in Tullamore barracks, Tullamore until 1921 when the British and Irish Governments would agree on the future political structure of Ireland.
Some time after this Arthur left the Army and we have stories of him and some ex-army colleagues busking on Castle Street for a living.
In 1939 it is no surprise that Arthur would want to do his bit for King and Country again. He joined up with the Auxiliary Fire Service as a firewatcher. German heavy bombers could carry one thousand incendiary bombs and according to the Home Office a single bomber could start up to 150 fires over a three-mile area. Arthur would spot fires over the Bedminster area and pass on information to the fire service.
One cold November evening in 1940, while not on duty, Arthur ventured up the Cricketers Arms on the corner of Greenway Bush Lane and Greenbank Road, Southville for a few beers with his mates. I can only imagine it would have been a busy evening and the pub was full. Main topics of conversation were probably the recent bombing in Bristol and I'm sure some old First World War stories were told as well. It was late in the evening when the dreaded air raid siren disturbed the pub and people started evacuating for the local air raid shelter or pub basement. Arthur got up from his seat needing to go to the toilet. Could he hold on during the raid or should he use the pub's facilities? He decided to use the pub toilet.
A German bomb destroyed the pub and the only casualty was poor Arthur. What an unfortunate call of nature.
Arthur died on 24 November 1940 aged 56 and is buried at Arnos Vale cemetery.