Festival of Ideas
What Can Dementia Teach Us About Love?
Nicci Gerrard
Nicci Gerrard discusses issues around memory, language, identity, ageing and the notion of what it truly means to care, asking what – in the end – really matters.
In 2015, an estimated 850,000 people in the UK were living with a form of dementia; the same number thought to be undiagnosed. As the population ages, it is estimated that this figure will increase to over 1 million by 2021 and 2 million by 2051.
After her father's slow death from dementia, writer and campaigner Nicci Gerrard set out to explore the illness that now touches millions of us around the world. In her latest book, What Dementia Teaches Us About Love, she speaks to those affected by the disease: from people living with dementia and families trying to make sense of the changes to their loved ones, to the scientists unlocking the mysteries of the brain and therapists using art and music to enrich the lives of sufferers.
PHOTO CREDIT: PHIL FIsk
Audience Member Review
Written by Kerrie Nicholson
A study in 2015 revealed that an estimated 850,000 people were living with a form of dementia, with the same number thought to be undiagnosed. As the population lives longer, it is estimated that this number will increase to over million by 2021, and further still to two million by 2051.
There are some amazing strides being made in our understanding of and attitudes towards the disease, but more work needs to be done, and more voices need to join the cause. In an emotional, candid and heartfelt talk with Jenny Lacey as part of the Festival of Ideas, author and campaigner Nicci Gerrard discussed her experience of the illness and how it has touched the lives of so many: those living with the illness, their families and carers, the scientists studying the brain and the therapists using art and music to re-establish connections with the world; and wrote them in her new book: What Dementia Teaches Us About Love.
As she sat down to begin the talk, Gerrard remarked that we were probably all there because our lives have been touched by dementia in some way, or we know someone who has. It was funny how the impact of that sentence didn't really hit me until she said so. I was touched very deeply by it, and Gerrard later alluded to the fact that the title of the book stems from the idea that love and acceptance, especially towards those with dementia, needs to become more of a conscious, collaborative effort, as there is a societal trend that establishes them as "other", different from us, and that in itself is incredibly divisive. Having that laid out in front of you is really powerful, and got me thinking about what more I can do to help, and resolved to continue being a more open, empathetic person.
Gerrard talked about her father, John, who was admitted to hospital for another health issue. In the five weeks he was there, his condition deteriorated so rapidly, both in physical and mental terms that he was unrecognisable. The family truly believe that if John had had access to those real world "anchors": people he knew and were able to help tend and comfort him, he would not have descended into such a state of incapacity. Gerrard stressed that all the individual doctors and nurses involved in her father's care were incredibly kind, conscientious and respectful, but they did not have the time to devote to sitting with him, reading to him (he loved literature and had been incredibly articulate), keep him connected to the world; because hospitals have become, through no fault of their own, Gerrard acknowledged, "places of cure, rather than care", because the NHS is on its knees.
When her father died in November 2014, Gerrard and her mother June, founded John's campaign: with the premise of helping those with dementia to be further supported with care from their families as well as medical professionals, in order for them to maintain a quality of life as much as possible.
Gerrard described writing the book as a "journey". She spoke to many different people at different stages of their journey with the diagnosis. Some of the stories she told were incredibly harrowing, but it was also incredibly heartwarming to hear that positivity can be possible: she touched upon an anecdote involving an older gentleman with advanced dementia who was no longer communicative, a shell of himself, a body in a wheelchair. Gerrard remembered that he was fond of jazz music, and some Louis Armstrong was palyed to him via headphones. The effect was transformative, Gerrard recollected: "he lit up", and for a few minutes afterwards, he was lucid and speaking. As someone for whom music has been incredibly important part of my own life and wellbeing, this was the moment that stayed with me most.
The talk ended with an audience Q and A, in which every single person who spoke not only thanked Gerrard, but opened up about their own experiences with dementia, personal or indirect. I left feeling like the idea behind the title of her book was being put into practise and that we were made better by being open and accepting!
Kerrie Nicholson is a reporter for Bristol Women's Voice.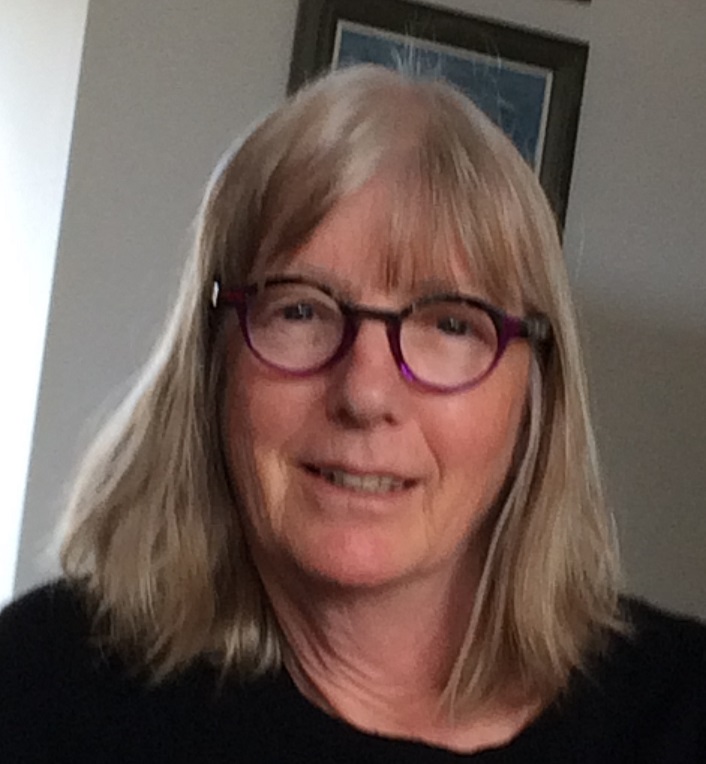 Jenny Lacey was for many years an award-winning radio presenter, working for LBC and for the BBC. She was the BBC's Education Correspondent for the South West, and became Managing Editor of BBC Radio Gloucestershire and then BBC Radio Bristol.