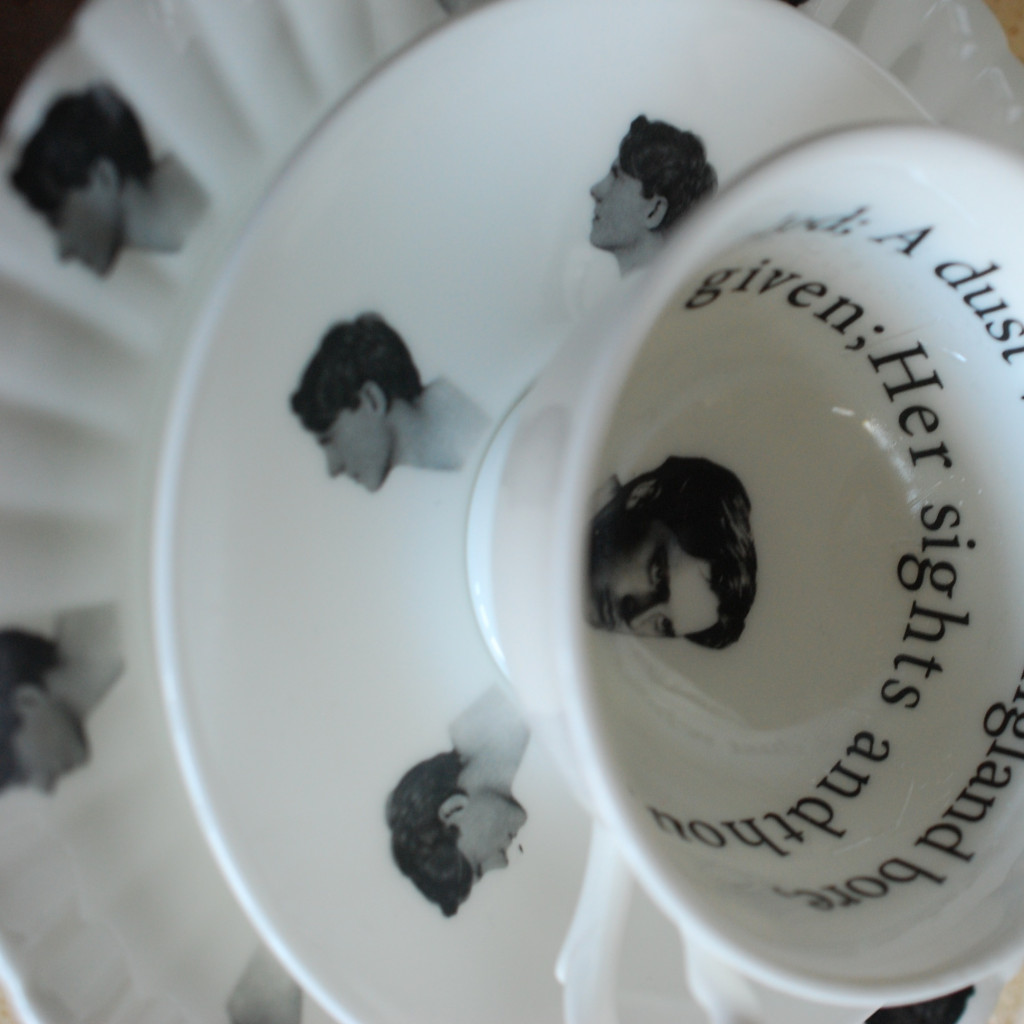 Bristol 2014 arts projects
An important strand of Bristol2014 were the arts projects funded by Arts Council England. Commissioned artists included authors, photographers, fine artists, graphic artists, cartoonists, dramatists, architects, a rapper, a ceramicist, an enamellist, a composer of brass band music and a paper engineer.
Many of these artwork were displayed as part of Back From the Front at the RWA and can be viewed in the online exhibition catalogue.
Among the projects were:
'Leaving the Line: Images and Words of War and Wondering' was a collaboration between military historian Jeremy Banning and Tania Hershman, a fiction writer and poet. Jeremy and Tania stepped into the other's world to create a set of 12 postcards (12 is the number of members of a Section in the army). The postcard combined an image with a 100-word short story or poem – eight written by Tania and four by Jeremy – inspired in some way by the First World War. The writing focused on Bristol, women in the war, and Jewish soldiers. The images were either taken by Jeremy or Tania or were from archive material. On the back of each postcard were a few lines explaining the facts that inspired the poem or story.
Artist and cartoonist Steve Bell's artwork 'The New World', partly inspired by Paul Nash's painting 'We Are Making a New World'. It was displayed in the Re-membering II exhibition at the RWA. You can see it here (pg 59).
The Bristol-based award-winning author and poet Helen Dunmore, whose novel The Lie is set during and immediately after the First World War, wrote a short piece of fiction 'A Silver Cigar in the Sky'. You can read it here (page 81).
Angus Fraser's 'The Flooded Trench', is a large-format photographic work that was inspired by Siegfried Sassoon's poem'The Redeemer'. It focuses on the fatalities of First World War soldiers who drowned in their own trenches. It is a direct response to the terrible experiences these soldiers must have endured in their last moments of life, as they 'struggle along the ditch' heaving their leaden limbs and 'lugging clay-sucked boots' through 'the muck', as described in Sassoon's poem. You can see it here (pg 54-55).
Drawing from cemeteries, memorials and monuments in Bristol and further afield, Paul Gough created a suite of drawings that reflect on the fabric of memory, most particularly the stones of remembrance that mark every garden-cemetery from the First World War. Using a wide range of drawing processes, including frottage, rubbing, and collage, Gough created art works that contain the embedded names of warfare and the very textures of memory in stone. You can see it here (pg 61).
War, Women and Song was a performance and participation project that celebrates the Lena Ashwell YMCA Concert Parties of the First World War. More than 600 performers signed up for a tour of duty with Ashwell between 1914 and 1919. Among them were Ivor Novello, heartthrob composer of 'Keep the Home Fires Burning', and Elsie Griffin, a former Fry's chocolate packer, who is honoured with a blue plaque at her former primary school, St Michael's on the Mount, Bristol. The performers played whatever and wherever was needed, in freezing tents and packed huts, on ships at sea, and at the bedsides of the dying. They were immortalised in Siegfried Sasson's poem 'Concert Party'. Anna Farthing and Bea Roberts dramatised fragments from the lives of those who toured to theatres of war – bringing the harmony of home to soldiers reeling from the cacophony of battle.
Paper engineer Diana Beltrán Herrera's commemorative paper wreath. You can see it here (pg 60).
Traditional hand-rendered signwriting inspired the type-based work for Hasan Kamil's commission.  The typefaces Kamil chose to rework were based on typical early twentieth-century lettering and fonts.  For Kamil, the decision to use these traditional methods 'seemed natural as the majority of business signs and street advertisements during the era of the First World War would have been crafted and painted by hand'. You can see it here (pg 62).
Elena Marco worked with architecture students to create work on the theme of a new memorial for the Avonmouth Mustard Gas Factory. You can see it here (pg 63).
Composer and arranger Liz Lane's new work for brass band and narrator called 'Silver Rose'. The words were taken from the work of Bristol-born poet Isaac Rosenberg. It was premiered at a Remembrance Sunday concert at Bristol Museum and Art Gallery with narration by Robert Hardy. Subsequent performances of this work have included a special adaptation created for the first concert by the South-West Open Youth Orchestra.
The Rupert Brooke tea service, created by Hanne Rysgaard, a ceramicist, and fine artist Anton Goldenstein. It was inspired by the knowledge that Brooke ate his last meal on English soil at Avonmouth before departing for the war. You can see it here (pg 65).
Playwright Ros Martin developed a new work inspired by the life of her relative, Nigerian actor, Orlando Martins.
Shawn Sobers' 'African Kinship Systems: Emotional Science – Case Study: The Fate of the SS Mendi', an audio visual work made with local filmmaker Rob Mitchell. You can see it here (pg 56-7).
Show of Strength's performance piece 'From Vagrant to VC' about Thomas Rendle, a VC recipient from Bedminster.
Enamel artist Elizabeth Turrell's commemorative peace medal. You can see it here (pg 63).
'The Sound of a Veteran' with words and music by Upfront MC and video material by Harry Gough. 'The Sound of a Veteran' was developed following intensive reading of memoirs from the Great War. Rather than just relying on British writing from the period, Upfront MC, read widely from German, Serbian and Turkish soldier's work. This approach helped inform the lyrics, but also guided Harry Gough's choice of documentary material, which he montaged into a matching visual narrative. You can watch the video on You Tube.
21 Illustration students at the University of the West of England produced a series of posters inspired by the Bristol2014 programme. They were also displayed at the RWA; some were used in marketing material and as a limited-edition print version. You can see it here (pg 68-79).