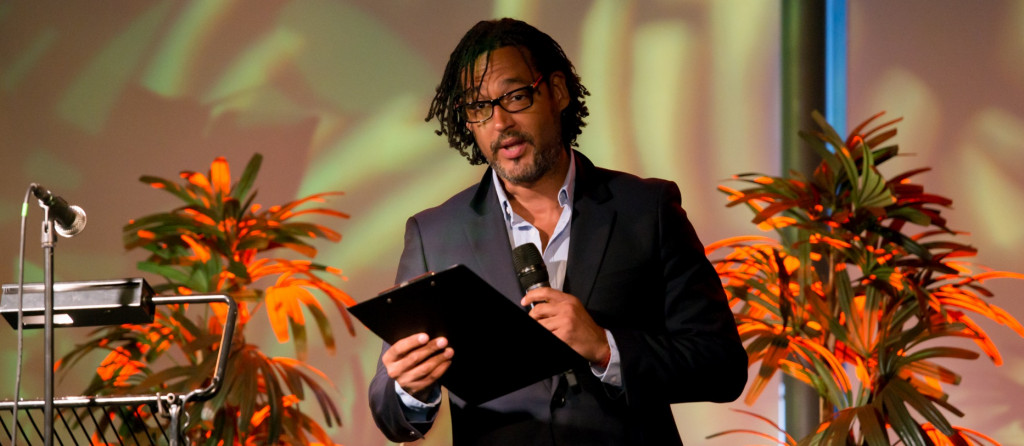 Board Directors
The board of Bristol Ideas is made up of representatives from across the city – culture, academia, business, local government and local organisations. They meet quarterly and are responsible for the governance of the organisation.
Patron, David Olusoga: David has participated in many Bristol Ideas projects and discussions over the years, on topics as wide-ranging as poetry and utopia, failed revolutions and the lessons of history, the revolutions of art in television, how cities address contested history and his popular BBC TV series A House Through Time. He has interviewed writers, artists and academics including Akala, Afua Hirsch, Gary Younge and Claudia Rankine as part of Festival of Ideas. In 2019 he contributed to our publication Homes for Heroes 100: Council House Memories, with a personal essay about growing up on a council estate in Gateshead.
'We face many complex crises and we need honest and open debate about ideas to secure better futures for us all. I'm honoured to be appointed as the first Bristol Ideas Patron. Festival of Ideas is one of the finest Bristol events – rooted in the ideas and people of the city with international reach and impact. It celebrates the people and ideas of Bristol. It brings the best from the worlds of arts and sciences to the city to address key contemporary issues, the future of cities and – critically – identify the solutions needed to the great challenges we face. I look forward to working with the festival team on new programmes of work, themes and events.' David Olusoga
Chair of the Board, Suzanne Rolt, Director, St George's Bristol: Suzanne studied music at University College Cardiff. She worked for Welsh National Opera and then joined the Musicians Benevolent Fund in 1989. During her time with the Musicians Benevolent Fund she managed an annual festival of music in London and was involved with the launch activities for the Jacqueline du Pres Memorial Appeal. She moved to St George's in 1992. Before being appointed Director she was Head of Marketing & Development and Acting Artistic Director. Suzanne combines a love of music with a passion for writing. She is a Fellow of the RSA a Board member of RWA, Bristol Cathedral Choir School and an Advisory Group member of the Bristol Festival of Ideas (she was a judge for the 2010 Book Award). She was elected by fellow arts professionals in the South West as a member of the National Culture Forum convened by Arts & Business/National Campaign for the Arts in 2010. Suzanne was also part of the Advisory Group set up by Bristol City Council to look at future trust status for Colston Hall and closer collaborative working between Bristol's music venues. Suzanne will assume the role of Chief Executive at Quartet Community Foundation in spring 2021.
Isobel 'Ozzy' Algar: Ozzy is a performer, theatre maker, writer and clown. They are particularly interested in immersive and interactive theatre. Their solo work includes performance poetry, music and physical comedy. Ozzy is a Rising Arts Agency Associate Artist. You can find out more about their work at https://www.ozzyalgar.com/
Martino (Marti) Burgess, Partner, Bevan Brittan: Marti is a partner at national law firm, Bevan Brittan. Her particular areas of specialism are company and business sales and purchases as well as providing companies with all the contracts they need to structure or run their businesses. She joined Bevan Brittan in September 2019 and is a corporate partner in the Commercial and Infrastructure department looking after SMEs. Marti sits on the board of Bristol Ideas and is the chair of St Pauls Carnival CIC and the Black South West Network, a BAME led organisation delivering race equality work through undertaking robust BAME led research with the ambition to have a society where inequality and discrimination on the basis of racial or ethnic categorisation is wholly and completely absent. Marti is also a business member of the West of England Local Enterprise Partnership and a director of Lakota night club. She's part of the consortium creating a new night time economy strategy for the city.
Joanna Cave, Finance Manager, Aardman Animations Ltd: Joanna joined the Aardman Finance Team in 2007 initially as Management Accountant, and then moved up to Finance Manager following a team restructure. Joanna has previously worked for AXA Sun Life Services PLC and Pricewaterhouse Coopers as well as being a Small Business Advisor (VSO voluntary role) from 2004 to 2007 in Uganda. Joanna spent many years volunteering at Bristol Zoo.
Simon Cook: Simon is a former councillor with executive responsibility at Bristol City Council. He was the Cabinet Member for Culture, Sport and Capital Programme in the elected Mayor's Cabinet at Bristol City Council. Prior to that, he was elected leader of the council's Liberal Democrat group and then Leader of the Council in May 2012. He was the last council leader under the previous system of governance before Bristol's first directly elected mayor was chosen in November 2012. Simon was Lord Mayor of Bristol in 2004-5.
James Durie, Director, Business West: James leads all Chamber of Commerce and Initiative activity in Bristol. His role is to raise the profile of the Chamber and Initiative, retain and recruit new members and through a range of business support and services offered by the Chamber, help local businesses to prosper and grow. James maintains close relationships with the Local Enterprise Partnership (LEP), local MPs, councillors and other key partners so that the Chamber and the Initiative can effectively represent the views of members ensuring their voice is heard by key decision makers.
Sheila Healy: Sheila has a life-long commitment to creativity, diversity and engagement in the arts. As Chair of Arts Council (South West) and a trustee of its National Council she contributed significantly to major policy development and investment decisions across a range of art forms: from theatre to dance, music to museums, as well as increasing creative collaboration and touring across the globe. As Chief Executive of Cornwall and Shropshire Councils and as a director with central government she led on strategic change and improvement programmes, working with business, charitable organisations and local communities. She also played a key role in the development of the Walsall Art Gallery, The Ikon (Birmingham) and Tate St Ives. She was Chair of The Audience Agency and Audiences Central. As a trustee of Kneehigh Theatre she helped them become an internationally as well as a nationally renowned theatre company. Sheila now acts as an independent consultant and advisor for the arts and culture.
Margaret Heffernan: Margaret produced programmes for the BBC for 13 years. She then moved to the US where she spearheaded multimedia productions for Intuit, The Learning Company and Standard&Poors. She was Chief Executive of InfoMation Corporation, ZineZone Corporation and then iCast Corporation, was named one of the "Top 25" by Streaming Media magazine and one of the "Top 100 Media Executives" by The Hollywood Reporter. The author of six books, Margaret's third book, Willful Blindness : Why We Ignore the Obvious at our Peril was named one of the most important business books of the decade by the Financial Times. In 2015, she was awarded the Transmission Prize for A Bigger Prize: Why Competition isn't Everything and How We Do Better, described as "meticulously researched… engagingly written… universally relevant and hard to fault." Her TED talks have been seen by over twelve million people and in 2015 TED published Beyond Measure: The Big Impact of Small Changes. Her most recent book, Uncharted: How to Map the Future was published in 2020. She is a Professor of Practice at the University of Bath, Lead Faculty for the Forward Institute's Responsible Leadership Programme and, through Merryck & Co., mentors CEOs and senior executives of major global organizations. She holds an honorary doctorate from the University of Bath and continues to write for the Financial Times and the Huffington Post. She chairs the board of Film Bath.
Madhu Krishnan, Professor of African, World and Comparative Literatures, University of Bristol: Madhu is the author of Contemporary African Literature in English: Global Locations, Postcolonial Identifications (2014). Her work centres on African and African diaspora writing, publishing and culture, with a particular focus on the intersection between aesthetics, socio-political interventions and cultural materialism in the making of African literary institutions. From 2014 to 2016, Madhu served as the Director for the now-defunct Centre for the Study of Colonial and Postcolonial Societies at the University of Bristol, and she is currently Director of the Centre for Black Humanities. She sits on the board of the Bristol Poetry Institute, Literature Works and is a member of the Engagement Board for the Temple Quarter project. From 2017-20, she was theme lead for Global Citizenship for the Bristol Futures initiative. She is particularly interested in the possibilities and pitfalls of decolonial knowledge production with respect to pedagogy and UK HE more broadly.
Eli Lower: Eli is a Bristol-based theatre maker, writer and dramaturg. Across their work, their interests lie in pushing the boundaries of what's allowed on stage, playing with noise and comedy and mess and improvisation, always working collaboratively with others. They're also very into the sea. They work extensively with other young people of all ages facilitating devised and scripted theatre, and are the Creative Practice coordinator for Rising Arts Agency. You can find out more at https://elinorlower.cargo.site/
Jonathan Peacock, Partner, VWV: Jonathan studied Law at Hull University graduating in 1983. After graduation he gave up his place on the Law Society Finals course at The College of Law in Chester in favour of studying for a master's degree in Public International Law at UCL. After working for vintage fashion for a couple of years Jonathan got back into a legal career in the early 1990s and was articled at national law firm Shoosmiths (then Shoosmiths and Harrison). He qualified as a solicitor in 1994 and joined the Birmingham office of his current firm, Irwin Mitchell, in January 1996 where he has been a partner for fifteen years. Jonathan moved to Bristol in April 2010 as Regional Managing Partner for the South West. Jonathan has held board positions for a number of charities including six years on the board of the national brain injury charity Headway. He has also held trustee roles with other third sector organisations providing mental health advocacy and promoting disability rights.
John Savage, Executive Chairman of Bristol Chamber of Commerce and Initiative: John has led his organisation in the promotion of partnership between government, local government and the private sector in order to promote the position of Bristol and its neighbouring communities as a vibrant and vital European city region in the twenty-first century. He is Lay Canon Treasurer of Bristol Cathedral, Chairman of Learning Partnership West, Chairman of Destination Bristol and a member of many other boards. He was Chairman of the Learning and Skills Council for the South West throughout its existence and a board member of the Regional Development Agency. John was High Sheriff of Bristol for 2002/3, was awarded the CBE for services to Business and Regeneration in the 2006 New Year Honours List and received Honorary Doctorates from both Bristol universities.
Judith Squires, Deputy Vice-Chancellor and Provost, University of Bristol: Judith is a political theorist. Her research has focused on gendered analyses of theoretical debates concerning equality, representation and citizenship. Her publications have interrogated the changing ways in which gender equality is conceived within liberal democracies, with a focus on women's policy agencies, gender mainstreaming and gender quotas as three recent manifestations of contemporary equality strategies. She has advised over 20 PhD students to successful completion. She has been on the editorial boards of a wide range of social science journals, including New Formations, Government and Opposition, Economy and Society, and International Feminist Journal of Politics. She is currently on the Advisory Board for Bristol University Press. She took up the post of Deputy Vice-Chancellor and Provost in January 2019. Prior to this she was Pro Vice-Chancellor for Education and Students at the University of Bristol, August 2013- December 2018 and Dean of the Faculty of Social Sciences and Law, 2009-13. She was a member of the REF Politics and International Studies sub-panel 21, 2014. She was a Council member of the Economic and Social Research Council 2014-18, Chair of the ESRC Capability Committee 2016-18 and a member of the ESRC Training and Skills Committee 2010-14. She was formerly Chair of BCDP, was a founding member of the Bristol Learning City Partnership Board and is a member of Bristol Green Capital Partnership. She is a Fellow of the Academy of Social Sciences and the RSA.
Image of David Olusoga credit: Jon Craig.