Where's the New Thinking About Democracy?
Panel Discussion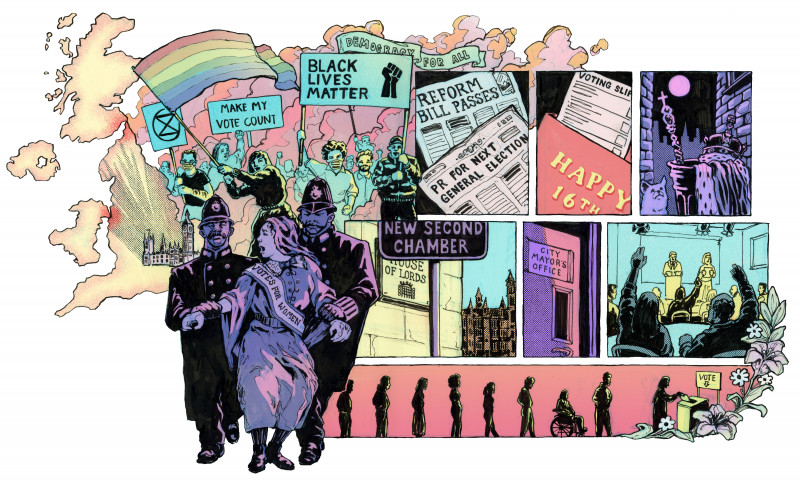 Our panel looks at the new ideas from around the world on how to renew democracy.
In the last in-person Festival of Ideas event before the pandemic, Margaret Heffernan (author of Uncharted: How to Map the Future) said that one of the great tragedies of the last 50 years was our failure to defend and extend democracy. Renewing democracy, she added, is a 'cathedral project' – one that takes generations to complete.
Who has the new ideas and how can they be implemented? Claudia Chwalisz (The Organisation for Economic Co-operation and Development, OECD) looks at innovative citizen participation and deliberative, collaborative governance. Peter Geoghegan (author of the bestselling Democracy for Sale) examines how money, vested interests and digital skullduggery are eroding trust in democracy and what we can do to overcome this. Immy Kaur (Founder and Director of CIVIC SQUARE) looks at the role of citizens in radical systemic change, and how we can create a more democratic, distributed, open-source social and civic infrastructure.
Democracy and Freedom of Expression
This event is part of our 2021 series on democracy and freedom of expression. We're committed to looking at solutions to the great challenges that face us – what individuals, leaders, mayors, councils, governments, cities, communities, nations and others can do to support, strengthen and extend democracy and freedom of expression.
The series includes: programmes on the future of democracy, May elections, the monarchy, constitutions, English devolution, House of Lords reform, votes at 16; work exploring freedom of expression through the year; and a focus on democracy and cities in Festival of the Future City (20-21 October).
Our project partners include English PEN, Prospect Magazine, the Institute for Policy Research, University of Bath and the Observer. More events will be launched soon. Join the conversation on social media using the hashtags #FOIDemocracy and #CommonCurrency
Booking Information
It's important to us that ideas and debate are affordable to everyone. It's also important that our commentators, artists, writers, poets and thinkers are paid. This is a Pay What You Can event. You are invited to choose your own contribution to the event. A free option is available. All proceeds go towards supporting our speakers and sustaining Bristol Ideas.
This is an online event on Crowdcast. Please note that Crowdcast works best in Chrome.
Booking a ticket for our Crowdcast event
Click the Book Ticket link to go to Crowdcast to register. Click the 'Save my spot' button to register. You will be prompted to enter your email address or social media login (Facebook, Twitter or Google). An email will be sent to confirm your registration, along with the option to add the event to your calendar.
Joining our Crowdcast event
Once you register you will have instant access to the event's Crowdcast page, including the polls, chat, and Q&A. To return to the event page at any time, simply click the link in your confirmation or reminder email. The event will start automatically on its event page at the time advertised, and all you have to do is sit back and relax.
Illustration by Willem Hampson