How Do You Reimagine a Classic?
Shiraz Bayjoo
Join us to celebrate the release of Shiraz Bayjoo's beautiful illustrated edition of Treasure Island.
In conversation with Melissa Chemam (writer, journalist and Arnolfini Writer in Residence), Shiraz Bayjoo discusses working with archival imagery and histories of colonialism to produce his new edition of Robert Louis Stevenson's classic novel.
Their conversation will take us from the eighteenth-century colonial Caribbean, to the Indian Ocean, and to wider global histories of violence which shaped that period.
'Shiraz Bayjoo has created a thrilling visual interpretation of Treasure Island that sets Stevenson's story within the context of 18th century Atlantic trade and colonial power. The result is timely, urgent and strikingly beautiful.' — Ekow Eshun
This Arnolfini event is in partnership with Bristol Ideas and Four Corners Books.
Treasure Island is published as part of Four Corners Books distinguished Familiars series, featuring artists' responses to classic novels and short stories. It will be available at the event for £20.
Mauritian artist Shiraz Bayjoo works with film, painting, photography, performance and installation. His research-based practice explores the legacies of European Colonialisation, addressing cultural memory and challenging dominant narratives, with a focus on landscapes that have held slave histories and how this trauma continues to permeate in our lives.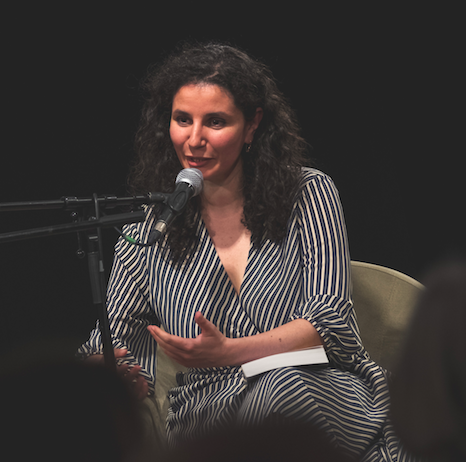 Melissa Chemam is a writer, broadcaster, cultural journalist, former foreign correspondent, researcher, lecturer and author. She is currently Writer in Residence at Arnolfini. She works and writes mainly on multiculturalism, post-colonial issues, East-West and North-South relations, art and music. She has been an associate lecturer in journalism at UWE Bristol since October 2019 and a senior lecturer since June 2021.
Booking Information
Ticket booking is managed by Arnolfini and is via Headfirst. Please note that Headfirst is a third-party service that is not owned or managed by Bristol Ideas or Arnolfini. Please review Headfirst's terms and conditions and Privacy Policy as we do not accept any responsibility or liability for the policies. You can read Arnolfini's Privacy Policy here.
Accessibility Information
Within Arnolfini there are lifts to all floors and level access to all public spaces.
There are two designated Blue Badge parking spaces within easy reach of Arnolfini in the Mud Dock City Docks car park, accessed via The Grove Car Park. There are also five spaces in The Grove Car Park. Parking in the accessible blue badge spaces are free, and are available on a first-come, first-serve basis.
There are toilets for public use.
Guide and assistance dogs are welcome.
If you have any accessibility requirements, please contact Arnolfini in advance so the team can assist you in your visit. More information about Arnolfini can be found on Arnolfini's website and on AccessAble.