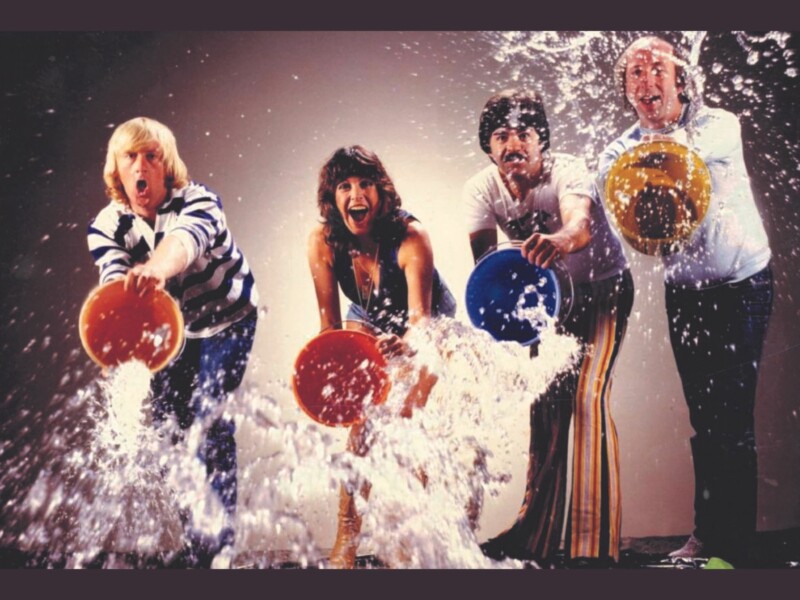 A unique opportunity to see TV comedy legends Bob Carolgees, John Gorman, Sally James and Chris Tarrant as they reunite on stage to discuss their much-loved show Tiswas.
It's 40 years this April since the end of the programme, a Saturday morning highlight for many children – and perhaps even more adults – from 1974 to 1982. This is a rare chance to see all four Bucketeers together in person as they share their Tiswas memories with Bristol Ideas Director and passionate fan of the show, Andrew Kelly.
The performers will be presented with Slapstick's Comedy Legacy Medal for their phenomenal achievement in comedy which followed in the footsteps of the late great silent comics but with their own brand of anarchic/slapstick humour – from the Dying Fly and Spit the Dog to the Phantom Flan Flinger and endless custard pies.
In support of Children's Hospice South West.
Booking Information
Ticket sales are managed by St George's Bristol. Please check their policies, terms and conditions before booking. You can book online or in person by visiting the Box Office or calling 0845 40 24 001 during Box Office opening hours.
Free companion tickets are available and can be booked at the same time as your ticket. Contact the box office to find out more.
A 5% booking fee applies online and over the phone. A £2 postage fee is charged where applicable.
Accessibility: St George's Bristol
There are two points of access to St George's – on Great George Street and Charlotte Street. There are 21 steps at the Great George Street entrance. There is step free access from Charlotte Street, where there is a lift to all floors of the building so wheelchair users, visitors with buggies and people with limited mobility can access the Café Bar, glass studio and hall step-free. It is 3m from the roadside to the Charlotte Street gates, then the level access lift entrance is 15m from the Charlotte Street gates.
If visitors would prefer to access the hall by the staircase rather than the lift, there are 20 steps from the Box Office area to the hall entrance.
Accessible toilets located on each level of the new building and on the ground floor beside the Box Office.
The hall has a balcony that is accessed by 24 steps, please do bear this in mind when choosing a seat. You can talk to a member of the Box Office team if you have questions or concerns when booking.
Assistance dogs are welcome in all part of the building.
More detailed information about access and planning your visit, including St George's COVID-19 Response can be found here.