Phantom (1922)
Film screening with live piano accompaniment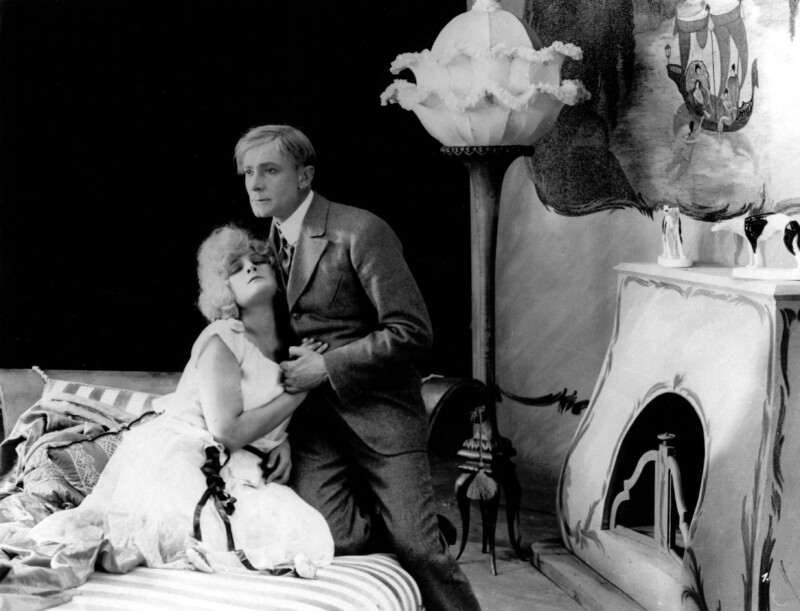 Overshadowed by Murnau's previous film, Nosferatu (1922), Phantom is a tale of obsession, painting a portrait of the corrupting influence of money, the conformity of societal norms and the redemptive power of family.
An aspiring poet, believing himself to be on the verge of a big break, experiences a chance encounter with a beautiful woman in the street and falls headlong into love and fantasy. All the while, his debts pile up and his promised literary celebrity fails to materialise.
Phantom is a forgotten gem of a film that stands as an early precursor to Alfred Hitchcock's Vertigo (1958).
Thought lost for many years, this screening of Phantom will include the recent restoration by Friedrich-Wilhelm-Murnau-Stiftung, Wiesbaden and a brand new score by Bath-based pianist Dominic Irving.
Director: F W Murnau
Starring: Alfred Abel, Frieda Richard, Aud Egede-Nissen and Grete Berger
PG / Germany / 119 mins
Phantom is part of Bristol Ideas' 2022 series Modernism1922 which explores the worlds of film, literature, music, politics and more 100 years ago. It is run as a tribute to Kevin Jackson. His book, Constellation of Genius: 1922: Modernism and All That Jazz, tells the story of that remarkable year.
Dominic Irving studied composition and piano for four years at Trinity Laban Conservatoire of Music and Dance in London, graduating in 2009 with a 1st-class BMus Honours degree, and in 2011, he completed an MA in Composition of Music for Film and Television (MA-FTV) at Bristol University. He began composing music at age 10 with his first solo piano piece and since then his music has been performed all over the UK. In 2014, he composed symphonic music for the sci-fi comedy-horror film Insectula! and in 2022, he composed a new piano score for the 1926 silent film The Flying Ace, which he performed live at the Arnolfini in Bristol for South West Silents.
Booking Information
Please stay home if you're experiencing any symptoms of COVID-19 (these are listed on the NHS website) or if you've recently been in contact with someone who has the virus.
Ticket booking is via Eventbrite. Please note that Eventbrite is a third-party service that is not owned or managed by Bristol Ideas. Please review Eventbrite's terms and conditions and Privacy Policy as we do not accept any responsibility or liability for the policies. You can read Bristol Ideas' Privacy policy here.
CONCESSIONS apply to Full Time Students, Job Seekers Allowance, Incapacity Benefit claimants, over 60s and disabled people. The PARTNER RATE is for staff, students or members at the following organisations: Arts Council England, Bristol City Council, Business West, University of Bristol and UWE. Please note that you will be asked of proof for your eligibility of a concession or partner rate ticket. No refunds/exchanges are possible for tickets already purchased at the higher price.
One free carer ticket can be provided for each paying disabled visitor, please contact us before booking to arrange.
We only refund tickets if the event is cancelled. If the event online has to move online your ticket is automatically transferred or you can request a refund. Events start punctually and, out of consideration to other audience members and speakers, our policy is not to admit or issue refunds to latecomers. Full Terms and Conditions here.
Accessibility
One free carer ticket can be provided for each paying disabled visitor, please contact us before booking to arrange.
Within Arnolfini there are lifts to all floors and level access to all public spaces.
There are two designated Blue Badge parking spaces within easy reach of Arnolfini in the Mud Dock City Docks car park, accessed via The Grove Car Park. There are also five spaces in The Grove Car Park. Parking in the accessible blue badge spaces are free, and are available on a first-come, first-serve basis.
There are toilets for public use.
Guide and assistance dogs are welcome.
More information about Arnolfini can be found on Arnolfini's website and on AccessAble.