How Can We Take Solace in Flat Landscapes?
Noreen Masud
'Flat landscapes had always given meaning to a world that made no sense to me,' writes Noreen Masud. Growing up in a crowded home in Lahore to a British mother and Pakistani father, the empty surrounding fields offered the 'fantasy of space to stretch out in, and distance from the chaos at home.'
In her memoir, A Flat Place, Masud explores the intersection between memory, mind, painful histories and the breathtaking flatlands she has come to love since arriving in the UK.
While mountains are usually celebrated in literature and popular culture, Masud has a profound respect for and appreciation of the quietening effect of flat landscapes. She also suggests that flat landscapes provide solace for those of us who don't experience the conventionally heightened feeling which are such a symptom of our fast-paced social media-driven world.
Reflecting on the poetry, folklore and history written about these flat landscapes, Masud reckons with her memories, family history and relationship with these spaces. In conversation with Olivia Sweeney.
A Flat Place by Noreen Masud is published by Penguin. The book will be available to buy from Waterstones on the night.
If you buy books linked to our site, we may earn a commission from Bookshop.org, whose fees support independent bookshops.
Noreen Masud is a Lecturer in Twentieth Century Literature at the University of Bristol, and an AHRC/BBC New Generation Thinker. Her research covers all kinds of bases: flatness, spivs, puppets, leftovers, earworms, footnotes, rhymes, hymns, surprises, folk songs, colours and superstitions. She works mostly on 20th-century literature, but makes forays into Victorian and Romantic literature too.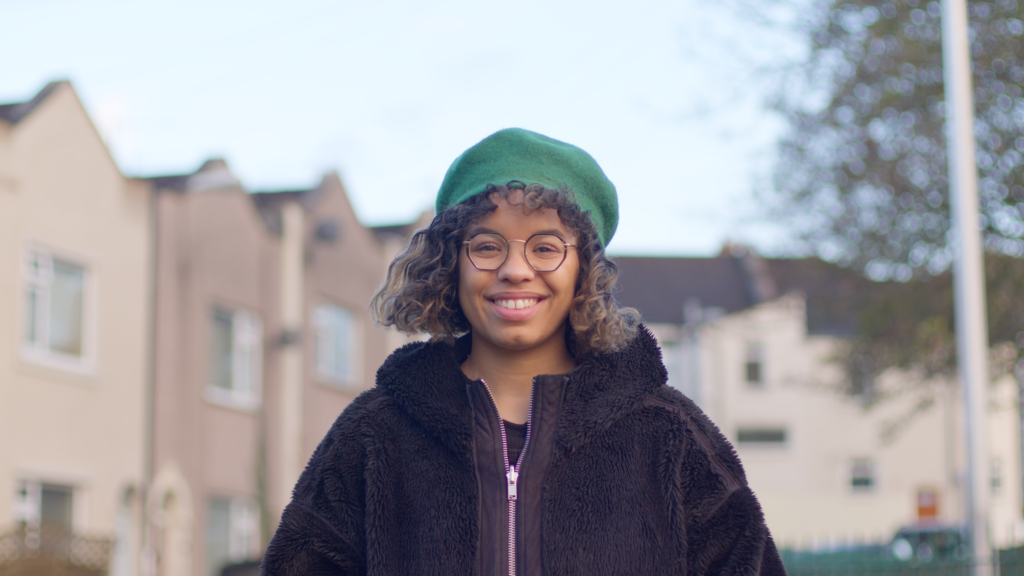 Olivia Sweeney is a lifetime environmentalist and a former Black and Green Ambassador. As part of this, she and two other ambassadors were invited to share the outcomes of their work in the Blue Zone at COP 26. She hosts a Tuesday morning breakfast radio show on Ujima Radio as well as working for a sustainable waste consultancy trying to make it easier for people to reduce their waste, recycle and build the circular economy. She was named one of the Top 100 most Influential Women in Engineering by FT in 2019 and one of Rife Magazine's 30 under 30 in 2022. She is an advocate for equity and justice in all forms.
Image credit: eyes up film
Booking Information
Ticket booking is via Eventbrite. Please note that Eventbrite is a third-party service that is not owned or managed by Bristol Ideas. Please review Eventbrite's terms and conditions and Privacy Policy as we do not accept any responsibility or liability for the policies. You can read Bristol Ideas' Privacy policy here.
Events start punctually and, out of consideration to other audience members and speakers, our policy is not to admit latecomers. Full Terms and Conditions here.
Pay What You Feel
This event is part of our new ticket pricing structure where we ask people to pay what they feel they can afford in accordance with their means. Read more about it here. Read on for the ticket prices for this event.
One free carer ticket can be booked at the same time for a paying disabled visitor. If you need to book more than one, please contact us before booking to arrange.
Pay It Forward £10
The Pay It Forward option enables you to book a ticket above the standard price, and will help to subsidise a ticket for someone who requires the Pay What You Can option. This option is aimed at people who are able to meet their basic needs and would like to help somebody else with the cost of their ticket.
Is this for me? – I have access to a regular and stable income and I have the means and desire to contribute towards making the event affordable for others and supporting Bristol Ideas.
Recommended £8
This recommended price is based on what we'd traditionally charge for a similar event. It helps us make sure that basic costs are covered. This price is aimed at people who are able to meet their basic needs and have enough to live on.
Is this for me? – I have access to a regular and disposable income, and I can comfortably afford the recommended ticket price.
Supported £5
This option is lower than the recommended price. It is subsidised by Bristol Ideas and fellow audience members who have booked at the Pay It Forward rate. This price is aimed at people who could do with support to get by.
Is this for me? – My access to income is low and unstable and I worry about meeting my basic needs. I would select a concession rate due to my personal circumstances.
No one will be turned away due to lack of funds, so please contact us if you have any queries.
Accessibility
More information about Waterstones Bristol – Galleries can be found on the Waterstones website and on AccessAble.
• There are Blue Badge parking spaces on Union Street.
• There is level access to the event space.
• Events are amplified but there is no loop system.
• There are toilets for public use.
• Guide and assistance dogs are welcome.
Getting to Waterstones
Getting to Waterstones
Walking and cycling: The Visit Bristol website has downloadable maps of Bristol City centre. There are bicycle racks directly outside the shop, with many others available in the area. Find information on cycling routes and parking on the Better By Bike website.
Bus: Almost every local service in Bristol (plus some coming from outside Bristol) stops by Bristol Shopping Quarter. Visit the First Bus website to find your nearest bus service and plan your journey.
Train: Bristol Temple Meads train station is a 20-minute walk or 10-minute bus ride from Union Street.