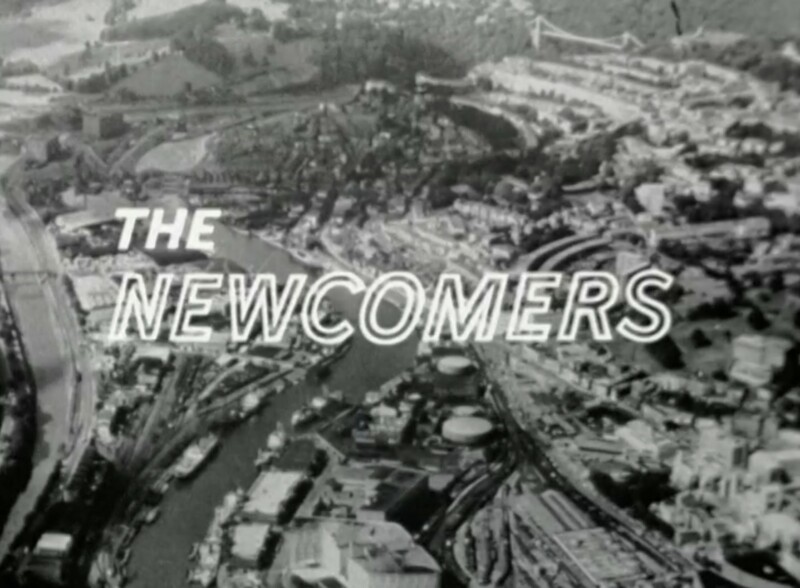 A complete screening of the 1964 television docudrama following several people living and working in Bristol, with an introduction by ACH Smith.
The Newcomers is a unique view of the city in the early 1960s at a time of national and international social, cultural, political and economic change.
It is centred around the lives of Alison Kennedy, who came to Bristol as a student, and Anthony Smith (who later took the pen name ACH Smith), who came to work on a newspaper. They met by chance, married, and Bristol became their home and where they started their family. Many familiar faces from Bristol at the time feature, including playwrights Tom Stoppard, Peter Nichols and Charles Wood.
The Newcomers is brilliantly filmed and edited by John Boorman who was working at the time for BBC West. Three years later he made Point Blank, starting his long career in Hollywood.
This is a rare chance to see the complete series on the cinema screen, with an introduction by Anthony Smith.
Event schedule
14:00: Introduction
14:10: Screening starts (Episodes 1-3)
15:40: Interval
15:55: Screening resumes: (Episodes 4 – 6)
18:05: Event ends
This activity is generously supported by the BFI FAN Film Exhibition Fund, distributed by Film Hub South West. The FAN Exhibition Film Fund supports the delivery of cultural film offerings to broad and diverse audiences. With thanks to the BFI National TV Archive.
ACH Smith has written over 20 plays and screenplays, including Up the Feeder, Down the Mouth and Walking The Chains. He worked for 12 years for the Royal Shakespeare Company and National Theatre and toured Iran in the early 1970s with Peter Brook and Ted Hughes to write a book about their experimental play, Orghast. He has also published a dozen novels, poetry, and several non-fiction books, including a memoir, Wordsmith (Redcliffe Press, 2012). He has been Cilcennin Fellow in Drama, University of Bristol; writer-in-residence at the University of Texas; and director of the Cheltenham Festival of Literature. He has written and presented some 200 programmes for HTV and BBC.
Booking Information
To keep everyone safe, we respectfully ask ticket holders to wear masks during the event and follow guidance on social distancing. Please stay home if you're experiencing any symptoms of COVID-19 (these are listed on the NHS website) or if you've recently been in contact with someone who has the virus.
Ticket booking is via Eventbrite. Please note that Eventbrite is a third-party service that is not owned or managed by Bristol Ideas. Please review Eventbrite's terms and conditions and Privacy Policy as we do not accept any responsibility or liability for the policies. You can read Bristol Ideas' Privacy policy here.
CONCESSIONS apply to Full Time Students, Job Seekers Allowance, Incapacity Benefit claimants, over 60s, disabled people and members of the three unions signed to the PAA: Equity/Writers Guild and MU. The PARTNER RATE is for staff, students or members at the following organisations: Arts Council England, Bristol City Council, Business West, University of Bristol and UWE. Please note that you will be asked of proof for your eligibility of a concession or partner rate ticket. No refunds/exchanges are possible for tickets already purchased at the higher price.
One free carer ticket can be provided for each paying disabled visitor, please contact us before booking to arrange.
We only refund tickets if the event is cancelled. If the event online has to move online your ticket is automatically transferred or you can request a refund. Events start punctually and, out of consideration to other audience members and speakers, our policy is not to admit or issue refunds to latecomers. Full Terms and Conditions here.
Accessibility
One free carer ticket can be provided for each paying disabled visitor, please contact us before booking to arrange.
Within Arnolfini there are lifts to all floors and level access to all public spaces.
There are two designated Blue Badge parking spaces within easy reach of Arnolfini in the Mud Dock City Docks car park, accessed via The Grove Car Park. There are also five spaces in The Grove Car Park. Parking in the accessible blue badge spaces are free, and are available on a first-come, first-serve basis.
There are toilets for public use.
Guide and assistance dogs are welcome.
If you have any accessibility requirements, please contact Arnolfini in advance so the team can assist you in your visit. More information about Arnolfini can be found on Arnolfini's website and on AccessAble.