What Can We Learn From Berlin?
Musa Okwonga
Festival of the Future City
Writer, broadcaster and musician Musa Okwonga talks about his new novel and the city of Berlin.
Okwonga's In the End, It Was All About Love is a great Berlin story – but it is also about the ills and troubles challenging the world and us. The narrator arrives in Berlin, a place famed for its hedonism, to find peace and maybe love; only to discover that the problems which have long haunted him have arrived there too, and are more present than ever.
As he approaches his fortieth birthday, nearing the age where his father was killed in a brutal revolution, he drifts through this endlessly addictive and sometimes mystical city, through its slow days and bottomless nights, wondering whether he will ever escape the damage left by his father's death. With the world as a whole more uncertain, as both the far-right and global temperatures rise at frightening speed, he finds himself fighting a fierce inner battle against his turbulent past, for a future free of his fear of failure, of persecution, and of intimacy.
In The End, It Was All About Love is a journey of loss and self-acceptance that takes its nameless narrator all the way through bustling Berlin to his roots, a quiet village on the Uganda-Sudan border. It is a bracingly honest story of love, sexuality and spirituality; of racism, dating, and alienation; of fleeing the greatest possible pain, and of the hopeful road home.
Buy a copy of Musa Okwonga's In the End, It was All About Love from Waterstones, our bookselling partners.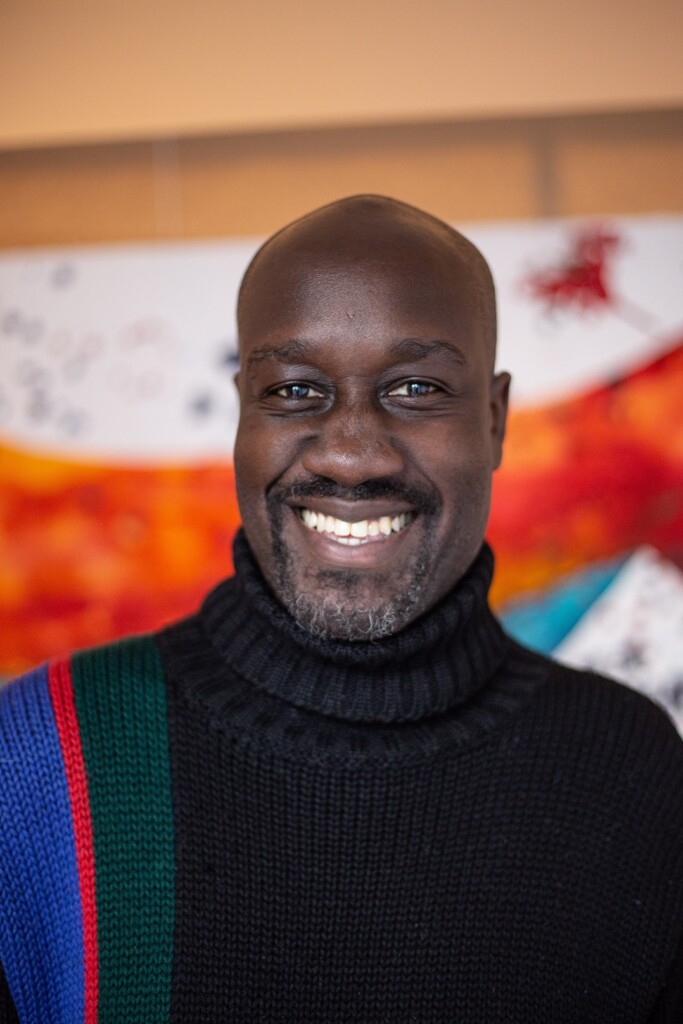 Musa Okwonga is a writer, broadcaster and musician. The co-host of the Stadio football podcast, he has published one collection of poetry and three books about football, the first of which, A Cultured Left Foot, was nominated for the 2008 William Hill Sports Book of the Year Award. His work has appeared in various outlets, including Africa Is A Country, Byline Times, Foreign Policy, the Guardian, The New York Times, The Economist and The Ringer. His latest books are In the End, It Was All About Love and One of Them: An Eton College Memoir. He lives in Berlin.
Booking Information
Ticket booking is via Eventbrite. Please review Eventbrite's terms and conditions and Privacy Policy as Bristol Ideas do not accept any responsibility or liability for the policies. You can read Bristol Ideas' Privacy policy here.
Please note we only refund tickets if the event is cancelled. Events start punctually and, out of consideration to other audience members and speakers, our policy is not to admit or issue refunds to latecomers. Full Terms and Conditions here.
It's important to us that ideas and debate are affordable to everyone. It's also important that our commentators, artists, writers, poets and thinkers are paid. This is a Pay What You Can event. You are invited to choose your own contribution to the event. A free option is available. All proceeds go towards supporting our speakers and sustaining Bristol Ideas.
This is an online event on Crowdcast. Please note that Crowdcast works best in Chrome.
Booking a ticket for our Crowdcast event
Click the Book Ticket link to go to Crowdcast to register. Click the 'Save my spot' button to register. You will be prompted to enter your email address or social media login (Facebook, Twitter or Google). An email will be sent to confirm your registration, along with the option to add the event to your calendar.
Joining our Crowdcast event
Once you register you will have instant access to the event's Crowdcast page, including the polls, chat, and Q&A. To return to the event page at any time, simply click the link in your confirmation or reminder email. The event will start automatically on its event page at the time advertised, and all you have to do is sit back and relax.
Download this guide for more information about using Crowdcast.
Live captions
You can use Chrome's accessibility settings to view live captions for Crowdcast events. This page explains how to enable them.
Festival of the Future City
Festival of the Future City takes place every two years in Bristol. This year – due to the pandemic – the festival brings together live on-stage, live online and pre-recorded events. Check the project page for details and follow #FutureCity21 on Twitter.