Lawrence of Arabia
Film screening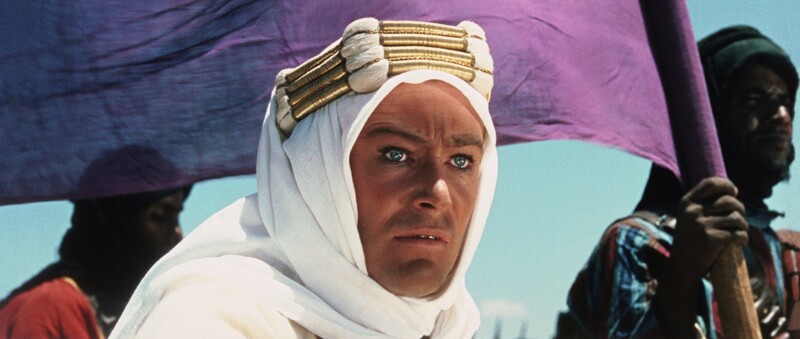 One of the screen's grandest epics – and, for many, one of the top ten films of all time – Lawrence of Arabia recounts the true life experiences of T E Lawrence.
A young, idealistic British officer in the First World War, Lawrence (Peter O'Toole) is assigned to the camp of Prince Feisal (Alec Guinness), an Arab tribal chieftain and leader in a revolt against the Turks. In a series of brilliant tactical manoeuvres, Lawrence leads 50 of Feisal's men in a tortuous three week crossing of the Nefud Desert to attack the strategic Turkish-held port of Aqaba. And following his successful raids against Turkish troops and trains, Lawrence's triumphant leadership and unyielding courage gain him nearly god-like status among his Arab brothers.
With Oscar®-winning cinematography (the film was awarded seven Oscars® including Best Picture and Best Director), magnificent locations, Maurice Jarre's famed score and a screenplay based on Lawrence's own writings in Seven Pillars of Wisdom, David Lean's Lawrence of Arabia is a masterpiece.
Over the years the film was heavily cut. In 1988 a reconstruction of the film was undertaken and then Lean and original editor Anne V Coates worked to create a director's cut. We're showing this version, digitally restored by Sony Pictures Entertainment, as it was meant to be seen, and on the biggest screen in Bristol. Lawrence of Arabia will be screened in its original roadshow format, with an overture, intermission, entr'acte and exit music.
The film is shown as a tribute to Kevin Jackson, who died last year. His book Lawrence of Arabia (BFI Film Classics) is highly recommended. We are also running a season of films throughout the year – Modernism 1922 – inspired by Jackson's book Constellation of Genius: 1922: Modernism and All That Jazz.
The screening is also part of Opening Up the Magic Box, a heritage element of Film 2021 which marks the centenary of the death of Bristol-born film pioneer William Friese-Greene and the 125th anniversary of the first public cinema screening in Bristol, which took place at the Tivoli on 8 June 1896, as well as celebrating Bristol – a UNESCO City of Film since 2017. It is generously funded by the National Lottery Heritage Fund.
We are grateful to all at Forbidden Worlds Film Festival for their help with this screening. All films in the festival – and Lawrence of Arabia – will be projected from DCPs (Digital Cinema Packages) on a professionally installed Christie digital cinema projector.
The venue is the former Bristol IMAX cinema, which hasn't hosted regular film screenings in more than a decade. The former Bristol IMAX originally opened in 2000 as a feature of Wildwalk (part of the At-Bristol science centre) and is now used as an occasional events space by the Bristol Aquarium. The large auditorium still retains the impressive 19m x 15m screen to create the ultimate visual experience.
Please note these screenings will not fill the full size of the former IMAX screen. However, viewers are advised that the projected image size will still be very big.
There will be a bar serving refreshments before and during the film. It will be accepting card only. There will be a 15 minute interval at around 20:55.
Image credit: Lawrence of Arabia 1962, renewed 1990 Columbia Pictures Industries, Inc. All Rights Reserved.
Booking Information
Bristol Ideas want to ensure a safe and enjoyable visit for all. The event capacity has returned to normal and seating will not be socially distanced. In the interest of audience and staff safety we are grateful if you would continue to wear a mask if possible and make space when moving around the venue. Please stay home if you're experiencing any symptoms of COVID-19 (these are listed on the NHS website) or if you've recently been in contact with someone who has the virus.
Ticket booking is via Eventbrite. Please note that Eventbrite is a third-party service that is not owned or managed by Bristol Ideas. Please review Eventbrite's terms and conditions and Privacy Policy as we do not accept any responsibility or liability for the policies. You can read Bristol Ideas' Privacy policy here.
CONCESSIONS apply to Full Time Students, Job Seekers Allowance, Incapacity Benefit claimants, over 60s and disabled people. PARTNER RATE is for staff, students or members at the following organisations: Arts Council England, Bristol City Council, Business West, University of Bristol and UWE. Please note that you will be asked of proof for your eligibility of a concession or partner rate ticket. No refunds/exchanges are possible for tickets already purchased at the higher price.
One free carer ticket can be provided for each paying disabled visitor, please contact us before booking to arrange.
We only refund tickets if the event is cancelled. Events start punctually and, out of consideration to other audience members and speakers, our policy is not to admit or issue refunds to latecomers. Full Terms and Conditions here.
Accessibility Information
Please enter via the Anchor Road entrance, not be the main Aquarium entrance. Please note that entry to the auditorium is separate from the main Bristol Aquarium entrance. Signage and ushers will be on hand to point you in the right direction.
Please note that seats are unassigned in the auditorium.
One free carer ticket can be provided for each paying disabled visitor, please contact us before booking to arrange.
The entrance has level access. There are lifts to the second floor and there is level access inside to the auditorium.
There are two accessible toilets on the ground floor of the aquarium and two accessible toilets on the second floor.
Some Aquarium staff have BSL training.
Guide and assistance dogs are welcome.
If you have any accessibility requirements, please contact us in advance so we can assist you in your visit.