How Does Bristol Move On From Colston?
Festival of the Future City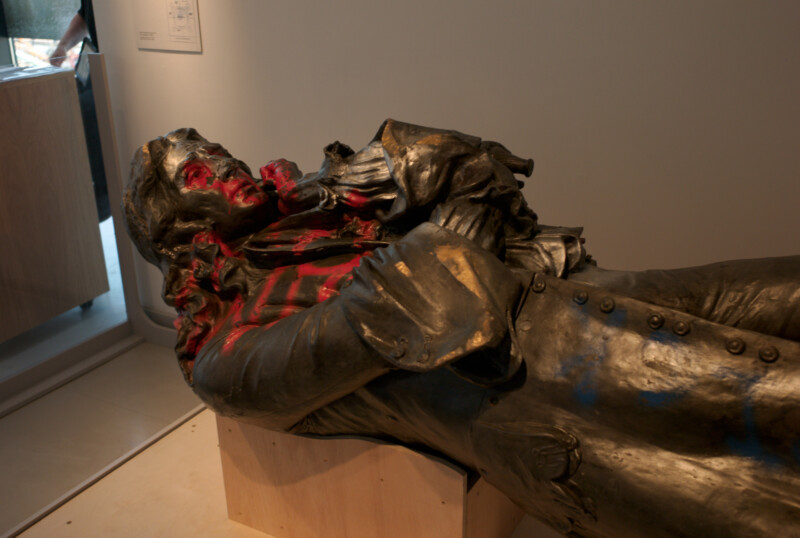 In 2000, two filmmakers created a landmark documentary about Bristol and its history of slave trading. Two decades later, the Colston statue was pulled down. Did so little change in those 20 years, and what do we do about acknowledging and commemorating enslaved people going forwards?
In 2000, Rob Mitchell and Shawn Sobers released Under the Bridge, a film about Bristol and the trade in enslaved people. This followed the pioneering exhibition A Respectable Trade at the City Museum and Art Gallery which included the display of Tony Forbes' painting Sold Down the River. At the end of the film Mitchell says:
'So there's now an exhibition in the city about Bristol and the transatlantic slave trade. It feels like there should be some sort of conclusion at this point, but there's still too many questions to be asked. So what next? Because this is not the end, but the start of a healing process. But is there such a thing as too much healing? Can the situation ever be cured? Are we just picking a wound and making it worse? Will there ever be a time that we can close this chapter? What more can we do with this history? Because we know we can't discard it? However we answer these questions, the important thing is that the air is now clearer for us to ask them.'
Twenty years on, the Colston statue was pulled down and thrown in the docks. This came as a shock to many people, but not to those who remembered the exhibition and the painting. What happened in the time between these two events – did anything change?
This event brings together a showing of the film, details of the latest research into Bristol and slavery, and a panel discussion – hosted by Dr Marie-Annick Gournet, University of Bristol – looking at Bristol's past and future. How does the city and its people move on now, as it acknowledges and commemorates the trade in enslaved Africans, and attempts to solve deep-seated inequality? The panel will grapple with questions around the role – and likelihood – of reparations, and whether Bristol might get a new museum, the Abolition Shed.
All attendees will be given a free copy of Bristol 650 book, a collection of newly commissioned essays about the future of Bristol.
Booking Information
Ticket booking is via Eventbrite. Please review Eventbrite's terms and conditions and Privacy Policy as Bristol Ideas do not accept any responsibility or liability for the policies. You can read Bristol Ideas' Privacy policy here.
Please note we only refund tickets if the event is cancelled. Events start punctually and, out of consideration to other audience members and speakers, our policy is not to admit or issue refunds to latecomers. Full Terms and Conditions here.
Accessibility
Watershed's main entrance and Box Office are both on the ground floor which is accessible via a ramped, electronically assisted entrance door.
There are two Blue Badge parking spaces to the rear of Watershed on Canons Road.
Guide dogs and hearing dogs are very welcome.
The first floor of Watershed is accessible via lift from the main entrance and includes level access to all areas, including the cinemas and event spaces.
The cinemas and event spaces have induction loops.
There is an accessible toilet (with baby changing facilities) near Cinema 1. Follow the signs for the Cinemas and the accessible toilet is just on your left through the double doors before Cinema 1.
There are gender neutral toilets in the cinema corridor on the first floor.
Visit Watershed's Access page for more information.