How Do We Make the Sustainable Development Goals Work in Cities?
Panel discussion
Festival of the Future City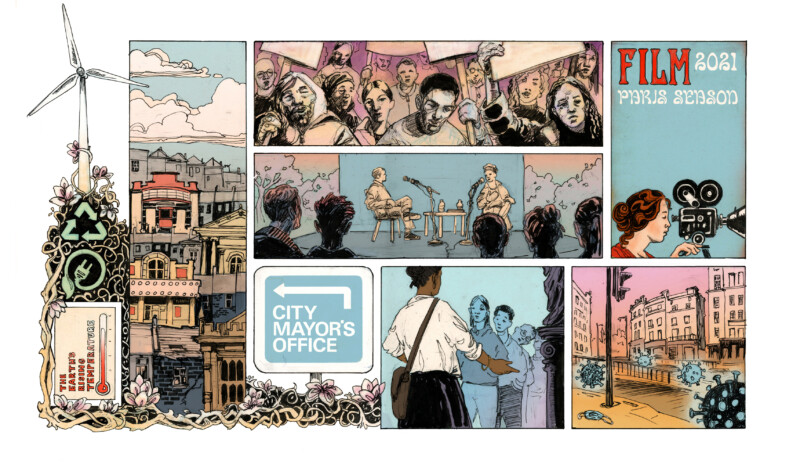 Our panel addresses the practical ways that cities and individuals can use the Sustainable Development Goals (SDGs) to make better places.
SDGs have been adopted widely, but how can we make them effective? There's good work in Bristol underway with the Global Goals Centre and the commitments made by organisations and individuals to bring about change. But how widespread is this and what more can be done?
Jenny Foster, Global Goals Centre, looks at the importance of SDGs. She is joined by Councillor Nicola Beech, Cabinet Member with responsibility for Climate, Ecology, Waste and Energy in Bristol, and Mayor Joana Balsemão, Cascais, Portugal, who explains how her council is implementing the SDGs.
Two of the 17 Bristol SDG heroes – Kirsty Hammond and Tara Miran – will highlight the work they do in implementing the goals.
Joana Balsemão is currently Executive Councillor for Environment and Citizenship, Camara Municipal de Cascais. She has worked as an adviser at the Luso-American Foundation, on sustainability issues, and as an energy officer at the Vale of White Horse District Council in the UK where she was responsible for the implementation of the energy poverty strategy. She was a researcher on education for climate change at Instituto Superior Técnico, coordinator of the Local Agenda 21 in the Council of Cascais. Since then, she has acted as a cabinet member at the Ministry of Environment and as a technical adviser to the Portuguese Permanent Representation to the EU, in Brussels, negotiating legislative proposals related to environmental, climate and energy policy.
Nicola Beech was first elected ward councillor for St George Central in 2016 and is currently Cabinet Member with responsibility for Climate, Ecology, Waste and Energy. She was previously Cabinet Member with responsibility for Spatial Planning and City Design, and she set up the Bristol @ Night advisory panel in 2018.
Image credit: Lisa Whiting Photography
Jenny Foster is Project Lead at the Global Goals Centre. She has 12 years' experience in international development and campaigning, as Bristol and South West Fairtrade Co-ordinator and Regional manager at the Leprosy Mission. She is a qualified social worker and managed Housing and Community Care teams in London and South Gloucestershire. She has also worked in theatre-in-education, working with schools on environmental and social justice issues.
Kirsty Hammond joined Heart of BS13 in 2017. In her current role as Climate Action Development Practitioner she works across the BS13 community to support the production of a Community Climate Action Plan. She works with young people, supporting volunteers and community participants to build skills and confidence as they start their climate action journey. She has worked in the community for over 13 years in various development roles and is passionate about supporting people to reach their full potential by ensuring there are equal opportunities for them to access services.
Since 2018 Tara Miran's career has been in women's voices, health inequalities, research and community engagement. She currently works in community development, with a focus on race equalities and spends her free time involved in local initiatives; ensuring everyone is heard and has access to information and services equally. Over the past two years, she has been involved in several green space initiatives at the heart of Bristol – St Pauls Community Garden, Mother Earth and, more recently, Wild In St Pauls. She works tirelessly with her local community and wider Bristol to help develop grassroots projects into long-term ventures that benefit both people and our environment. She is the Global Goals Hero for UN Sustainable Development Goal 5, Gender Equality, recognised for her work in projects such as Women of Lawrence Hill, City Listening Project and Bristol Girls Can research project.
Booking Information
Ticket booking is via Eventbrite. Please review Eventbrite's terms and conditions and Privacy Policy as Bristol Ideas do not accept any responsibility or liability for the policies. You can read Bristol Ideas' Privacy policy here.
Please note we only refund tickets if the event is cancelled. Events start punctually and, out of consideration to other audience members and speakers, our policy is not to admit or issue refunds to latecomers. Full Terms and Conditions here.
Booking opens on 4 October.
Booking is managed by Watershed's Box Office. Book online or call 0117 927 5100.
Events start punctually and, out of consideration to other audience members and speakers, our policy is not to admit latecomers.
Keeping Everyone Safe
Watershed wants to ensure that it is a welcoming and inclusive place for all. Please note that:
You are required to wear a mask when moving around the building, and when seated in either the cinemas or Waterside spaces (unless exempt).
The capacity of the cinemas and event spaces is at 75%, ensuring there is a minimum of 1 seat between you and other customers on your row.
You should not visit you're feeling unwell and have COVID symptoms.
Watershed will continue with measures currently in place, including increased and enhanced cleaning regime, provision of hand sanitiser throughout the building, maintaining air flow management plans to ensure adequate ventilation throughout, staff wearing face coverings, perspex screens at the desks and bar, and keeping contactless payments. If you would like to check in via NHS Test and Trace please feel free to do so, although it will no longer be required to enter the building.
Accessibility
Watershed's main entrance and Box Office are both on the ground floor which is accessible via a ramped, electronically assisted entrance door.
There are two Blue Badge parking spaces to the rear of Watershed on Canons Road.
Guide dogs and hearing dogs are very welcome.
The first floor of Watershed is accessible via lift from the main entrance and includes level access to all areas, including the cinemas and event spaces.
The cinemas and event spaces have induction loops.
There is an accessible toilet (with baby changing facilities) near Cinema 1. Follow the signs for the Cinemas and the accessible toilet is just on your left through the double doors before Cinema 1.
There are gender neutral toilets in the cinema corridor on the first floor.
Visit Watershed's Access page for more information.
Festival of the Future City
Festival of the Future City takes place every two years in Bristol. This year – due to the pandemic – the festival brings together live on-stage, live online and pre-recorded events. Check the project page for details and follow #FutureCity21 on Twitter.