Around the Table
Charlie Carroll
This event is now sold out.
Around the table is a new series where writers discuss their work, ideas and inspiration over food. Our first host is the Coexist Community Kitchen, a non-profit cookery school in Easton.
Charlie Carroll's debut novel, The Lip, is about childhood, isolation and mental health. Set in the Cornwall that tourists seldom see and many novelists choose to overlook, it depicts the other Cornwall, the second-poorest region in all of northern Europe – a Cornwall indebted to tourists and holidaymakers for its livelihood, but resentful at their intrusion. Carroll writes movingly about life on the edge and the consequences of social injustices.
In conversation with Bristol Ideas' Zoe Steadman-Milne, Carroll discusses the themes of the novel and his other writing, touching on topics including homelessness, alternative living and raising social awareness.
Please arrive at 18:30 for the conversation between Charlie and Zoe. Then join a more informal discussion over a light dinner inspired by Cornwall and ingredients from the South West. The food will all be vegetarian but please contact ari@coexistuk.org for any dietary requirements. The evening ends at 20:30.
Light dinner, soft drinks, tea and coffee included in the ticket price. Bring your own wine or beer, no corkage charged.
Charlie Carroll's The Lip is published by John Murray Press. Buy a copy online before or from our partners Waterstones at the event.
This event is presented in partnership with Coexist Community Kitchen.
Charlie Carroll grew up in a small Cornish village. He left to study English and Philosophy at the University of Nottingham and, despite going on to live and travel in various countries around the world, always found himself returning to Cornwall. His debut novel, The Lip (2021), focuses on his homeland and was shortlisted for the Writers' Guild Best First Novel Award and longlisted for the Authors' Club Best First Novel Award. His previous books include his non-fiction travel trilogy: The Friendship Highway (2014), No Fixed Abode (2013) and On the Edge (2010). He has twice won the K Blundell Trust Award for 'writers under 40 who aim to raise social awareness with their writing', has written for the likes of the Guardian and the Big Issue, has appeared on BBC Radio 4 and been featured in the Telegraph and National Geographic. He lives and works in Cornwall.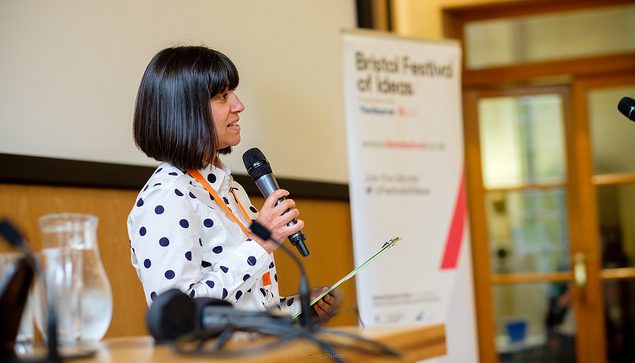 Zoë Steadman-Milne joined Bristol Ideas in 2013 and as Creative Content Producer oversees the programming, logistics and event management of all Festival of Ideas events, content and projects, including the Festival of Economics and the Bristol City Poet.
Booking Information
Ticket booking is via Eventbrite. Please review Eventbrite's terms and conditions and Privacy Policy as Bristol Ideas do not accept any responsibility or liability for the policies. You can read Bristol Ideas' Privacy policy here.
Please note we only refund tickets if the event is cancelled. Events start punctually and, out of consideration to other audience members and speakers, our policy is not to admit or issue refunds to latecomers. Full Terms and Conditions here.
This event takes place at: Coexist Community Kitchen CIC, Mivart Street Studios, Unit 10 Epstein Building, Bristol BS5 6JF.
Ticket booking is managed by Coexist Community Kitchen. Get in touch with any questions.
Accessibility: Coexist Community Kitchen
Coexist Community Kitchen is fully wheelchair accessible.
Please note that due to the nature of the event, it will not be amplified.
If you have any question about access, please contact: ari@coexistuk.org.