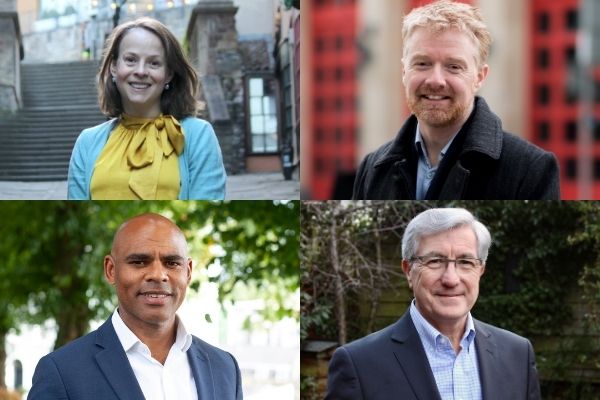 Bristol decides its next elected mayor on Thursday 6 May 2021.
In this special mayoral election debate, we bring together the candidates to debate their ideas for the city; what they will do to build a better Bristol; why they want to be mayor; and ask how their work will solve the great challenges the city faces and take most advantage of the opportunities ahead.
Joining the debate are: Caroline Gooch (Liberal Democrats); Sandy Hore-Ruthven (Green Party); Marvin Rees (Labour Party) and Alastair Watson (Conservative Party).
This event has been organised from a position of political neutrality. Invitations to candidates to take part in this session were issued based on those individuals declared as of 1 March 2021. Participation is limited to those parties or individuals represented in the highest five positions of the 2016 Bristol Mayor election vote share. This will ensure that there is adequate time during the event to allow each candidate a fair chance to answer questions and a reasonable opportunity to respond to points raised by other candidates. This decision is based on guidance from the Electoral Commission in relation to the running of time limited non-selective election hustings. We will inform the audience of all candidates standing, including those who have not been invited.
There are nine candidates standing for Mayor of Bristol (as reported in Bristol Post 9 April). In alphabetical order of surname they are:
Tom Baldwin – Trade Unionist and Socialist Coalition
Robert Clarke – Reform UK
Sean Donnelly – Independent
Caroline Gooch – Liberal Democrats
Sandy Hore-Ruthven – Green Party
John Langley – Independent
Marvin Rees – Labour Party
Oska Shaw
Alastair Watson – Conservative Party
Image of Sandy Hore-Ruthven: Jon Craig
Democracy and Freedom of Expression
This event is part of our 2021 series on democracy and freedom of expression. We're committed to looking at solutions to the great challenges that face us – what individuals, leaders, mayors, councils, governments, cities, communities, nations and others can do to support, strengthen and extend democracy and freedom of expression.
The series includes: programmes on the future of democracy, May elections, the monarchy, constitutions, English devolution, House of Lords reform, votes at 16; work exploring freedom of expression through the year; and a focus on democracy and cities in Festival of the Future City (20-21 October).
Our project partners include English PEN, Prospect Magazine, the Institute for Policy Research, University of Bath and the Observer. More events will be launched soon. Join the conversation on social media using the hashtags #FOIDemocracy and #CommonCurrency
Booking Information
This is a free online event on Crowdcast. Please note that Crowdcast works best in Chrome.
Booking a ticket for our Crowdcast event
Click the Book Ticket link to go to Crowdcast to register. Click the 'Save my spot' button to register. You will be prompted to enter your email address or social media login (Facebook, Twitter or Google). An email will be sent to confirm your registration, along with the option to add the event to your calendar.
Joining our Crowdcast event
Once you register you will have instant access to the event's Crowdcast page, including the polls, chat, and Q&A. To return to the event page at any time, simply click the link in your confirmation or reminder email. The event will start automatically on its event page at the time advertised, and all you have to do is sit back and relax.
Illustration by Willem Hampson